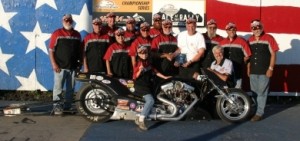 The Mike Bahnmaier Racing Team opened their 2013 trip to Sturgis
by displaying several drag bikes at the Fort Meade VA Medical Center on August
4th.   A tradition started by Verl Smith, who was unable to attend this
year, was continued by Freddie Robbins of the Bahnmaier team.  The
Bahnmaier team enjoyed visiting with approximately 30 veterans, some that the
team has gotten to know over the past three years.  Many thanks to the
hospital for their hospitality and the team plans to return in 2014.
A large Main Street Sturgis crowd got to experience up close
nitro action when the Bahnmaier Racing Team participated in a WMDRA race
promotion, along with several other racers, doing burnouts in the Amsoil booth
area off Main Street Sturgis on August 5th.
The team attended the WMDRA 2013 Sturgis race with five drag
bikes.  Riders were Chuck Jones, St. Petersburg, FL, Terry Stewart,
Anaheim, CA, Billy Hendren, Ozark, AL, Freddie Robbins, Lewisville, NC and Mike
Bahnmaier, Wichita, KS.
The Bahnmaier Racing Team continued on to the Truett & Osborn
races in Wichita, KS where rookie Billy Hendren, Ozark, AL, did an awesome job
winning the B Fuel Class. Mike Bahnmaier, Wichita, KS qualified #1 in the Open
Fuel class but finishing with a runner up.
Big thanks to all the crew for making 2013 a successful season:
Bill Hendren, Ozark, AL,  Drew Moldenhauer,  Clearwater, KS,
Randy Bradford & Kristy Winters, Tecumseh, KS,  Raedell Winston, St.
Francis, KS and Jody Dukelow, Wichita, KS.