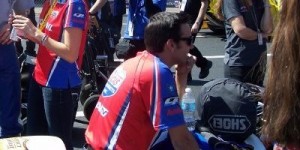 Lucas Oil Buell rider Hector Arana Jr. will carry the Pro Stock Motorcycle points lead into the Countdown to the Championship despite a second-round loss at the U.S. Nationals on Monday at Lucas Oil Raceway.
Arana has led the standings all season, and after the points are reset for the Carlyle Tools NHRA Carolina Nationals in Charlotte on Sept. 13-15, he'll have a 30-point edge on the field.
At the U.S. Nationals, which he won in 2011, Arana was using a new engine combination in an effort to improve his performance. His dad Hector Sr. unveiled the new combination in Sonoma, Calif., and it worked well.
Arana qualified No. 6 in Indy, then beat Craig Treble in the first round before falling to L.E. Tonglet in the second.
"We need to figure out the new combination we ran this weekend," Arana said.
Arana made a pass of 6.982 seconds at 191.46 mph to beat the veteran Treble, whose pass was 7.049 seconds at 188.65 mph.
"You've always got the first-round butterflies but I was able to get the win," Arana said. "I thought, 'All right, we can do this. Let's go.' It wasn't as fast as I wanted it to be, but I figured it would come around."
But in the second round Arana's bike mysteriously slowed. His pass was 7.015 seconds at 191.05 mph while Tonglet advanced to the semifinals with a run of 6.997 seconds at 188.75 mph.
"The bike bogged but I don't know why," Arana said. "From the first run I took clutch out of it, so there was no reason for it to bog. If anything it should've spun the tire. I really have no idea.
"We'll get it figured it out and be ready for Charlotte."
Arana, the 2011 Auto Club Road to the Future Award winner as NHRA's top rookie, is gunning for his first championship. He has won four times this year while reaching the final round five times and the semifinals once. He also has two No. 1 qualifiers and a 21-6 round record in 2013.
With two weeks before the Countdown, Arana Racing's shop in Corydon, Ind., will be busy.
"We'll go back to the shop and work on it," Arana said. "We'll get it figured out for Charlotte and be ready for the Countdown."