BACK TO THE FUTURE:  
The year 2015 will be a transition year for Hawaya Racing. As a company, HRP will be stepping up in several areas, the first of which will be in manufacturing of its racing products and components. Over the past several months, HRP has been in negotiations with Haas Automation concerning a new vertical CNC machining center. The deal is complete and we will take delivery in late January or early February of a new VF-4 4th axis machine. "This is the business plan I put together for HRP in 2009, after the move from Louisiana to North Carolina in 2008. Of course, we all know what happened with the economy, so I had to shelf this for a bit.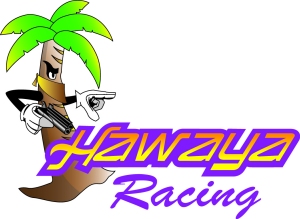 It was always in my plan to eventually do everything in house. I am just now feeling comfortable enough to take the next step. This purchase, along with our current machines, will allow us to do 90% of all of our machining in house, which will give us unprecedented quality control, inventory control, and reduced cost of our products. This is a huge undertaking and investment for HRP, but we feel it is necessary to continue to grow. It will take a bit of time and effort to get all of the tooling, fixtures and programs up and running. Steve will be training at Haas on the ins and outs of running the new machine, which will expedite us getting new products to market. This will allow us to actually make a part over night should the need arise! Our trusted old Bridgeport CNC machine will be converted into a Clutch Dyno where we will begin extensive testing of new clutch components and combinations.
2015 NITRO BIKE SCHOOL:   "After 5 great years of the current Nitro Bike School agenda, we feel a re-structuring of the school from its current curriculum is in order. I think it needs to be more specialized, focused and perhaps scaled down a bit. I am a little undecided as just how to do that, so I need more time to make a plan. Taking that into consideration along with the huge undertaking of the new machining center, as well as the fact that the spring AMRA race is scheduled in June (hot in NC that time of year), HRP has decided not to hold a spring Nitro Bike School in 2015, says Johnny. The School Bikes are too valuable to just sit around the shop for a year, waiting on the next Nitro Bike School, so, they are up for sale. These bikes were built to be run, and need to be out there competing. These are the two most documented Pro Fuel bikes in the world and between them hold every ¼ mile ET record there is, with the exception of the world record I just set at the Cup race. The #1 School Bike has been sold. The #2 bike is still available. Call or e-mail for details.   We currently have two new 2015 P/F bikes to construct for our customers. We will begin construction on a new school bike as soon as these two customer bikes are complete. We should be ready for the fall Nitro Bike School at "The Rock" in October. In the meantime, I will offer private schooling at Rockingham for any customer that purchases a new or used bike or wants to get going before the next school". Contact us at HRP for details.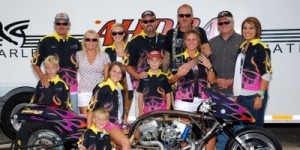 HRP 2015 RACE SCHEDULE:   For next racing season, Johnny Vickers will run a limited schedule of events. "The plan for me is to run the first two NHRA races and the two ManCup events at SGMP. The focus is to test new products for production on the Terminater bike at good events where the track and weather conditions will be at a premium. My personal goal is to be the first Pro Fuel in the 6's. I don't think this will be an easy task by any means, but I do think it is achievable. I will be spending more time at the shop running the business in 2015 and less time on the road. This is not set in stone. I plan to defend my records should they be eclipsed, whatever that takes.   In addition to this, I have been hired as crew chief for Janette Thornley for the 2015 NHRA races as she pursues the NHRA Pro Fuel Championship."   Please check Janette's Dream Chaser Racing for more information.