PDRA Pro Extreme Motorcycle racer Eric McKinney is putting together a string of dominance for the ages.
The 29-year-old rider from Hamersville, Ohio isn't sure what it's like to finish second in points. Since joining the PDRA, and formerly the ADRL, three years ago, McKinney has been utterly unstoppable, capturing a Rookie of the Year award and three consecutive championships.
"It's like living on cloud nine. All of these championships are very meaningful to me," McKinney said. "We have a great team, many laps under our belts, consistent motorcycles and we know what works."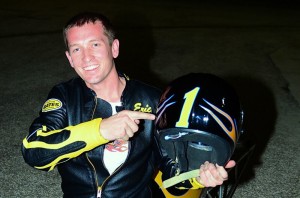 Last year, after McKinney won his second consecutive PXM championship in convincing fashion, winning all but one race, it was suggested on this site he was well on his way to becoming one of category's greatest racers ever. After a 2014 campaign that saw McKinney capture the PDRA title by over a 1,200 point margin from his second-place teammate Ashley Owens, McKinney comes one step closer to legendary.
In 2014 McKinney finished with four victories, competing in a category consisting of legends Billy Vose, Paul Gast and Travis Davis.
"I grew up watching these guys. I looked up to every one of them when Steve Drake rode for my dad," McKinney said. "To run with them and beat them is still unbelievable to me."
McKinney takes little credit for outrunning his mentors.
"It's more about the team," McKinney said. "We have the best of everything on the motorcycles and we have Ashley. He dominated when he was with Paul. He has a killer tune-up that works. We make good horsepower and we make good calls. My mom, my dad and my uncle Steve all have important roles."
McKinney also cites multiple test sessions throughout the season as something that separates his team from the pack.
"We have two bikes and double the data. If we are not testing in Ohio, Ashley is out testing in Alabama," McKinney said. "If something doesn't work on Ashley's bike, we change it on mine and vice versa. The only thing that is different is the rider weight. Ashley is about 15 pounds lighter and his 60-foots are a little better."
Now the big question is, how does McKinney plan to top last year's epic run? The former motocross standout still has a lot he wants to accomplish in dragbike racing. At the top of that list is becoming the first Pro Extreme rider at 625 pounds to crack into the three second zone. Others, including Owens (3.95) have been in the exclusive three club, but none under the current PDRA mandated bike and rider weight of 625 pounds.
"That would just top it off. To run even a 3.99 would mean the world," said McKinney, who has been 4.02 at 180 mph.

There is also a burning desire to win a NHRA Pro Stock Motorcycle Wally, something the three-time PXM champ considers the pinnacle of the sport.
McKinney Motorsports purchased Anne Hansen's Pro Stock Suzuki and was seen testing at the ManCup World Finals in Valdosta, Ga. in November.
"We tested the new Vance and Hines big crank and Paul (Gast) helped us out a bunch at the track. I ran a 7.21 on the third pass. I think the bike has 6.90s in it," McKinney said. "Winning a Wally would be the ultimate but we won't jeopardize our Pro Mod program right now. You may see us at a couple NHRA races next year."
True to his word, the focus remains on improving the PXM program. McKinney has a new updated PMFR chassis he plans to utilize in 2015. He expects the PDRA competition to be fierce.
"This year, being the inaugural season of the PDRA, a lot of guys didn't show up because they were not sure what to expect," McKinney said. "This year the PDRA is going to take off. They have a TV show and I heard a lot of NHRA car guys are coming over."
McKinney in encouraging all of his Pro Mod/Pro Extreme colleagues from the past to come back out.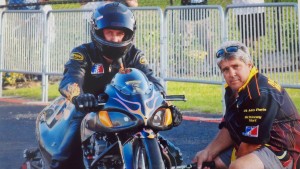 "When I first started running we would have 30 -35 Pro Mods in Rockingham and there wouldn't be a weekend anywhere that was under 20. Rockingham is a bit of hub," McKinney said. "Bike counts are down and I hear guys say they don't want to get beat first round. Well, hey it's drag racing and anyone can spin the tire or red light. Anything can happen. We need everyone to come out and support the class. The class is not progressing. I think when somebody knocks a 3.99 down it's going to get guys motivated. The 625-pound minimum really helps the big guys."
McKinney says in the past, some competitors such as Kim Morrell were as light as 560 pounds.
McKinney also relishes any chance he gets to let the beast open up all the way down the quarter mile. At the ManCup shootout McKinney recorded a 6.36 at 205 mph.
"I love quarter mile. Charlie Farrar had the record at a 6.61 forever. It's amazing how much quicker the bikes have gotten," McKinney said. "Ashley thinks we could go mid 20s pretty easy. The ride is smooth and running the quarter is not as hard on parts as people think. You just have to change the tune-up."
McKinney would also like to one day race overseas at the Qatar Racing Club.
"We were supposed to go last year. They had a deal where if you won the championship with the ADRL you could double up for a $250-thousand bonus," McKinney said. "It never worked out. We didn't get paid for the last race from the ADRL and we just couldn't leave the shop for eight weeks, although I'd love to."
And that's where McKinney will be hard at work all winter, at his family's auto parts business.
"We sell motors, transmissions, hoods, you name it. Give us a call. (937 379 1969) We send parts to drag racing guys all the time. We love to help out," McKinney said.
Eric McKinney thanked the whole McKinney Motorsports team, including his father and owner Scott McKinney, his mother, Ashley Owens, Steve McKinney, Fast By Gast, Schnitz Racing, ProFab, Vance&Hines, McKinney Farm, Eatmyink and PMFR.