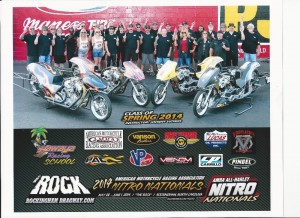 Hawaya Racing's 2014 Spring Nitro Bike School went off without a hitch! 8 riders and 5 crew chiefs/members attended the 2-½ day school at Rockingham Dragway. The experience of the riders ranged from some of our best V-Rod riders to one street rider that had never sat on a race bike of any kind, much less went down a drag strip. The Derringer powered Pro Dragsters preformed perfectly, even though they were tested a few times due to the in-experience of some of the riders. In all, over 40 passes were put on the 2 school bikes during the school with only a piston change on SB #1 on the first day due to being a little too lean. After that, 3 of the graduates went on to run in the AMRA event, Dan Ramage qualified #8 on his new HRP bike, Gary McGuinness qualified #7 on SB #1 and went 2 rounds, and Cole Varty qualified in the #4 spot on SB #2 and went 3 rounds having low ET of the meet with a great 7.23 second pass in round #2.
All riders and crew performed very well. 7 of the 8 riders received their AMRA 6.90 license during the school which is transferable to the NHRA license. The one remaining student would have only to run an ET within the low qualifying time at a future AMRA event to receive his license. Marty and Jane, owners/operators of the American Motorcycle Racing Association (AMRA) were on hand during the school to monitor the progress of the students and observe the procedures of the school.
Congratulations to Pilots Gary McGuinness (Australia), Niki Taube Zakrzewski (Australia), Justin Vodanovich (Australia), Dan Ramage (Canada), Cole Varty (Canada), Mark Snyder (PA), and Kenny Houk (TX) for receiving their 6.90 license.
Congratulations to Crew Members Shane Davis (Australia), Shaun Mcgarry (Australia), and Robbie Jackson (Canada), for successfully receiving their Crew Member certificates as well as Debbie Ramage for her help to husband Dan Ramage. All did a fantastic job of crewing and getting the Pilots and HRP through qualifying and many rounds of eliminations. Their intensity and focus to detail was evident by the performance of the HRP Nitro Pro Fuel school bikes.
The next class is scheduled for October 8-9-10 2014 at Rockingham N.C. just prior to the AMRA Nitro Nationals to be held on the 11th -12th. We will hold the school for 2 ½ days and then go right into the AMRA event on Saturday. Class size is limited to 8 riders max. All Crew chiefs/Crew members are welcome. We currently have 5 riders signed up for the Fall class.
We want to especially mention the supporters of the Nitro Bike School for their continued support, VP Racing Fuels, PAC Racing Springs, Vanson Leathers, Mickey Thompson Tires, Venom Group International, Pro Jack Bike Lifts and Vreeland's Harley Davidson, Lucas Oil, Pingel Enterprises, and CP Pistons.
We would like to thank Rebel Glover for doing our Demo runs and crewing. We would also like to thank Leanne Purvis, Walter & Norine Holonski, Janeane Diffin, Preston Bartlett, Kevin Garrow, Rich & Patty Vreeland, Buddy Foss & Janette Thornley, Tyler & Stacy Wilson, Tore Swensson, and Steve Vickers for their help and dedication. They volunteer their time and are key factors in the success of the Pro Fuel Nitro Bike School. Special thanks to the AMRA who officially monitor and sanction the Nitro Bike School. Last but certainly not least, a big thanks to Steve Earwood and the staff at Rockingham Dragway, who prepare all aspects of the race track to perfection for the students and adding to the success of the Nitro Bike School.
Contact www.hawayaracing.com www.amraonline.com for more information
Phone 336-973-5078