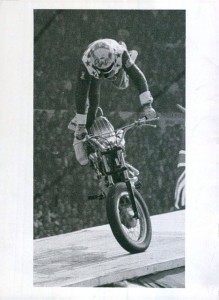 It's the largest Evel Knievel collection ever assembled—one more complete than the daredevil himself ever amassed in one place! And it's at ROT Rally 2014.
Get a first hand look at the most comprehensive and authentic collection of Evel Knievel memorabilia in the world, on display in the Travis Co. Expo Center during the Republic Of Texas Rally June 12-15. It includes Knievel's performance leathers, never-before-seen photographs, X-rays of Evel's broken bones, plus his original jump bikes and personal helmets.
Said Lathan McKay, owner of the collection, "After years of Evel's possessions being lost in obscurity and so many things sold, stolen or missing, the collection is coming back together." He terms the hunt and discovery process, "Evel Archaeology."
During Rot Rally Evel's painter George Sedlak will be signing autographs and working on his current EK canvas. Evel's son and daredevil in his own right Robbie Knievel will be present to sign autographs and meet fans. Topping off the hullabaloo on Saturday is Doug Danger's 15-car jump aboard one of Evel's own XR750 motorcycles – a feat not attempted since 1975.
Knievel made headlines from the mid '60s to the early '80s for his daring motorcycle jumping and risk-taking attitude. A fearless man of unabashed confidence and brashness, he derived as much fame from the jumps he failed to make—and the injuries he suffered—as the many he completed.
Don't miss this chance to see the only collection of its kind bringing together authentic artifacts that belonged to the most notorious daredevil of the 20th Century.
The Evel Knievel traveling circus is back!