Vance & Hines Harley Davidson Pro Stock Motorcycle racer Andrew Hines finished off a standout weekend by racing to another win on Sunday at the NHRA Sonoma Nationals at Sonoma Raceway. Five-time champion Hines has won all but two races this season.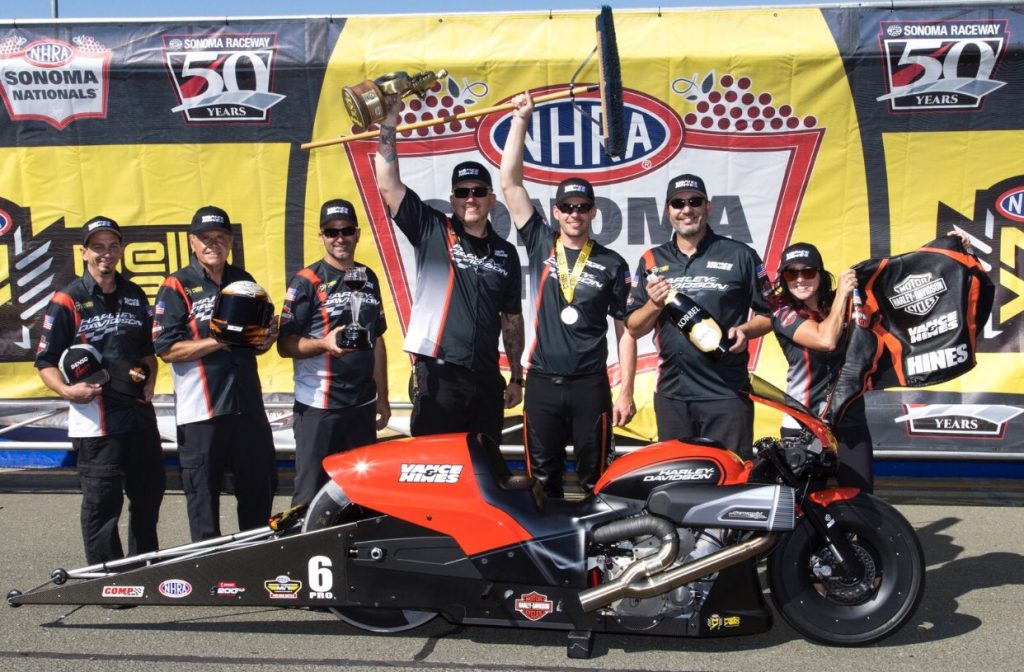 There are videos on the Cycledrag Youtube channel (please subscribe here) and the Cycledrag.com Facebook page (Please like here) and more will be coming soon. Check back daily.
The points leader Andrew Hines made it a double-win weekend by earning his seventh victory of 2019 and 55th in his career with a 6.790 at 198.00 on his Screamin' Eagle Vance & Hines Harley-Davidson FXDR in the final round to beat Matt Smith's 6.822 at 197.36. It follows Hines' win in the Mickey Thompson Pro Bike Battle on Saturday, and gives the winningest rider in class history the Pro Stock Motorcycle version of the Western Swing sweep. Hines won last weekend in Denver and the class doesn't race next weekend in Seattle. The seven victories are also a career-best in a single season for Hines.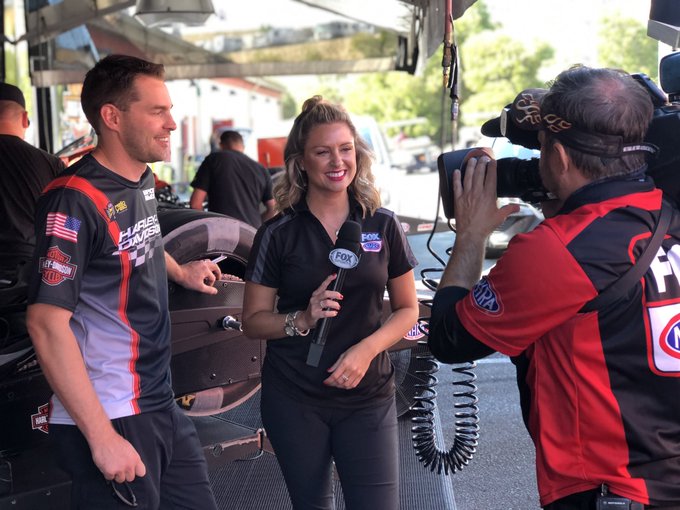 He beat Kelly Clontz, Scotty Pollacheck and Jerry Savoie en route to the final round, while defending world champ Smith beat Jianna Salinas, Ryan Oehler and Hector Arana to advance to his 53rd final round. Eddie Krawiec, Smith and Hector Arana Jr. all clinched berths in the Countdown to the Championship this weekend.
"It's absolutely mind-boggling what we've been able to achieve this year," said Hines, a three-time winner in Sonoma. "The confidence with my motorcycle and my team, and the level of performance and professionalism the guys bring to the starting line every single time, it's unsurpassed right now. I can sit on that starting line with confidence and it's just unreal. I feel I'm probably riding the best in my career and I just want it that much more."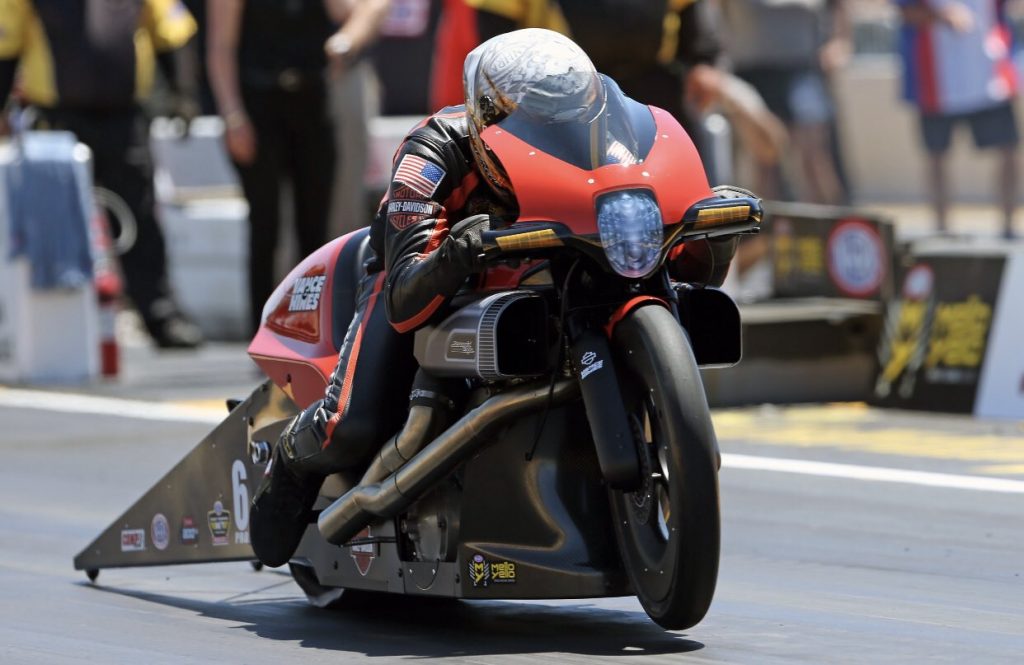 The Mello Yello Drag Racing Series continues Aug. 2-4 with the Magic Dry Organic Absorbent NHRA Northwest Nationals at Pacific Raceways. It is the final race of the NHRA Western Swing.
ROUND ONE — Katie Sullivan, Suzuki, 6.927, 194.21 def. Hector Arana Jr, Foul – Red Light; Ryan Oehler, 6.892, 196.22 def. Cory Reed, Foul – Red Light; Hector Arana, 6.868, 197.02 def. Angie Smith, 6.914, 194.04; Scotty Pollacheck, 11.395, 72.34 def. Karen Stoffer, Suzuki, Foul – Red Light; Angelle Sampey, Harley-Davidson, 6.886, 194.44 def. Eddie Krawiec, Harley-Davidson, 6.874, 197.02; Andrew Hines, Harley-Davidson, 6.807, 197.62 def. Kelly Clontz, Suzuki, 7.060, 191.38; Matt Smith, 6.878, 196.47 def. Jianna Salinas, Suzuki, 7.096, 191.48; Jerry Savoie, Suzuki, 6.827, 197.39 def. Joey Gladstone, 6.898, 192.74;
QUARTERFINALS — M. Smith, 9.900, 88.18 def. Oehler, Broke; Arana, 6.882, 198.12 def. Sampey, Foul – Red Light; Savoie, 6.794, 198.96 def. Sullivan, 6.938, 194.72; Hines, 6.801, 198.67 def. Pollacheck, 6.896, 196.36;
SEMIFINALS — M. Smith, 6.880, 198.06 def. Arana, 6.976, 196.93; Hines, 6.805, 198.23 def. Savoie, 6.807, 197.88;
FINAL — Hines, 6.790, 198.00 def. M. Smith, 6.822, 197.36.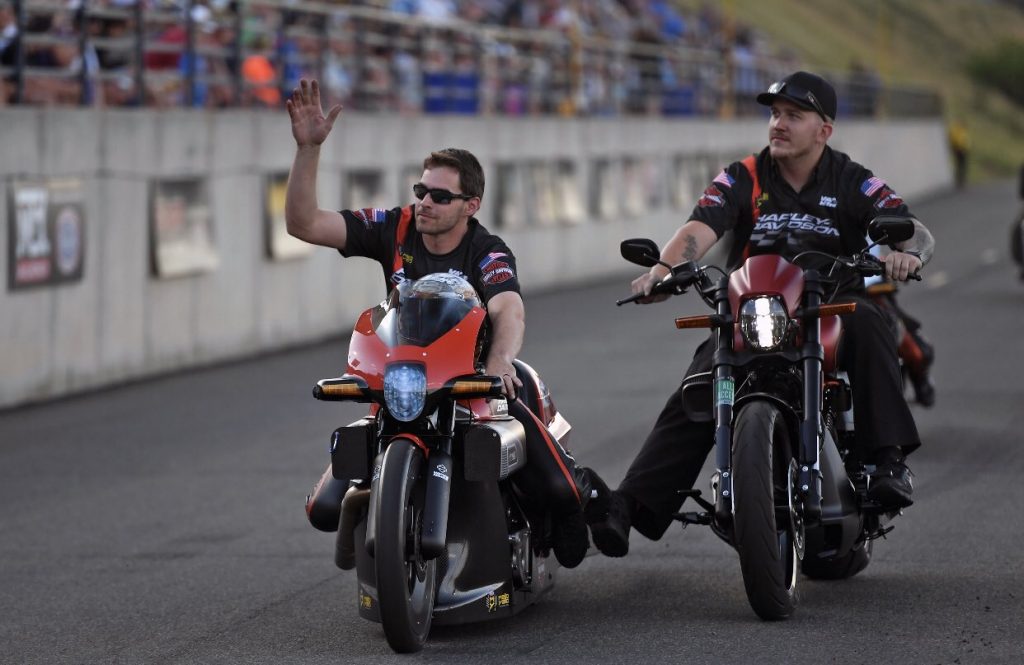 Pro Stock Motorcycle Points
1. Andrew Hines, 967*; 2. Eddie Krawiec, 770*; 3. Matt Smith, 712*; 4. Hector Arana Jr, 658*; 5. Karen Stoffer, 452; 6. Angie Smith, 419; 7. Ryan Oehler, 408; 8. Hector Arana, 400; 9. Angelle Sampey, 397; 10. Jerry Savoie, 379.
* Clinched berth in NHRA Mello Yello Countdown to the Championship