Maryland International Raceway (MDIR) hosted the 19th annual WPGC Bike Fest with the Xtreme Dragbike Association (XDA) delivering the best motorcycle drag racing party available. The event featured Live music, a Freestyle Motocross show, Baggers vs. Slingshot Sound Off, custom bike show, sound competition, huge vendor midway and the bikini contest.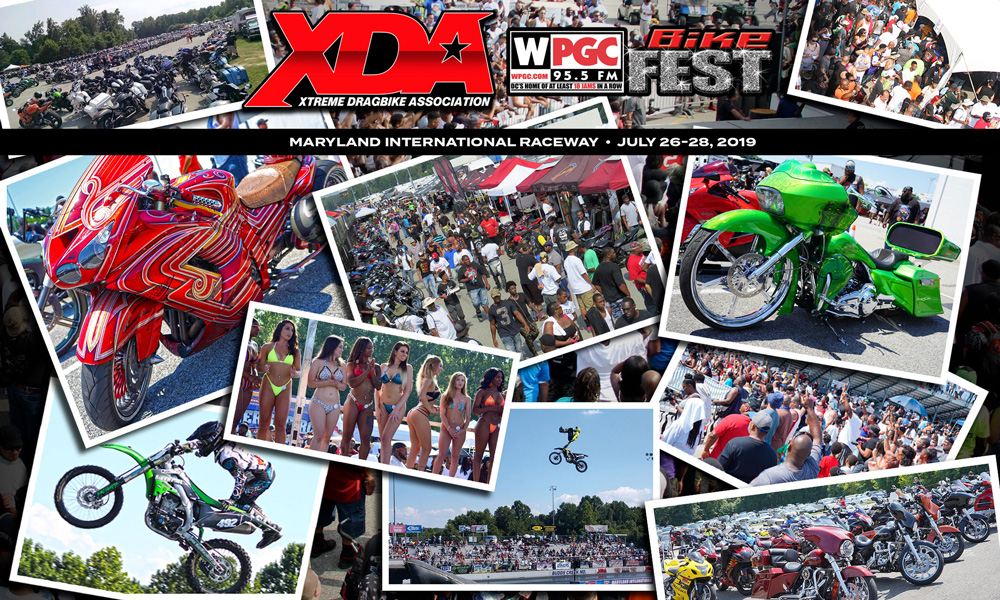 The on-track action was stellar as always, with a record 882 entries on hand tackling the MDIR 1/4 mile. Racers showed up ready for serious competition and they weren't letting the warm weather slow them down. With full fields and a variety of activities going down in the pits, there was non-stop action all weekend. Literally something for everyone, even an impromptu music video was shot.
Orient Express Racing Pro Street
The Orient Express Racing Pro Street class came into Bike Fest knowing they would not be running epic times like they did at the last event. With the higher temperatures, the class tuners would be working overtime with their tune-ups. In qualifying, the world's fastest Pro Street ridden by Ehren Litten took the top spot running a 6.543, Richard Gadson took second with a 6.556, Jeremy Teasley took third with a 6.592, and Rodney Williford took fourth with a 6.606 to lead the sixteen-bike field. Also, in qualifying, Curtis Ellerbee improved on his personal best running a 7.417.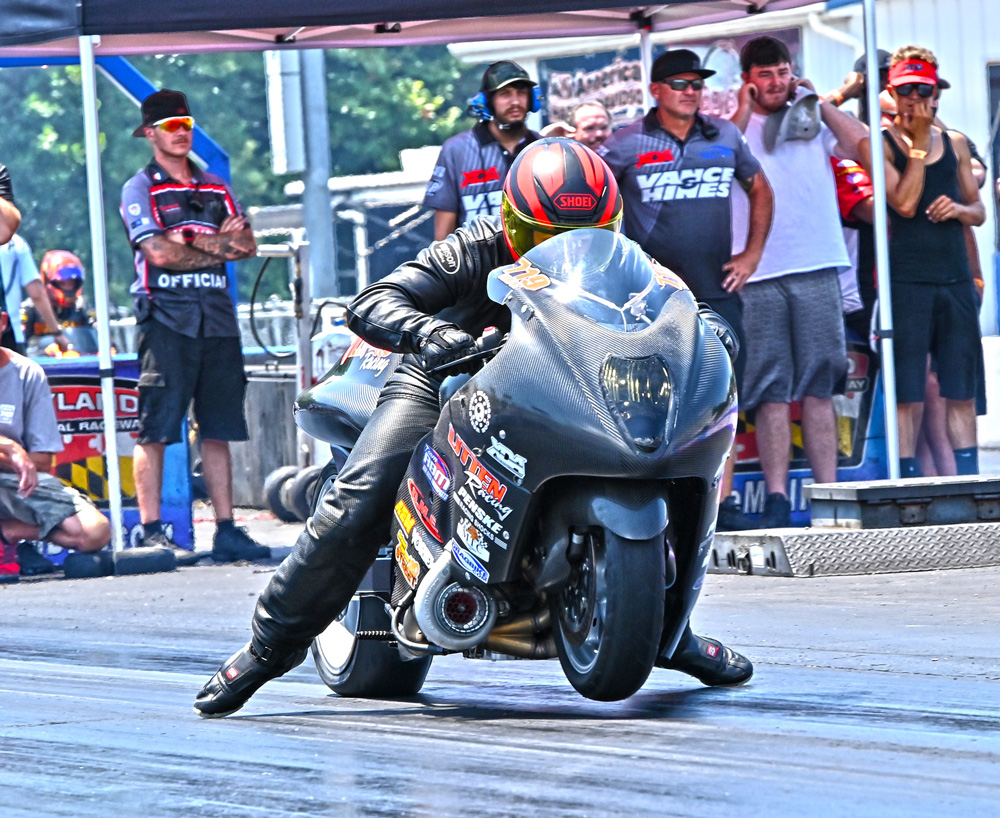 The Penske Racing Shocks Pro Street Shootout was not completed on Saturday because a round of qualifying was cut from the program leaving Jeremy Teasley and Rodney Williford to split the purse. With both competitors running 6.60's it would have been a great matchup.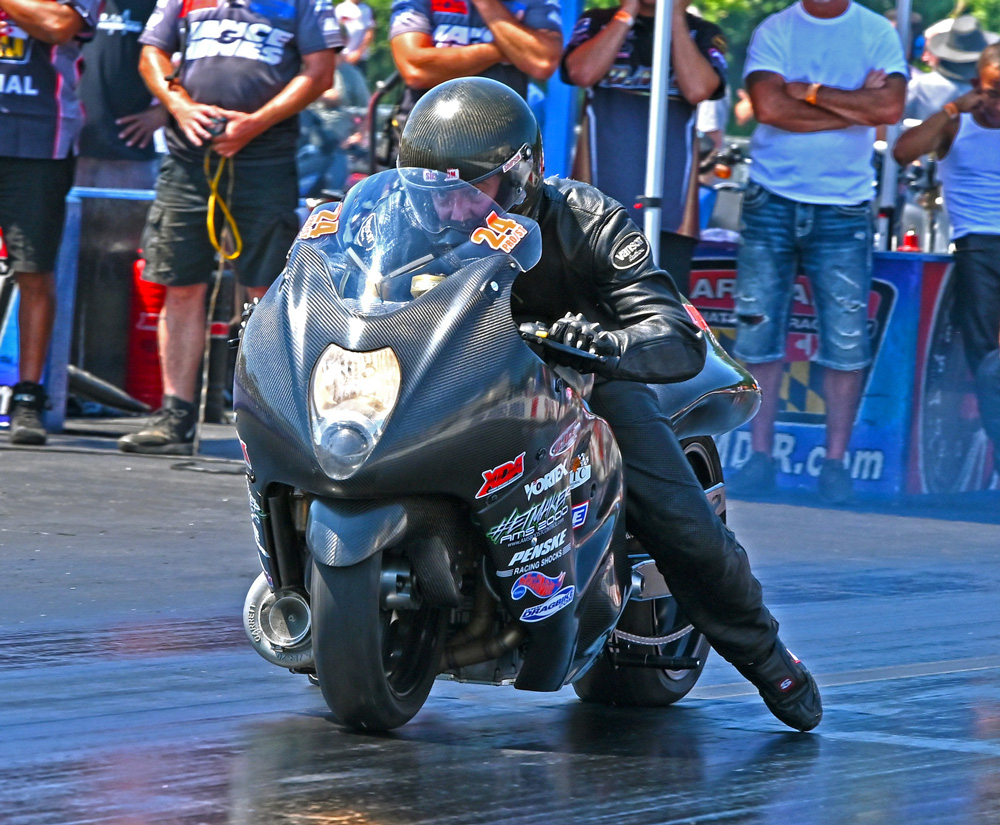 Despite the high temps, Sunday's eliminations were full of excitement and quick runs. Litten shocked everyone in round one when he went red throwing away a 6.56 pass. Frankie Stotz ran a 6.559 at 208mph, and Richard Gadson ran a 6.564. Jason Dunigan and Justin Shakir who both struggled in qualifying, ran their best passes of the weekend against each other, but Shakir came out on top. Rob Aston, who drove thirty-six hours to compete, lost to Williford in round one. But Aston was still ecstatic as the run of 7.283 was his career-best and he can now claim the quickest pass in history by a Canadian on a DOT Street tire.
In round two all the heavy hitters took wins, Gadson, Teasley, Williford, and Stotz. Gadson had problems as his bike rolled out of the burnout. They quickly realized the #2 coil had been left unplugged. While this should have been a quick fix, it wasn't, as they have straps that hold the coils in place from the vibrations of the bike. Gadson jumped off the bike to try and get it, and as he almost had it plugged in, the coil would rotate on him. It was a struggle, and with bikes running at the line, it felt like it took forever to get it fixed. But his competitor, Ryan Schnitz, waited for him before rolling into the beams. Gadson went on to win that wound with a 6.548 to Schnitz's 6.721.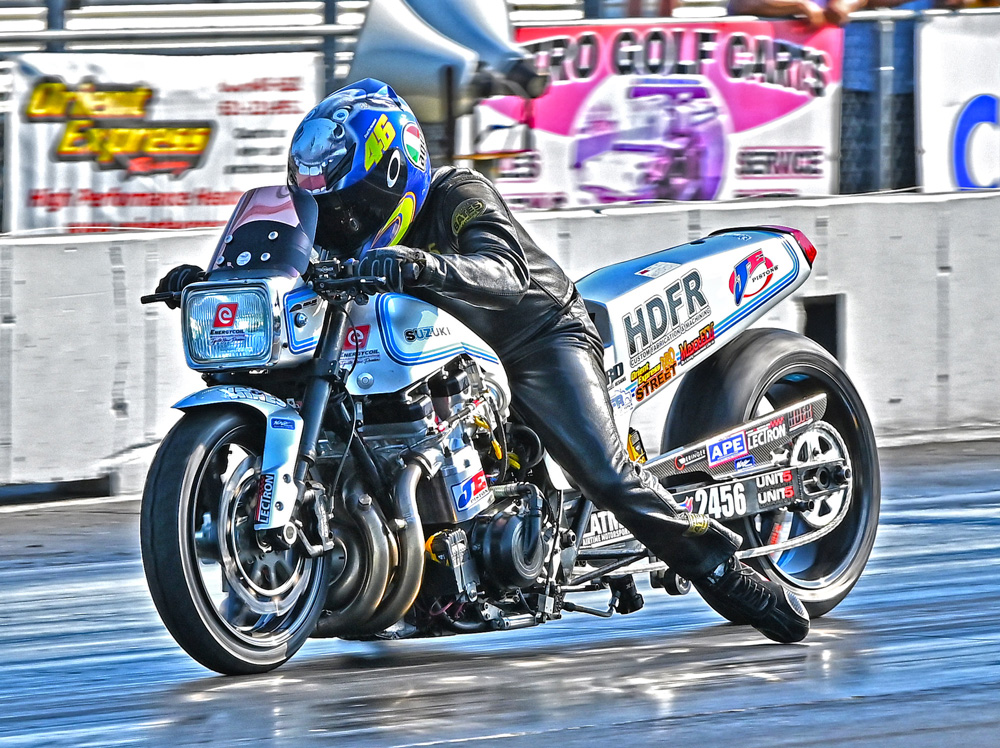 Frankie Stotz who was paired with Darion Payne wasn't in the lanes when the class started because in round one had hurt a bucket in the head. Jordan Haase oiled down the track significantly while Darion Payne sat in the water box unopposed having issues himself. During the oil down, Jason Dunigan told Stotz to get his bike to the lanes because Payne was having issues with his bike as well. During the cleanup process, Frankie Stotz limped his bike to the line to at least attempt breaking the beams under power for points. Once the oil down was done, Stotz rolled up to the line, and now Darion Payne couldn't get his bike started. His team tried to get the bike fired, but they had no luck, and Stotz took the tree under power for a win.
In the semi-final, Jeremy Teasley took the win over Richard Gadson in a close race with Teasley running a 6.530 and Gadson running a 6.584. Williford had the bye since Stotz couldn't make it and broke the beams.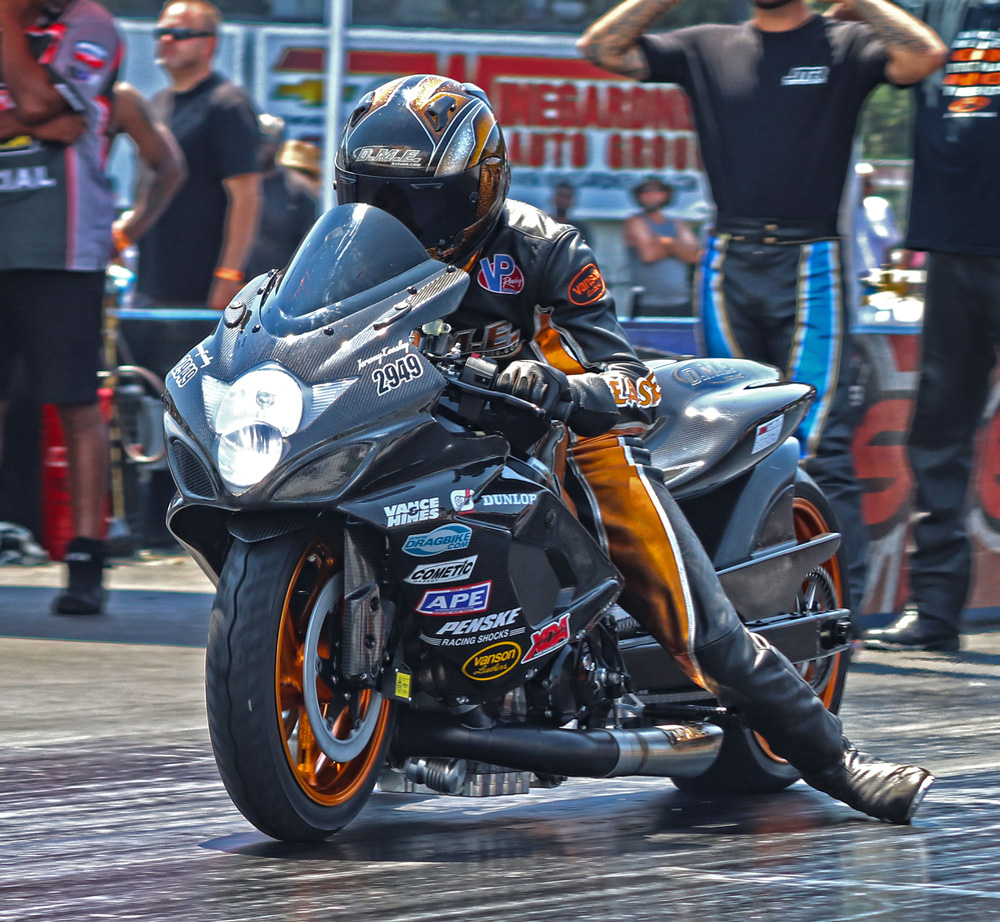 The final round was nothing less than exciting as the two titans of Teasley and Williford took the tree. They both had almost identical reaction times as both bikes shot off down the track. Williford was immediately out in front, but Teasley quickly caught him by the eighth-mile and started pulling in front of him in an exciting side-by-side battle. Teasley got the stripe by a .0526 margin of victory to send his team to the winner's circle for the second event in a row. Teasley is now in striking distance of a championship. There is a tremendous amount of sportsmanship and competition in this class!
DME Racing Real Street
The DME Racing Real Street class delivers action-packed excitement all weekend. In qualifying, Ashley Cotnoir silenced the boys by taking the number one qualifying position with a career-best 7.655 on her 2005 Suzuki GSX-R1000 in the first round of qualifying Friday night. Devin Ragland qualified behind her with a 7.656 in the fifteen-bike field.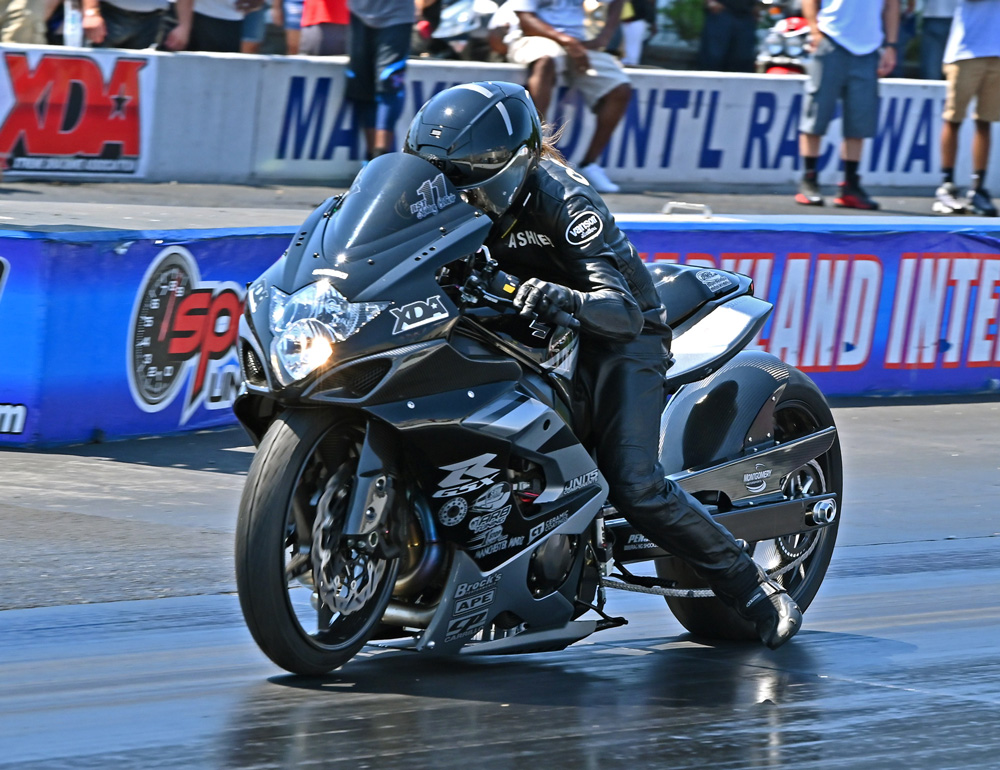 There are more videos on the Cycledrag Youtube channel (please subscribe here) and the Cycledrag.com Facebook page (Please like here) and more will be coming soon. Check back daily.
The Schnitz Racing Real Street Shootout was not completed on Saturday because a round of qualifying was cut from the program leaving the finalist, Cameron Teasley and Anibal Merced to split the purse. Cameron beat his brother Jeremy in the semi-final running a 7.785, while Anibal ran a 7.758 that same round. It would have been an excellent battle for sure.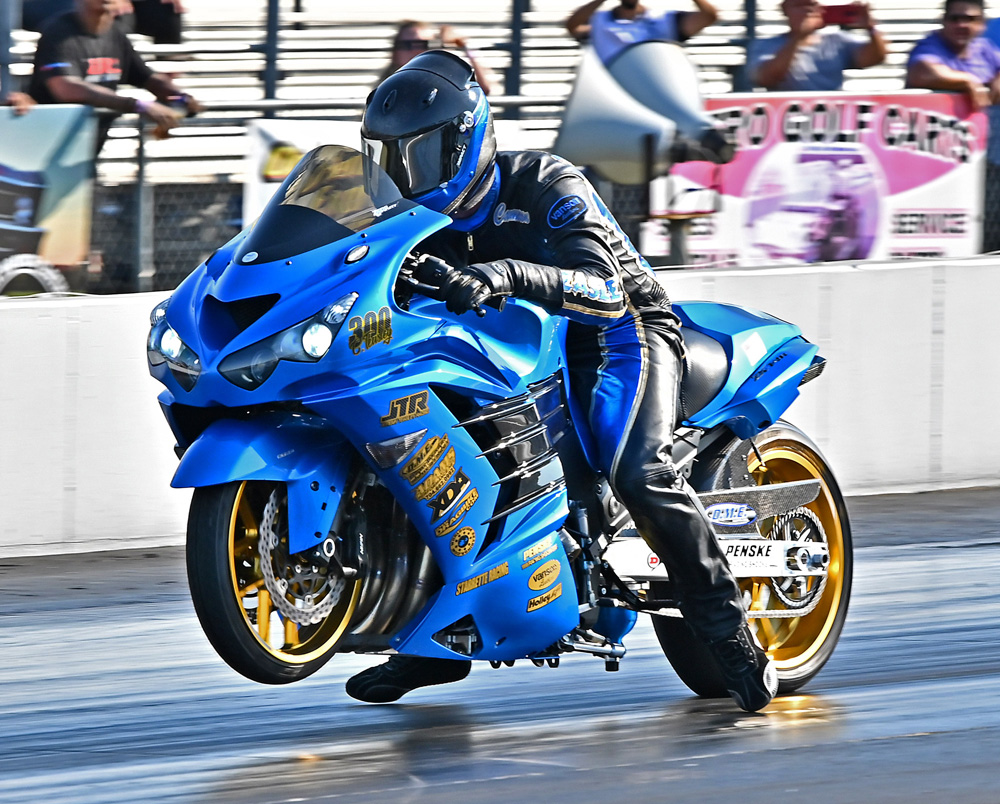 The buzz in the pits Saturday night was, would anyone run a fifty pass? We knew Teasley was close on Saturday on an aborted pass. But with the temperature increase on Sunday many were not expecting any record runs. However, in round one Jeremy Teasley threw a 7.592 at 189.36 mph on the scoreboard! To make it an official record he would need to run a 7.66. In round two, for the second time in one weekend, Cameron Teasley took his brother out of the competition, leaving him no more chances to back it up. We will have to wait until the Bike Bash at VMP to see if the Real Street record will be lowered.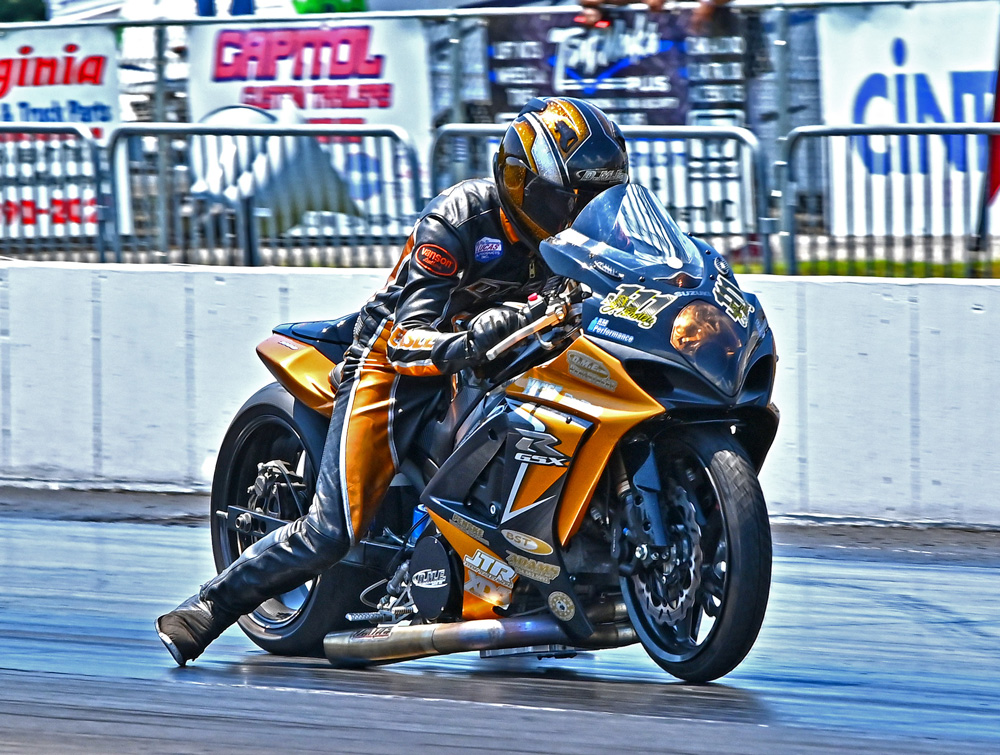 Ashley Cotnoir, in only her second event in the class, proved that her performance at the Superbike Showdown was no fluke. Cotnoir got everyone's attention by qualifying number one with an impressive 7.655 and making it once again to the finals. There she faced Mark Hylton who already has several class wins under his belt. Cotnoir, who is only two races in this year, has yet to master her reaction times on her new bike, and this would give Mark Hylton an edge on taking her out in the final. With a better reaction time, Hylton ran a 7.796 to win over Cotnoir's 7.821. This is his second win in DME Racing Real Street, and he has now taken the number one spot in points over Anibal Merced. Hylton will have a lot on the line with only two races remaining in the season.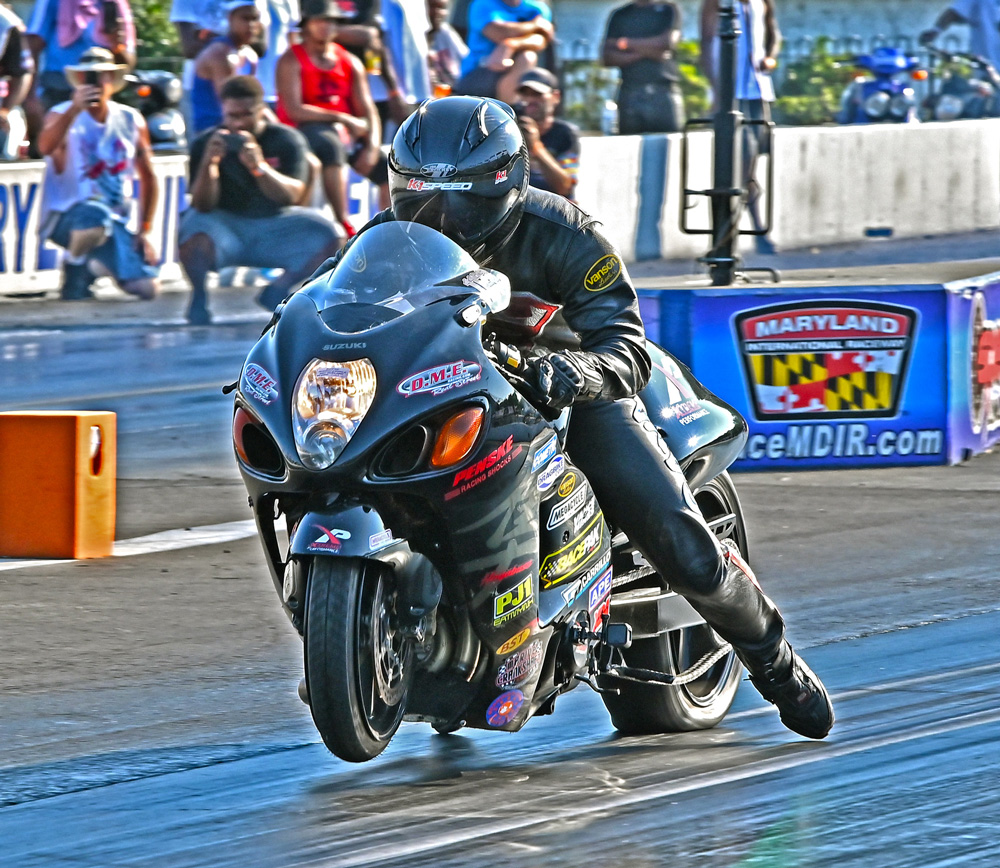 APE Nitrous Bulls
In APE Nitrous Bulls 'Mad Max' and 'Yellow Jacket' were the only contenders for the weekend. Dave Norris on 'Yellow Jacket' is the current points leader and a definite fan favorite. Both bikes had issues during qualifying, Norris was having issues with tire spin off the line, and Tyree was dealing with a wiring issue. In eliminations Mad Max took off with no problems, while Norris who probably turned it down for that run stumbled off the line. Norris quickly recovered and made a big move to catch Mad Max. CJ Johnsen who was at the eight-mile watching the race reported that it looked like Norris caught him, but Tyree's win light came on. It was a close battle and 'Mad Max' came out on top this time. Tyree will gain some points in the class, but Norris will hold on to the top spot for now.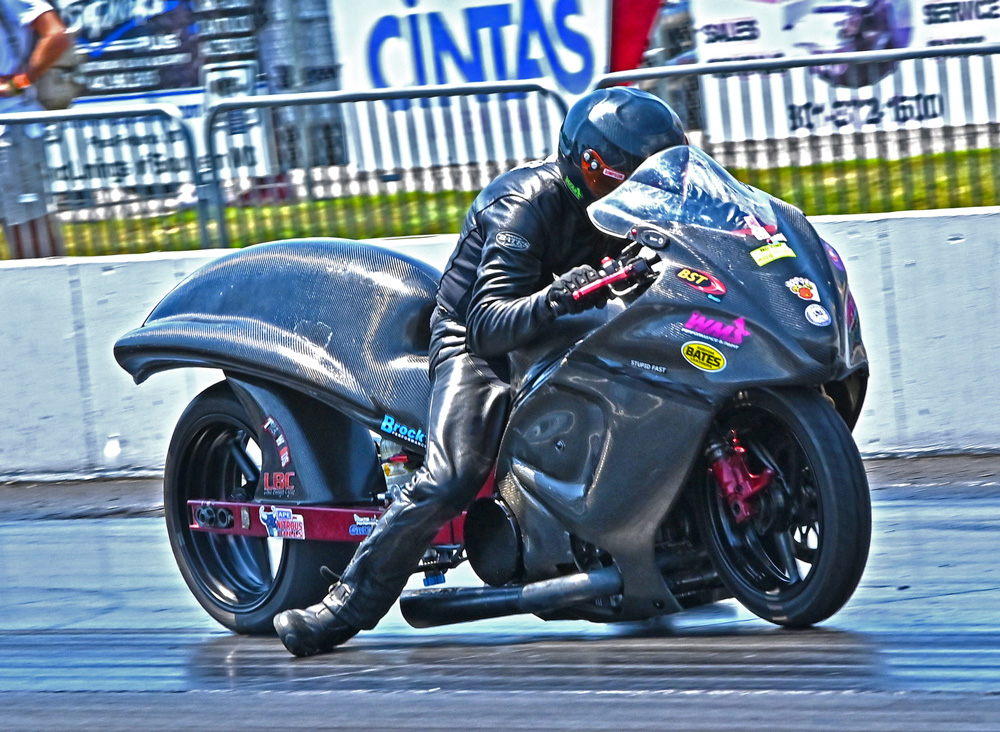 Monster Bulls
In Monster Bulls, the points leader 'Pickin Pockets' got taken out in round one by Josh Keller on 'Nasty Nate.' Keller had a big wheelie leaving the line but was able to ride through it to stay next to David Page in a pure rider's race to the finish.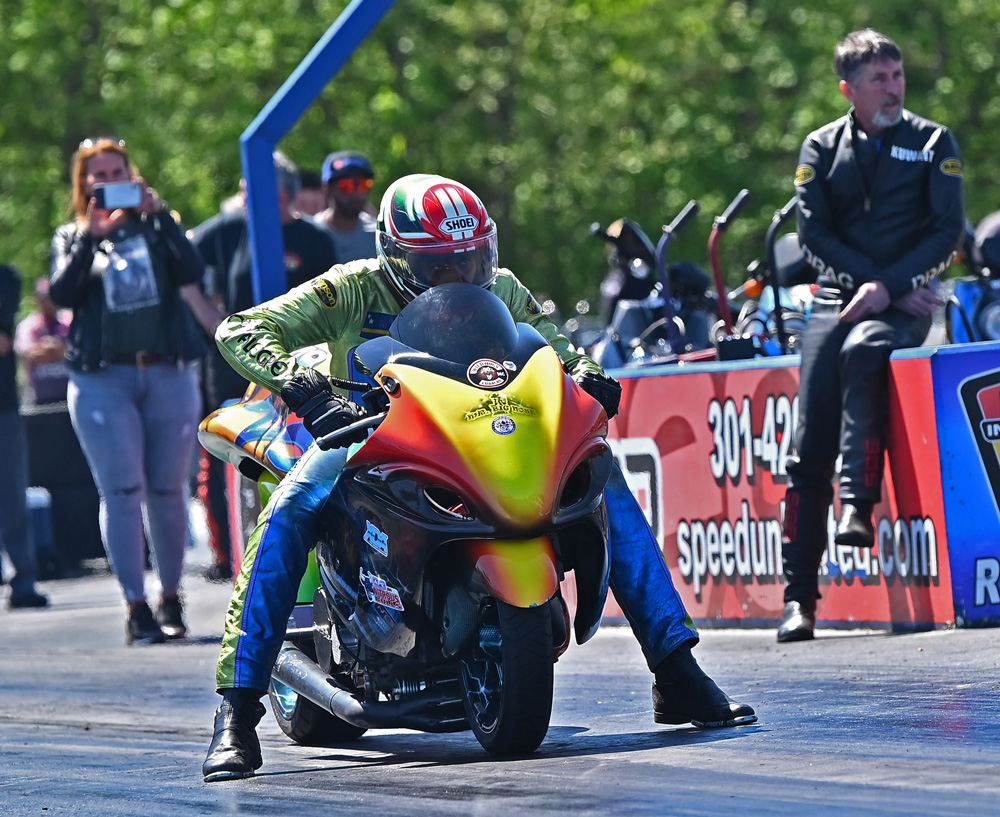 Rendolf Torbed on 'Kastigala' took the win over Josh Eubanks on 'Harley Quinn' in round one. He then went on to the final to face Josh Keller. Keller knew if he wanted to beat Torbed's Billy Vose tuned machine, he was going to need to push the tree and get the starting line advantage. Keller put 'Nasty Nate' in deep, but as the yellow bulbs flashed, Keller's top light went out, and the red light came on giving the win an immediate win to 'Kastigala.' This win gives Torbed a points gain to put him in striking distance of taking the lead from Page in the championship chase.
Unit 5 Components Brahma Bulls
The Unit 5 Components Brahama Bulls had only one taker at this event with Nicholas Mazeika on 'Clockwork.' So, for the fourth straight event, 'Clockwork' got her picture taken in the winner's circle.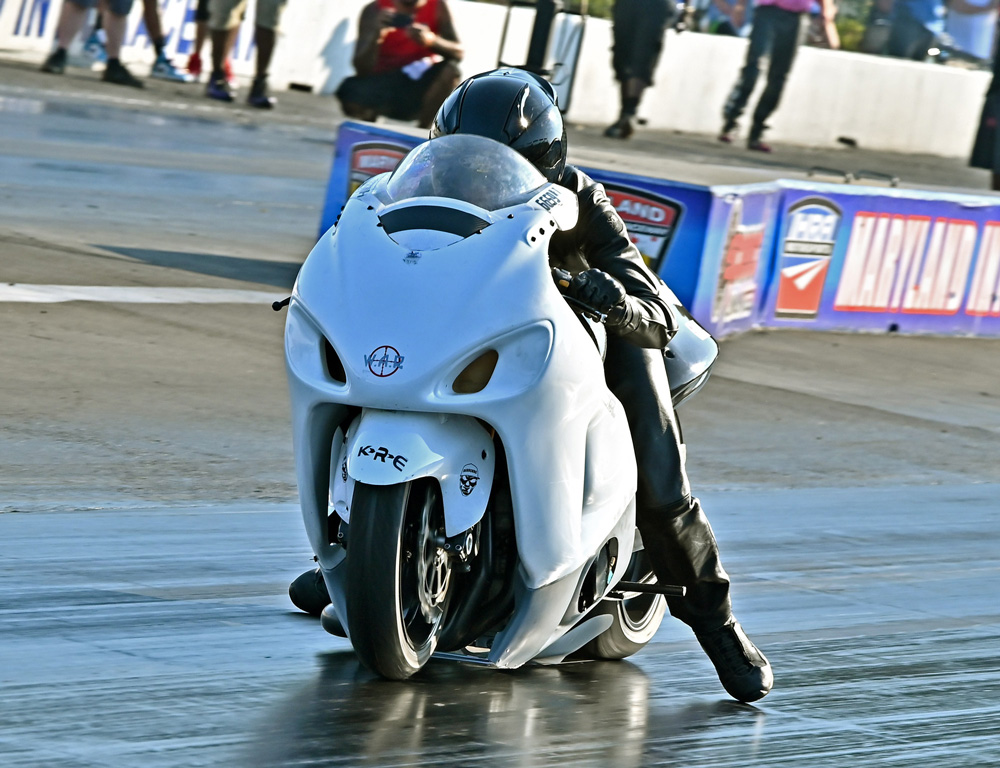 Boosted Bulls
Booted Bulls with only one entry to the class saw the most drama in the grudge session. DME Racing's Kool-Aid had been locking in all season looking for a race with no one stepping up. So, Kool-Aid didn't lock-in for Bike Fest and had no plans of running. Chris Moore brought 'Cash is King' to the race and did a last-minute lock-in on Friday night calling out 'Kool-Aid' publicly. The DME team already had their hands full but decided they would try to prep Kool-Aid who had been sitting dormant for the past few months. With Saturday's program running behind schedule, XDA canceled a round of qualifying for the Pro's. And with the short notice, Kool-Aid wasn't ready. But DME not wanting to walk away from a potential race met with Moore and requested that if they could get another shakedown on the bike, they would lock-in to race. But as the bikes were about to make that shakedown, there was some miscommunication between the teams that prevented the race from happening. So, with no competition for this event, 'Cash is King' took the win.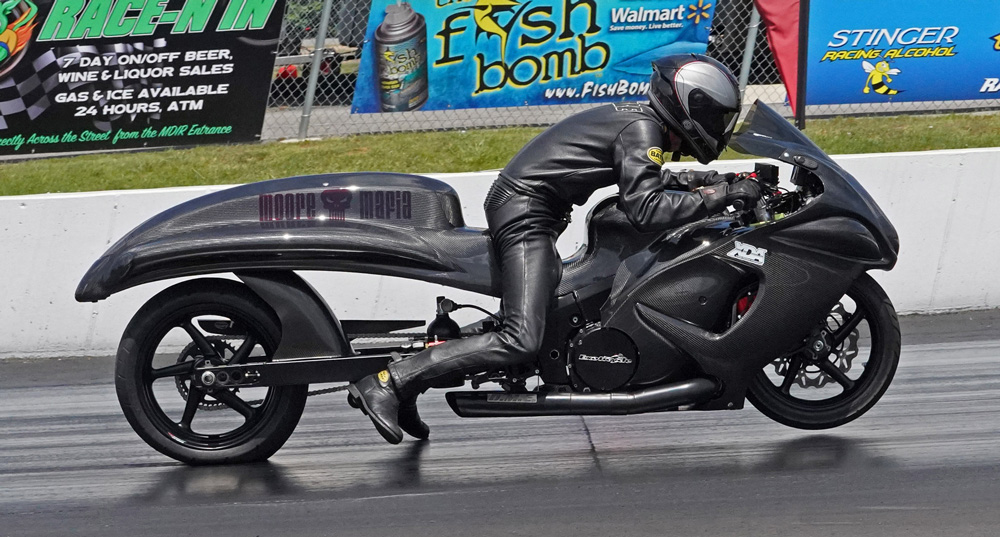 Vance & Hines 4.60
The Vance & Hines 4.60 class once again broke a record with forty bikes showing up for qualifying in the thirty-two-bike field. Ellis Pierce took the number qualifying position with a dead-on 4.600 pass. Richard Gadson who has been absent from 4.60 competition all season returned at the Bike Fest with a number seven qualifying position running a 4.608. He would meet number twenty-four qualifier, Douglas Robinson in the final. Douglas Robinson had been running consistently well the entire day cutting lights and running the number. But when the final round came against Richard Gadson, he cut the tree too tight and red-lit to send Gadson, the 2018 champion back to the winner's circle.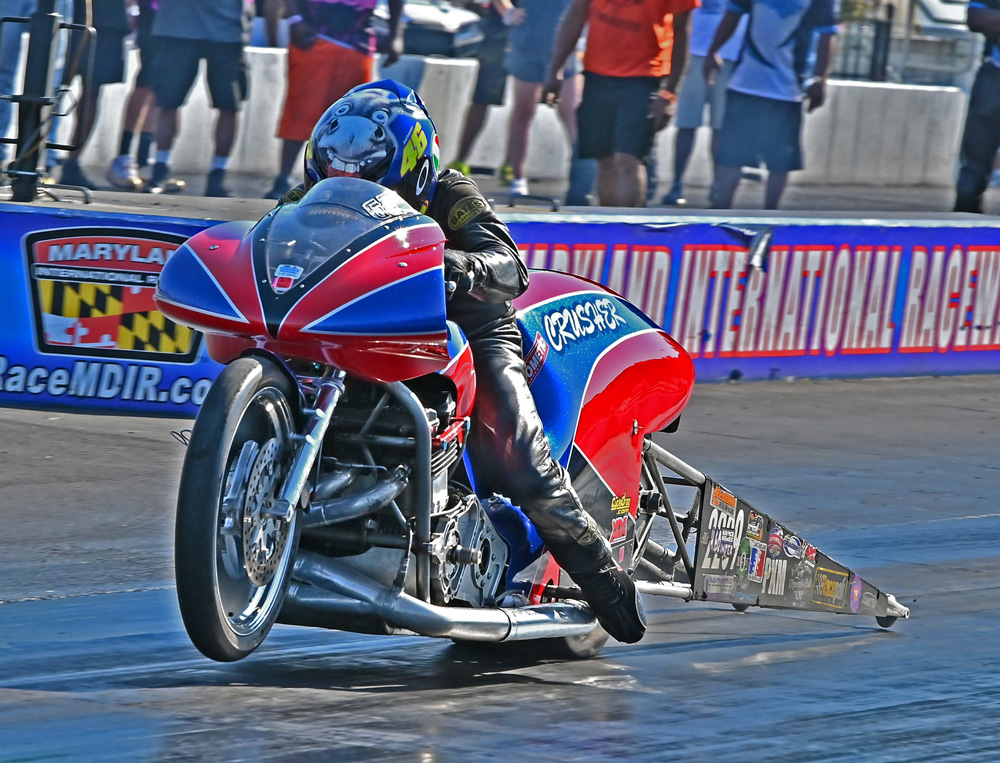 The FBR Shop 5.60
The FBR Shop 5.60 class has seen a different winner at each event, making their competition rounds quick and exciting. Jim Mauro and David Poague both ran a 5.606 to take the top spots in qualifying. However, they would both be eliminated from the competition before the semi-final round. Courtlan Whiting, who took a runner-up finish at the previous event would work his way back to the final round for the second event in a row. Whiting on his 2006 Suzuki GSX-R1000 would face Jeremy Brown on his 2012 Kawasaki ZX-14. Whiting's bike had already seen the winner's circle before this final when Dystany Spurlock rode it to victory in the Paint the Quarter Pink class. So, going into this final, Whiting was determined to make this final a win. Brown got the starting line advantage on Whiting with a .004 light. But when it came down to taking the stripe, Courtlan was there first with a 5.609 pass against Brown's losing 5.647. It was an emotional win for him and Spurlock in the winner's circle.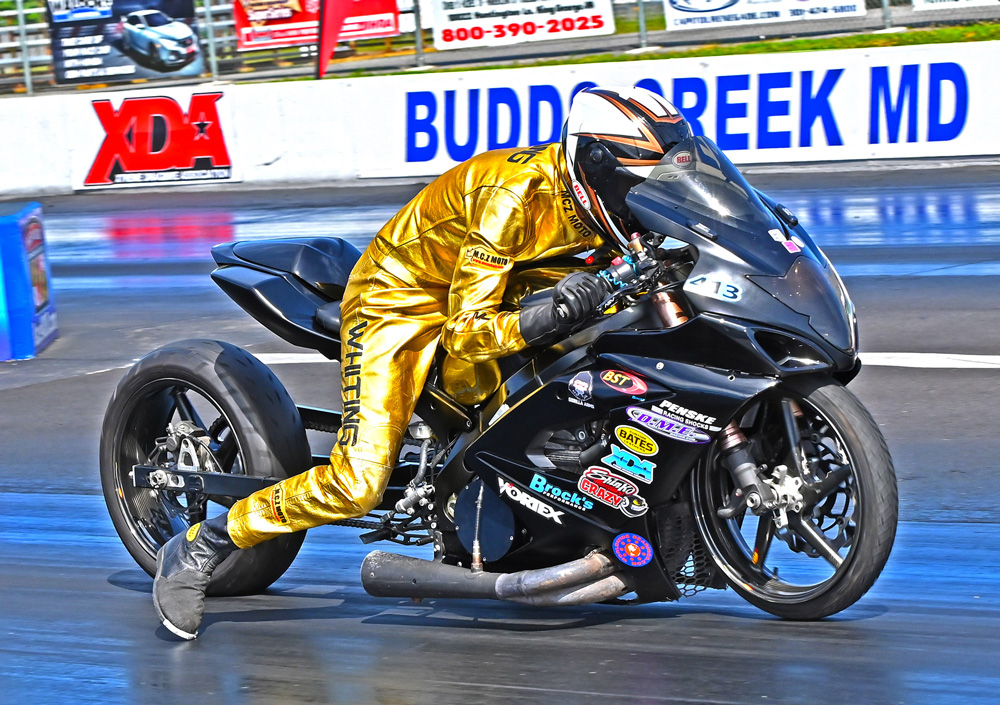 Shinko Tires Crazy 8's
In Shinko Tires Crazy 8's, Dustin Lee is showing complete dominance this year with his third straight win. Fifty-seven racers competed this past weekend trying to consistently run the 8.88 dial. After five round wins, Lee would meet the number three points holder Duane Jackson in the final. Jackson, who is over a hundred points behind Lee, was looking to gain a little ground with a win. However, Jackson got greedy at the tree and turned on the reds to hand Lee another victory in the class.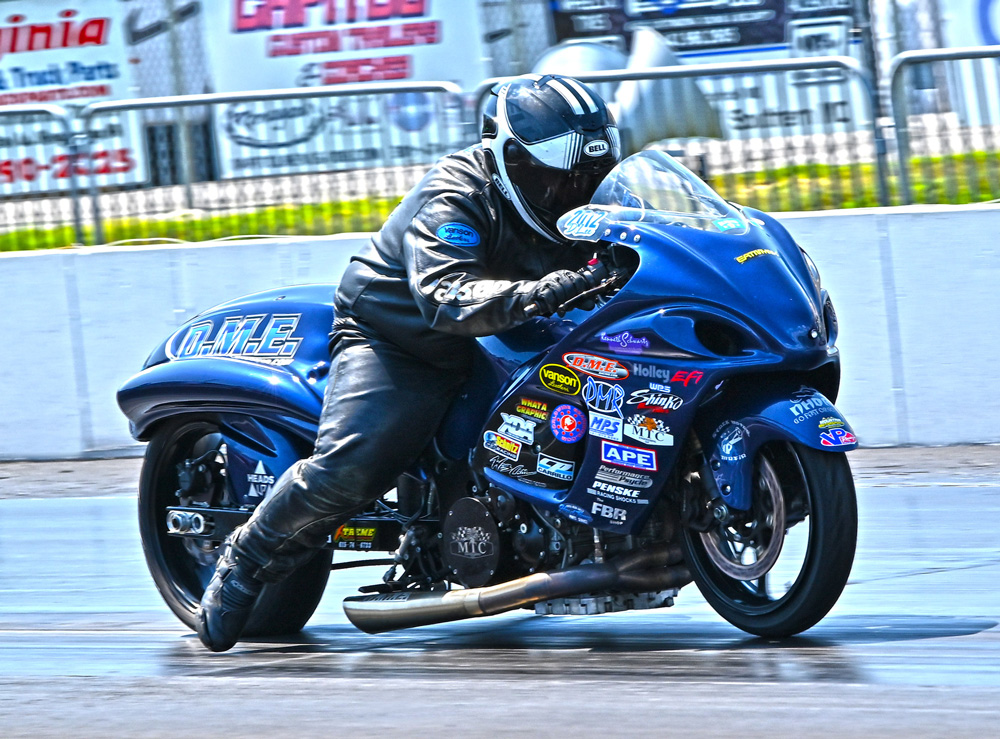 Mickey Thompson Performance Top Sportsman
Durwood Rawlings would get the number one qualifying position in Mickey Thompson Performance running a 7.345. Qualifying in the 32nd and final position was Stephen Madden with an 8.293, making the dial-in competition within one second of each other. Ryan Bonitatis from New Jersey would face Maryland native David Ashton in the final. Bonitatis, who took a Pro ET runner-up finish at the last race, was working for the win this weekend. He took out heavy hitters Rob Hunnicutt, Derrick Milbourne, Bobby Holland, and Dustin Lee to make it to the final. With the field running so close to their dials, the final would be tough for both Ashton and Bonitatis. Ashton took the starting line advantage and ran a 7.892 on his 7.85 dial to Bonitatis's 7.591 on his 7.55 dial. Ashton took the win with a .052 second margin of victory and Bonitatis will have to try for another final at the Inaugural Bike Bash.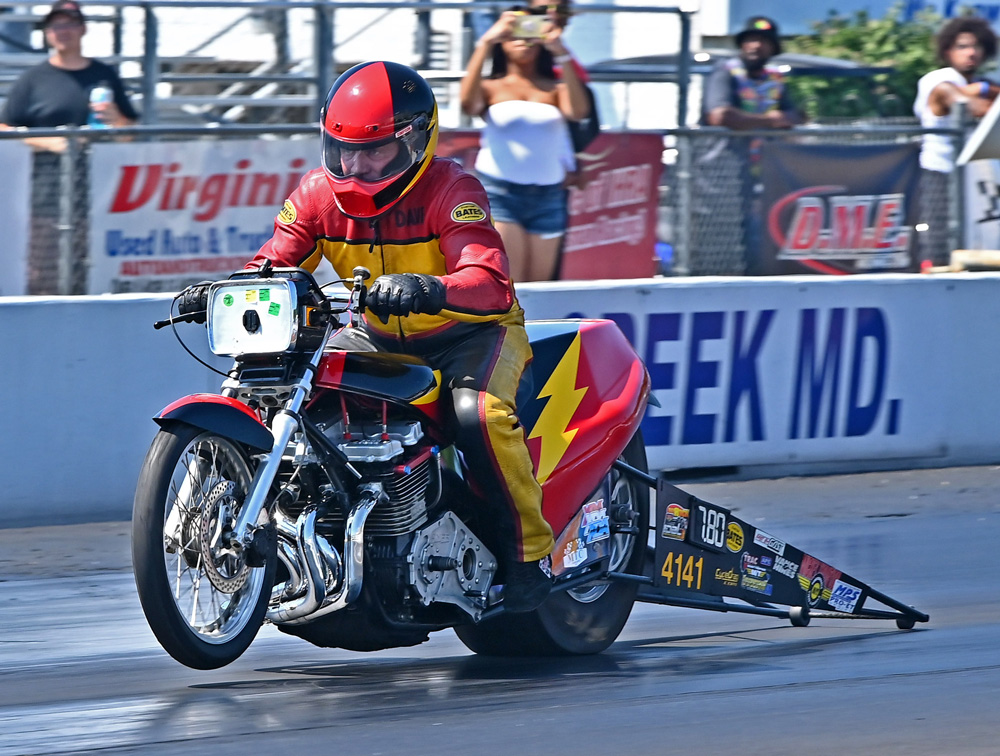 MPS – Pro ET
Over 150 racers filled the lanes both days to compete in MPS Racing's Pro ET class. The competition was as hot as the temperature this weekend. On Saturday two XDA veterans would face off in the eight rounds of competition. George Shriver on his 1996 Kawasaki would compete against Dustin Lee on his 2008 Suzuki in what would be both riders best Pro ET performances of the year so far. With both racers being fierce competition, spectators were looking for a good race. But they would be disappointed when Lee turned on the red bulb to give the win to Shriver.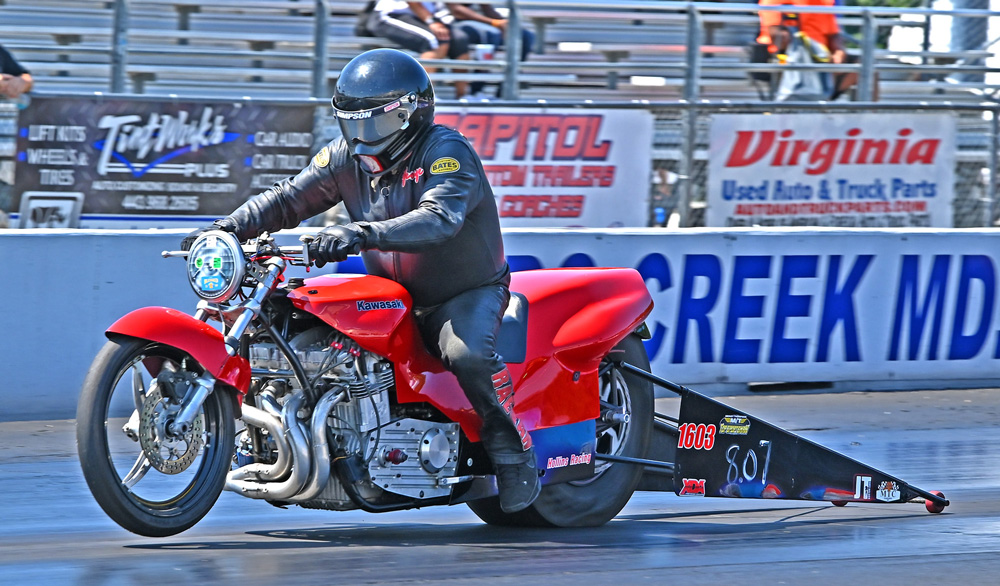 On Sunday David Ashton won the Top Sportsman class and was entered back into the sixth round of competition for a chance to double up on wins. Ashton would win two more rounds to face Mike Schulz in the final. Schulz, who sits just outside the top ten of points was hungry for the win and his consistency of the day showed he would be fierce competition for Ashton. In the final Schulz nailed the tree with a .009 light and ran an 8.866 on his 8.85 leaving no chance of Ashton getting double wins. This win for Schulz will move him up in the points and put him in a good position going into the last two races of the season.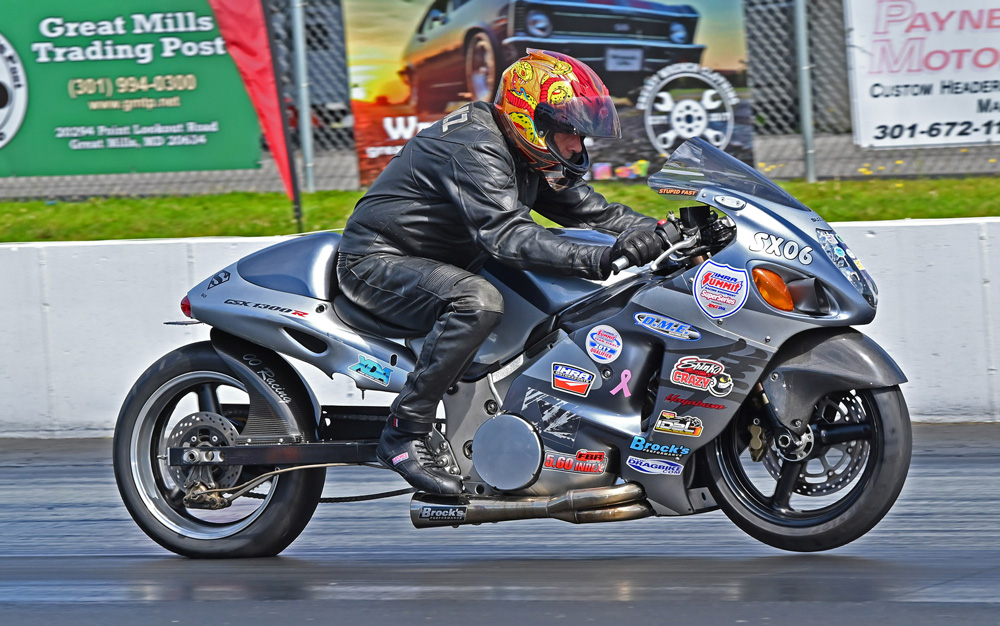 Brock's Performance Street ET
The Brock's Performance Street ET racers were out in force with about 130 racers competing each day. With this kind of turn out, these guys would have to win seven rounds of competition to make it to the final for a chance at taking the win. On Saturday Boo Brown and Russell Dennison Jr would be the final round tributes. Dennison had the advantage on the tree going into the final with a better reaction time average over Brown. However, he was treading dangerously close to the edge his last few rounds of competition. And it finally bit him when he turned the red bulb on to send Boo Brown to the winner's circle before the race even started.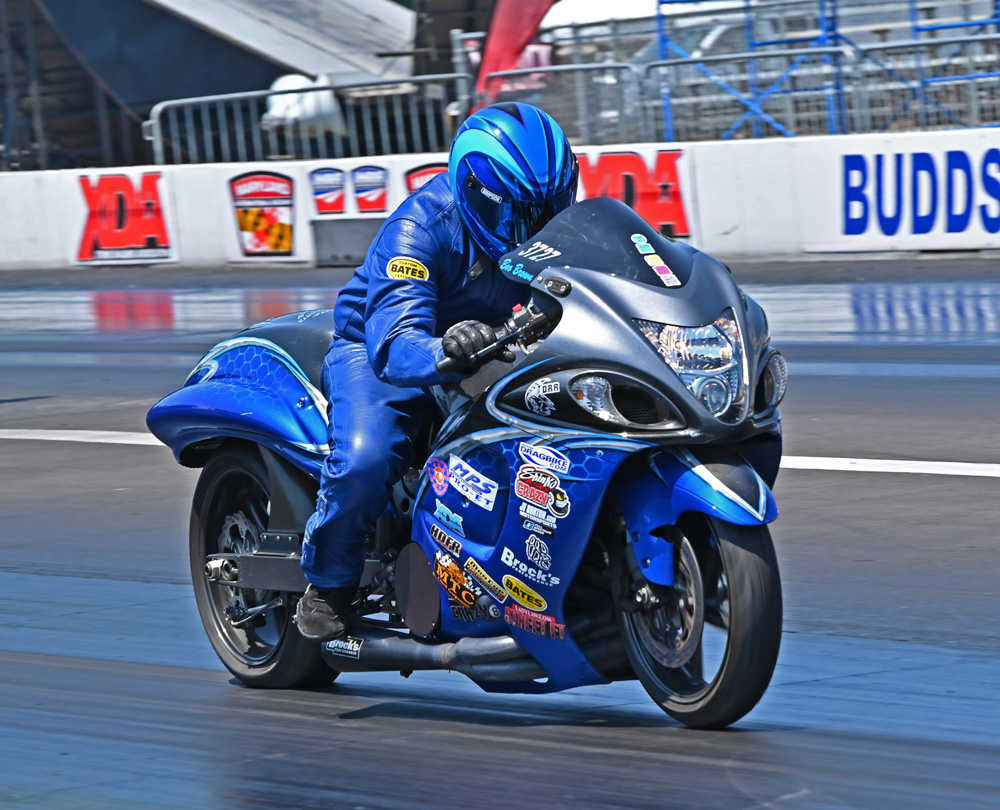 On Sunday as temperatures rose, so did the level of competition. Mark Blake and Janrei Thompson would both win seven rounds to meet each other in the final. The two Kawasaki riders were well matched in their overall performances from the day. Thompson would take the starting line advantage with his .008 reaction time over Blake's .058. But it would not save him from running so far off his dial when he ran a 9.327 on his 9.23 dial. Blake would get the win running 8.746 on his 8.72 dial. This win will also give him a significant boost in the points standings.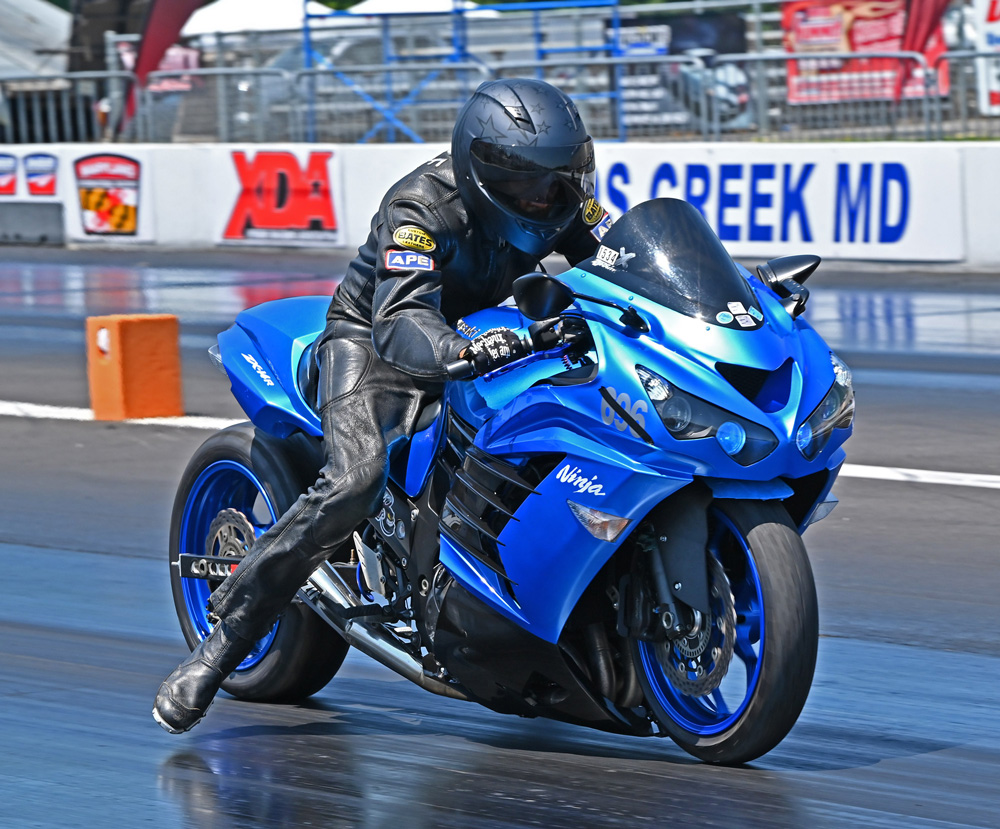 Paint the Quarter Pink
At this event, XDA featured the "Paint The 1/4 Pink" program for the seventh year in a row to help raise awareness and money for the "Bikers Against Breast Cancer" foundation. The all-female class of twelve women raised $12,266 dollars for the foundation before going to battle on the race track. Last year's winner, Robin Procopio, took the number one qualifying spot with 8.048. Procopio would not get a repeat when Dystany Spurlock would get the win over her in the semi-final round. In the final round, Spurlock would face Edythe Decker. Spurlock would run closer to her 8.72 dial with 8.796 to get the win over Decker who dialed 9.20 and ran 9.271.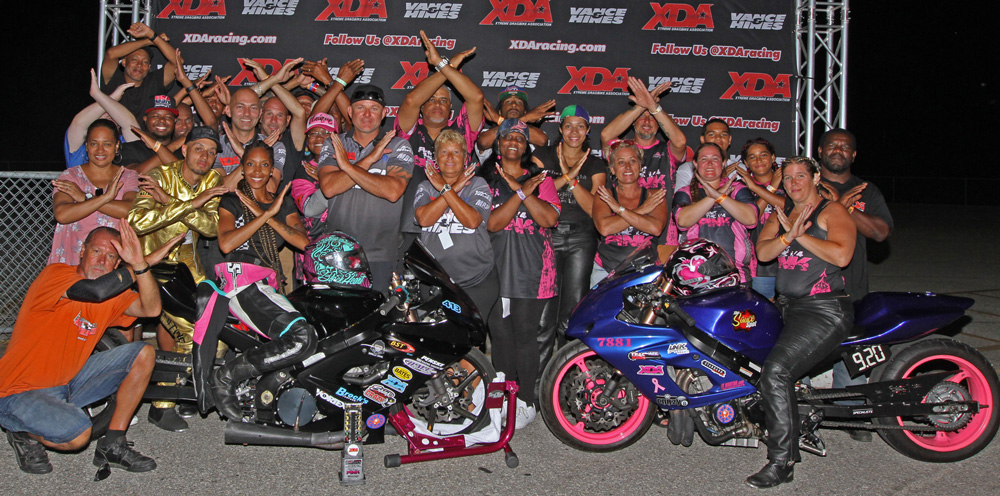 For full qualifying and round-by-round results of the event, visit www.xdaracing.com.
The XDA will head back to Virginia Motorsports Park for the Inaugural Bike Bash on August 23-25, 2019. There will be over 700 Professional, Sportsman, and Grudge motorcycle racers in competition battling it out for over $40,000 in cash purse at this event. The event will also feature a Live DJ, Freestyle MX Show, Bikini Contest, Sound Competition, Custom Bike Show and a vendor midway full of great deals on motorcycle parts, accessories and apparel. Make sure you have August 23-25 on your calendar!
Visit www.XDAracing.com for event information, class rules, schedule, and more.
About XDA Racing
The Xtreme Dragbike Association (XDA) is an east coast motorcycle drag racing series with 700+ motorcycle racers competing at each event. Every XDA event hosts professional classes, sportsman classes, grudge racing and a vendor midway. Lifestyle activities such as bike shows, bikini contests, DJ and live bands are also held at select events. For more information on the XDA, please visit www.xdaracing.com or connect with us on Facebook, Instagram, Twitter and YouTube @xdaracing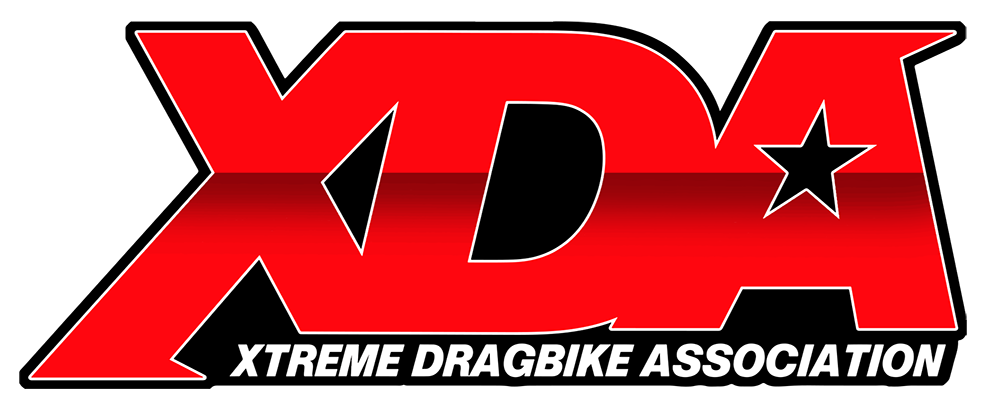 There are more videos on the Cycledrag Youtube channel (please subscribe here) and the Cycledrag.com Facebook page (Please like here) and more will be coming soon. Check back daily.