There's a new speed king in the world of drag bike racing.
Heading into the Spring Manufacturers Cup at South Georgia Motorsports Park in Cecil, Ga., April 8-10, Korry Hogan had been over 250 mph once before, but the fearless pilot was unable to back up the impressive speed within one percent to make the record official.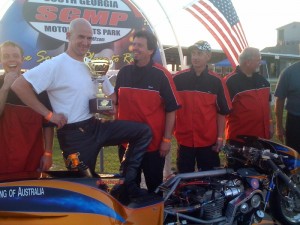 Now there's no disputing Hogan's unprecedented speed.  On Saturday night Hogan qualified on the pole with a run of  6.04 at 255 mph.  In the final round of eliminations Hogan backed up the record with a 6.03 at 254.62 mph.
"This means so much to me.  Last time we went over 250 mph everybody said it was a fluke," said Hogan concerning his 250 mph-plus run in Norwalk, Ohio, in October of 2008.  "Even last night after I went 255 mph, people were saying I carried the front wheel over the mph clocks. Now that we backed it up, there's nothing the haters can say.  We did it."
Team owner Mike Dryden echoed Hogan's point of view.
"The mph record means more to me than the win," Dryden said.  "We knew the number was legit in 2008.  Now we have the proof."
In the process of securing his mph record, Hogan was able to accomplish another impressive feat by defeating his rival and No. 2 qualifier, Larry "Spiderman" McBride's 6.15 at 219 mph.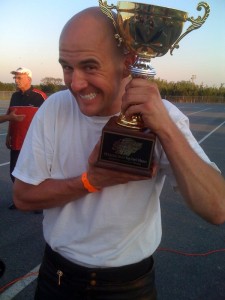 "It was an amazing race.  Spiderman was out on me and I felt like I was catching him," Hogan said.  "We were hauling.  I thought it might be the first side-by-side five. Larry smoked the tire at the end of the track and I was able to get around him. I knew I was on a pass, but I didn't think I was going 254 mph.  It's an awesome accomplishment.  My crew chief John Alwine has found something."
Hogan collects the third Top Fuel victory of his career and his 255.00 replaces McBride's former record of 245.36.
"Not only did we set a new record, but we blew the old one out of the water," Hogan said.  "It's awesome."
Hogan's dream weekend couldn't have started much worse.  Hogan was forced to watch the first round of Top Fuel qualifying on Friday night from the grandstands after his team's transporter broke down in Tenn. on the way to the race.
"That's not the way any racer wants to start the weekend. I thought we weren't going to be able to race," Hogan said.  "I give my crew all the credit in the world for getting everything together so quickly."
Hogan's first pass of the year on Saturday afternoon resulted in a violent shut off due to a fuel delivery problem.
"It felt like a grenade going off in my face," Hogan said.
Ten-time champion McBride had nothing but praise for his record-holding foe.
"I'm not going to say I'm happy I lost, but I am very happy Korry and his team did well," McBride said. "They work hard and they deserve this win. We had a hard time figuring out the track this weekend."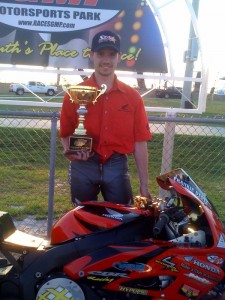 Hogan wasn't the only Cup competitor who set a record in the finals.  Honda-backed Pro Street racer Frankie Stotz recorded the quickest street bike pass ever with a 7.105 at 199 mph to defeat Rob Budgell's 7.26 at 187 mph.
"I'm speechless," Stotz said.  "This is what I have been waiting for since I started racing."
Stotz leaves the racetrack with the first record of his career, his first victory and his first final round appearance.
Stotz's 7.10 surpasses the former record, Bud Yoder's 7.11.
Pro Street legend and Frankie's father, Kent Stotz called it the greatest moment of his career.
"I've set records and won plenty of races and it was sweet," Kent Stotz said.  "But watching my son do it for the first time was twice as sweet."
Another notable run of the weekend came in the opening round of Top Fuel when Takeshi Shigematsu of Ehime, Japan recorded the quickest Nitro Harley pass ever at 6.124.   The only bad news for Shigematsu and his tuner Don Johnson is the world's quickest import motorcycle of McBride was in the other lane and took the victory with low elapsed time of the meet at 5.964.
It was announced during opening ceremonies that Dunnigan racing will put up an extra $1,000 to the top qualifier in Top Fuel at the Cup Finals at SGMP in November.  A great turnout is expected Nov. 11-13.