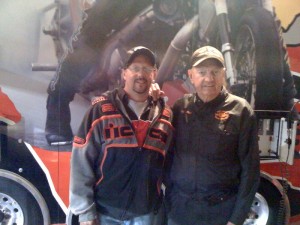 In case you haven't heard– Tommy Grimes riding the Ray Price Racing Screamin' Eagle Top Fuel motorcycle has re-taken his quickest naturally aspirated motorcycle in the world title back home again. Please keep in mind at this event, multi-cylinder metric bikes and Harley-Davidson traditional Top Fuel bikes compete against each other.
With nine very devoted companies putting on the race in Valdosta GA. Manufacturer's Cup, Grimes rode side by side with Takeshi Shigematsu on DJ Johnson's race ready Top Fueler for the quickest side by side Harley Davidson pass ever. Tak ran a 6.13 but with Grime's holeshot, Grimes took the win light with a 6.16 to back up his 6.15 from qualifying, re-establishing the monumental record back to North Carolina.
On Sunday, Grimes ended up in the Finals against, Larry "Spiderman" McBride, the worlds quickest supercharged motorcycle. Jeremy Hoy, Justin Heinle, Mark Morgan and Ray Price threw "everything they had" at McBride, with "nothing to lose" as McBride's supercharger had already run an 5.85 at the Valdosta facility. Apparently "everything" was a tiny bit too much with Grime's tire spinning, McBride took the win, but hurried back to have pictures made with RPR Racing.
The mighty nine companies proving their commitment to drag racing deserve a big thank you, not only for your efforts but your dollars and time as well dollars. Brocks Performance, Fast by Gast, MPS, MRE, MTC, Orient Express, PR Factory Store, Schnitz Racing and Star Racing, many thanks to you all.