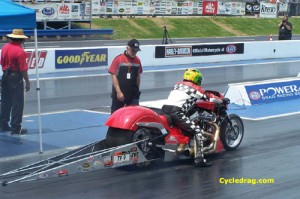 Tommy Grimes and Mid-Continent Motorsports Team made it to the finals of the 27th Annual Truett and Osborn Drag Race at Wichita, KN.  This race was in team owner Mike Bahnmaier's back yard (almost) and an event Bahnmaier just can't pass up.
The quick turn around from Sturgis (winner) and Bristol AHDRA (semi's) events kept most of the team on the road.  But qualifying #1 in Kansas with a 6.01 ET at 184 mph made the tiring journey one to remember.  (This was a 1,000 foot event, so we're ready for NHRA again next year, he said optimistically and we love the sound of those ET's) Grimes said the weather was beautiful and the crowds were great. He signed lots of autographs and was pleased by how appreciative the fans and staff were, "everyone was so nice, there was a huge crowd and the temperatures were in the 70's and low 80's, it was a blast."
In round one, Grimes won with another 6.01 at 187 mph and round 2 a 5.88 ET at 193 mph.  In the final against Griz Robinson of the Chop Shop in Pueblo, CO, Grimes tucked in for a quick 1,000 feet but while trying to avoid the marker cone, scuffed the wall and lost to Griz.  "If you have to lose, Griz is a great competitor, I'll get him next time."
Mid-Continent Racing: Mike Bahnmaier, owner, rider and tuner, Dave Larson of Topeka H-D, Drew Moldenhauer, and Jody Dukelow both of Wichita, KS and Pfafftown, NC's quickest son -Top Fuel rider, Tommy Grimes.
The Mid-Continent Motorsports team is supported by: Harley-Davidson of Salina, Mike's Metal Polishing of Ransom, Ks., Gates Corporation, Saum Engineering, CP pistons, Nungesser Engineering, and Nevada Auto Mall.