If he is to repeat as Top Fuel champion at this week's 23rd annual Jim McClure All-Harley Nitro Nationals at Rockingham Dragway, American Motorcycle Racing Association (AMRA) world record-holder Tommy Grimes may have to stave off a "Shark" attack.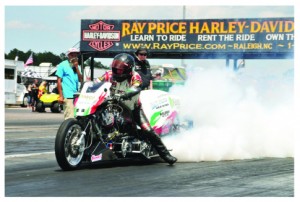 Texan Ricky House, the man rivals call "Sharkey," is the biggest threat to another Grimes' victory astride the fuel burning hybrid of Harley Hall-of-Famer Ray Price of Raleigh.  House, a resident of Humble, Texas, is trying to overtake an idle Randal Andras of Amelia, Louisiana, for the No. 1 spot in AMRA points.
To do so, he'll have to deal with Grimes, the Clemmons, North Carolina veteran who set AMRA records in his last two appearances at The Rock.  He lowered the elapsed time standard to 6.197 seconds last fall and, last spring, raised his own speed record to 227.27 miles per hour.
Among the others battling for AMRA points in the featured category will be Larry Stanley of Norton, and Ohio, Joey Sternotti of West Blackwood, New Jersey, among others.
In addition to Top Fuel, Sunday's eliminations also will crown champions in Funny Bike, Pro Fuel, Pro Gas, Pro Modified, Pro Stock and a host of other Harley-exclusive categories.
The battle in Pro Fuel may be the most interesting of all.  It features reigning NMRA champion Dale Nilles of Wilkesboro, N.C., who became the first Harley winner in the MIRock Superbike Series when he won the 4.70 class at Rockingham in August, will try to hold on against Rocky Jackson of Youngsville, Louisiana, Rebel Glover of Holly Hill, Florida, and Hawaya Racing owner Johnny Vickers of Millers Creek, N.C.
In Funny Bike, Jim Doyle of Springfield, Massachusetts will try to wrestle the No. 1 plate away from veteran Jake Stordeur of Delaware, Ohio, who won the class in the spring.
After a full day of testing on Friday, pro qualifying will highlight Saturday's show starting at 10 a.m.  A free concert will follow qualifying on Saturday night.  Gates open Sunday at 8 a.m. with eliminations beginning at 11 a.m.
Adult admission to the race named for the late Jim "Da Judge" McClure, one of the legends of Top Fuel bike racing, is $20 per day; $35 for a two-day ticket or $45 for all three days. Children under twelve are free when accompanied by a ticketed adult and, as always, discounts apply for active military personnel and parking is free in Rockingham's main lot.