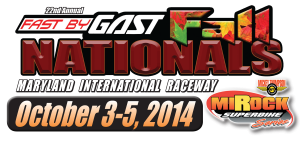 Shattered records are the new normal when the Mickey Thompson MIROCK Superbike Series unloads at Maryland International Raceway, and those records aren't confined to Budd's Creek's super-sticky quarter mile. Huge payouts and stunning entry totals are all part of the phenomenal growth of the world's largest motorcycle drag racing series.
Headlining the event was the $10,000-to-win, Orient Express Pro Street Battle Royale, emptying the US and Caribbean islands of virtually every Pro Street bike in the Western Hemisphere. The competition was fierce, with many big timers struggling in qualifying and sprinkling 7.0 bikes throughout Pro Street fields A, B and C.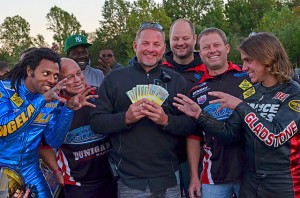 The drama started in testing on Friday. With the sport's first-ever 6.80 street tire pass having dropped only the week before, it suddenly seemed like it was gonna rain 6.80s. MIROCK champion Joey Gladstone pushed his DME Racing turbocharged Suzuki Hayabusa to a 6.85, and even Justin Doucet—who'd never run a 6 before—went 6.86.
But then real rain washed out Friday night qualifying and the field woke to different weather and a re-prepped track on Saturday. Doucet was .86 on Friday and 86ed on Saturday, all the way to the C field. He was in good company, along with the 6.90 Honda of Frankie Stotz, the nitrous 'Busa of Doug Witt, the Ronnie Mitchell Racing blue "Sandra Dee" of Tyler Fisher, and more.
Three-time MIROCK Pro Street champion Rodney Williford was on the Maltese Missile of Simon Giordmania—a beautiful bike but not quite racy enough for this field. Rodney's 7.16 in qualifying led the B field, which also included Victor Gotay on Mitchell's "Rizzo," the rebuilt DME bike of Ehren Litten, and June race winner Danny Cox on his HTP Performance NOS 'Busa amongst others.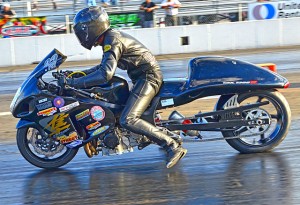 Gladstone had to bump his way back into the A field on his final qualifying pass, a dramatic 6.872 that shot him all the way to second behind the number 1 qualifying, world record 6.838 from the McIntosh Fabrication and Machine bike of Bud Yoder. Indy's 6.84 sensation, the "No Fear" 'Busa ridden by Jeremy Teasley, was third at 6.872—same as Gladstone but over 11 mph slower on the top end.
Three heroes jump out of the stunning A field—Joe Robbins, Lavar DeLee, and Richard Gadson. Robbins owns the old Ricky Wood 'Busa and trailered it 1380 miles from his Wisconsin home. He made the A field at 16th with a 7.158 that originally bumped Gladstone to B. Gadson made the A field with a 7.11 on Brad Mummert's awesome nitrous GS, then went down fighting with a .12 against Rob Budgell on Mark Paquette's turbo 'Busa in E1. DeLee qualified with a 7.10 on an HTP nitrous 1000 and made it to round 2, where he was eliminated by Teasley.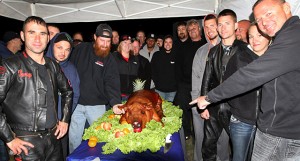 The A field semis boiled down to Gladstone vs. longtime rival Teasley and Yoder vs. inaugural Battle Royale winner Terence Angela of Aruba, Gladstone's DME teammate. The consensus in the staging lanes, perhaps based on a desired break in DME's string of success, was that it would be Teasley and Yoder in the final.
But that's not the way it happened. Gladstone and Angela took the tree in their respective match-ups and ran near flawless laps, while Teasley and Yoder wheelied, spun, or otherwise and pulled up short. The DME teammates left the line within .002 of each other in the final, but it was the Vance&Hines sponsored bike of Gladstone that took the stripe at nearly 220 mph. His teammate Litten won Pro Street B, and former Vance&Hines rider Witt won C.
Just like last year, MIR promoter Jason Miller, Orient Express and Dunigan Racing treated the whole Pro Street field and crews to an enormous pig roast on Saturday night. Darion "Nanu" Payne, Curtis Ellerbe, Eric Hart, Ryan Hable, Vinnie Demito, John Gover, Walter Sprout, Caleb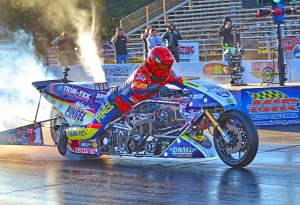 McDougald, Eric Langlois, Jason Rearick, Jamie "Pancakes" Lopes, Mike "Kavos" Kovacevich, Lonnie Corley, Cameron and James "Crow" Teasley, Gabe Frederick, Jason Dunigan, Super Dave Gebhardt, Stephen Scearce, James Herbert, Chris Hart, Donnie Taylor, PJ Mosley, Rudy Sanzottera, Wayne Smith, James Hendricks, Mark Gargialo, Doug Gall, Ryan Schnitz, Tony Ficher and Phil Stoll came from Maryland, North Carolina, New Jersey, Wisconsin, Michigan, Illinois, Pennsylvania, Florida, Iowa, Massachusetts, Texas, St. Eustatuis, Aruba, Ohio, Missouri, Delaware, Virginia, Indiana, Tennessee, Minnesota, and Curacao to compete on turbo or nitrous 'Busas, GS1100s, GXR1000s, Kawasaki ZX14s, and Hondas.
"This track is the best track I've ever raced on, and I've raced NHRA, IHRA, AMA, Man Cup—you name it," said multi-time Top Fuel motorcycle champion Larry "Spiderman" McBride, who intended to put the first-ever 5.60 pass on MIR's scoreboards. "We weren't prepared for a track this good, and we've broken things we've never broken before."
The carnage started for McBride with a broken output shaft on Saturday that had him and crewman Roland Stuart driving back to the Cycle Specialist shop in Newport News, Virginia for a replacement. Sunday's first run sheared all the teeth off of the rear sprocket. McBride's final run was marred by a leaking clutch bleeder valve. "The bike pulled as soon as Steve (Larry's tuner/brother) put it on high idle," reported McBride. "It's not supposed to do that, so I knew something was wrong."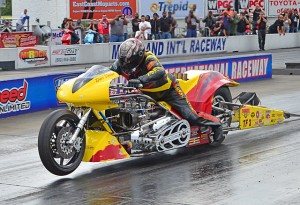 The big blue bike boiled the tire at the hit, and McBride continued boiling it all the way through the traps a quarter mile away. "I'm sure I just broke a lot of stuff in the motor," said Larry. "But I felt bad about our performance and wanted to put a show on for the fans."
Meanwhile, McBride's match race opponent David Vantine had a career weekend. Nitro-newcomer Vantine ran a career best 5.89 at 237 mph on Greg Pollard's screaming yellow fueler, and strung together three straight 5 second passes. "I've never seen anyone other than me string together three consecutive 5 second passes in one weekend," noted McBride. "Dave and his crew are doing a great job."
Indeed, Vantine's record over the three Top Fuel exhibition events gives him the match race championship.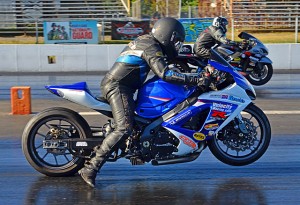 No MIROCK championship has tightened up the way that DME Racing Real Street has. Jeremy Teasley's lead has shrunk to next to nothing going into the Rockingham finals as Rickey Gadson took his third win of the season at MIR. Gadson's two straight, record-setting 7.70s delivered him a win over former champ Johnny "Turbo" Dobrin in an all-turbo, Kawasaki vs. Suzuki, ZX14R vs. 'Busa final.
Riding Dobrin's turbo GSXR1000, Victor Gotay took the Real Street B win over class newcomer Walter Houghtaling.
Tyler Cammock took out Louis Concrete 4.60 points leader Eran Pielert in the first round of a full field in the world's quickest motorcycle index class. MIR homeboy Chris Clontz qualified number 1 but lost to Atco winner Bobby Lovingood in round 2.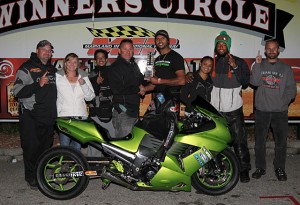 Tall racer Brandon Bachmeier rode his ZX14 to the FBR Shop 5.60 final round win over Michael "Ice Cold Killer" Herman Jr. Richard Gadson qualified number 1 in the robust 33-bike field.
152 motorcycles struggled to be the quick 32 that make up the Trac King Clutches Top Sportsman field. The final boiled down to two wheelie bar dragbikes, with Darius Carey taking the win despite George Shriver's .005 reaction time.
The 61-bike Cycle Connection Crazy 8s field boiled down to the hardest working man in motorcycle drag racing, Ben Knight, and Virginia streetbike assassin Clay Davies. Davies took the tree and the win in the double breakout final. Floridian Robert Parker qualified number 1 with an 8.889.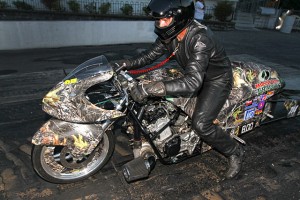 Enormous Brock's Performance Street ET and Fast by Gast Pro ET fields raced deep into the chilly night and bright and early in the brisk morning. Brian Canoles took Saturday night's Pro ET final on his camouflaged turbo 'Busa over redlighting Wilson Burkhead. Calvin "Showtime" Walton took Sunday's Pro ET final over redlighting Shayne Proctor.
Darrell "DD" Mahoney took Saturday's Brock's Performance Street ET over Mike "Soccer Ball" Schulz with a .006 light. Fun For All Motorsports racer Ron Arnold took Sunday's final over Herman Jr, the Ice Cold Killer's second final round freeze at the tree in the evening cold.
63 grudge bikes made passes all day Saturday and Sunday, and how many bikes went down the MIR track for the March of Dimes Bikers for Babies event? It was a lot, as an enormous crowd of charity-minded bikers showed up for live music, hot racing, and a large vender display on a beautiful day for dodging Amish buggies through the Maryland countryside.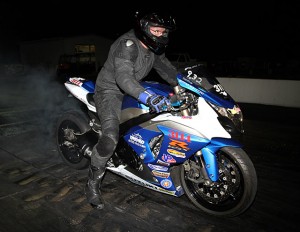 This epic 2014 Mickey Thompson MIROCK Superbike Series season concludes at the 16th annual Lee's Performance World Finals at legendary Rockingham Dragway on Halloween weekend, October 31 through November 2 in Rockingham, North Carolina.
Fast by Gast Fall Nationals featuring the Pro Street Battle Royale results are at http://www.mirockracing.com/results/2014/race7-mir/index.htm
Find out more about the Mickey Thompson Performance Tires MIROCK Super Bike Series at http://www.mirockracing.com
Find out more about Maryland International Raceway at http://www.mirdrag.com/
This report was prepared by Tim Hailey with photos by Hailey and Genie Muldoon. Enjoy everything there is to read, see and watch about motorcycle drag racing and more at http://www.eatmyink.com