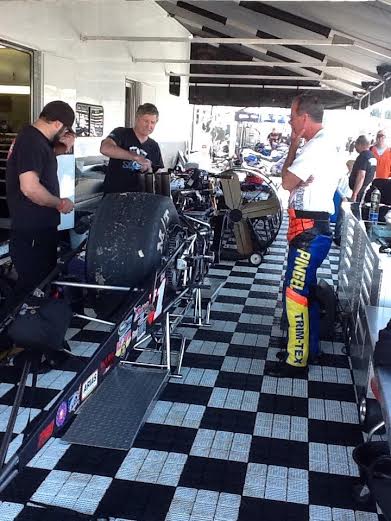 At some point, nearly every drag racer experiences one of those trying, demoralizing weekends where nothing seems to go right.  For some it occurs multiple times a season.
Larry "Spiderman" McBride, a 12-time world champion and multi-time record holder has not had many downers throughout his 35-plus year career. In fact, most of the past decade has gone remarkably smooth for the veteran, especially given the volatile nature of Top Fuel.
The MIROCK Fast by Gast Fall Nationals from Maryland International Raceway, Oct. 3-5, however, is a weekend he's glad is over.
"I've never had a race like this," McBride said. "I'll admit we brought on some of our own problems. We were trying to go run that big number. There was so much traction. There was not any tire slippage at all and that caused us to break a few things."
During his first run of the weekend, atop one of the world's stickiest tracks, McBride's machine broke in a highly unusual way.  The first man in the fives snapped a drive chain, which ended up destroying his outboard bearing support, chain guard and guides.
"It shook the tire really hard, the chain stretched and eventually wrapped around the sprocket," McBride said. "Tire shake can tear up a lot of parts."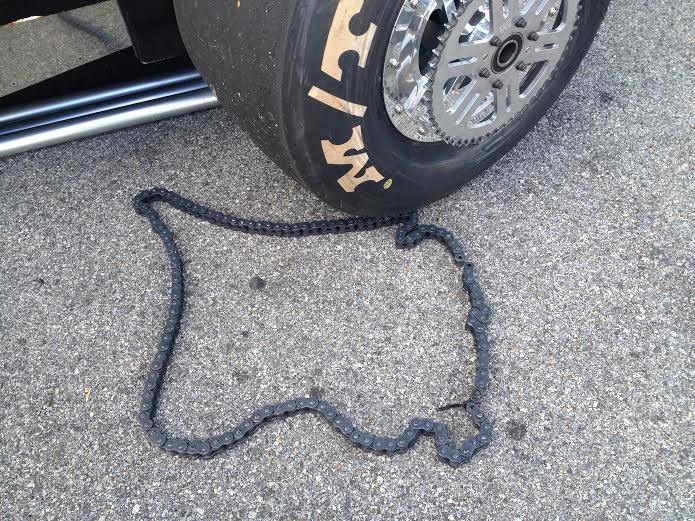 Known as being prepared for the worst, McBride, who brings six motors to the track for four passes, was forced to make the six-hour round trip back to his Newport News, Va. shop with crewman Roland Stuart to get his extra outboard bearing support off of his new bike and weld up the guides. Without any championship points on line, many racers would have called it a weekend following the breakage. Not McBride.
"When I commit to a match race I commit to giving 110 percent. We felt we owed it to the fans and we owed it to Jason Miller," McBride said. "I was a nervous wreck driving. Thank God I didn't get a speeding ticket."
In McBride's absence Dave Vantine was also speeding. Vantine dazzled fans with a 5.891 at 237 mph, moving himself into a tie for sixth on the list of quickest dragbike racers ever.
"Dave really picked up the slack," McBride said. "It means a lot to me that he put on a show for the fans."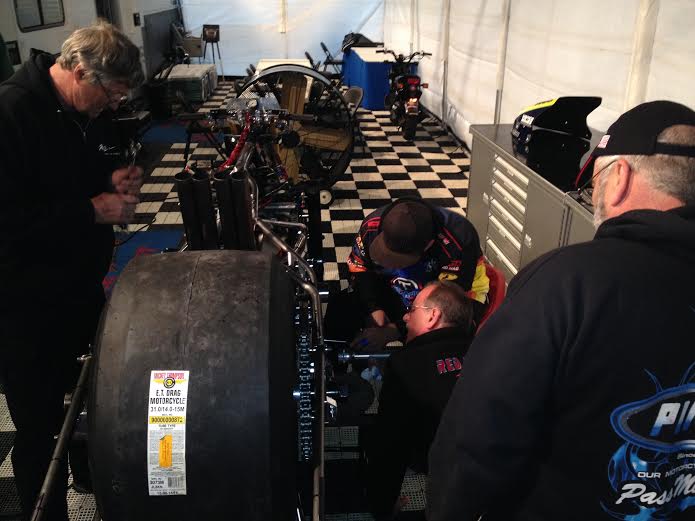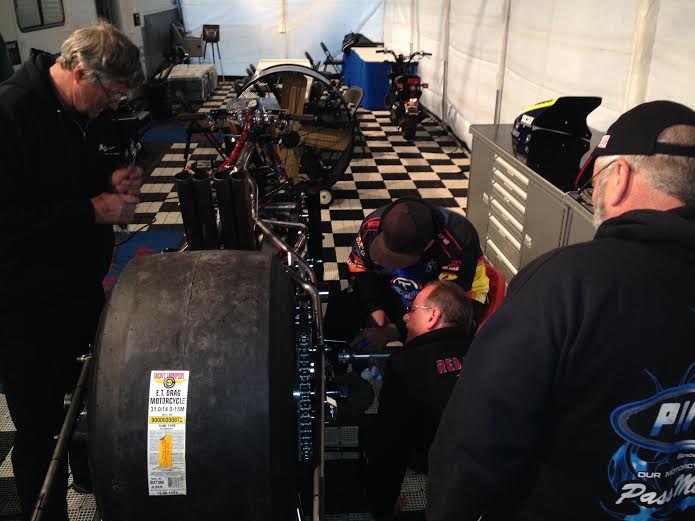 McBride and Stuart arrived back at the track shortly after Vantine's run, rebuilt the machine late Saturday night, but much to the team's displeasure, encountered similar woes on Sunday.
"You'd think we would have learned our lesson but we didn't. We left the tune-up the same, still trying to run that big number," said McBride, who before the event disclosed his team was aiming for 5.60s. "Looking back we could have brought the power down and made it smoother. We had very dense air. There was practically no humidity."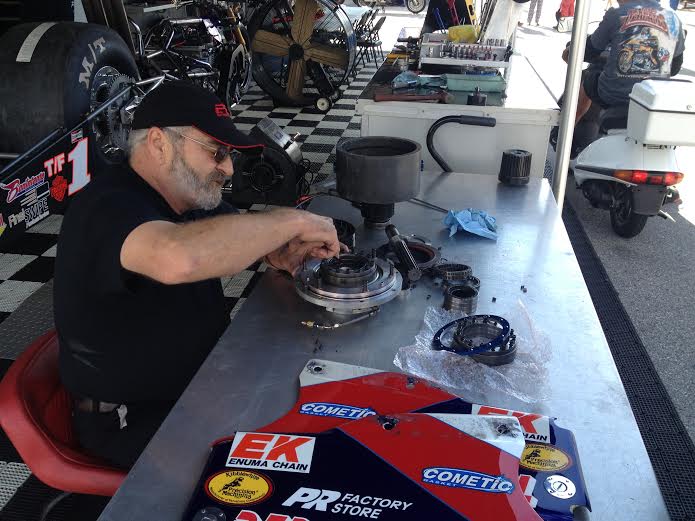 Typically a Top Fuel team controls the power level with the percentage of nitro, blower speed, ignition timing and static compression.
The final run of the weekend was more of the same for McBride. After putting a less aggressive clutch tune-up in the motorcycle,  McBride smoked the tire hard off the line.  Always the showman, McBride decided to treat fans to a near quarter-mile long burnout that would have made John Force proud.
"We had a clutch malfunction and it just smoked it at the hit of the throttle. I said to myself , let's give them a show," McBride said. "I tore up more parts doing that but it was worth it.  I had a line of fans at my trailer after who said that was one of the coolest things they ever saw."
Next up for McBride is the Manufacturers Cup Motec World Finals from South Georgia Motorsports Park, Nov. 14-16.
"We probably have about 80 hours of work to get the bike ready again.  A lot of stuff we need to remake," McBride said. "My goal is test on Thursday before the finals. We will be ready."
McBride thanked his primary sponsors; Pingel Enterprise, Trim-Tex Drywall Products, Drag Specialties-Parts Unlimited, Red Line Synthetic Oil Corporation and Final Swipe Merchant Services.

"Joe Koenig is one of the best guys I know. He sells the best drywall products in the world."

"Wayne and Donna are like family to me. I make the joke that I'm their oldest and youngest child. Pingel has by far the best quality in America. They have the top of the line, best engineered products and they are all USA made."

"The Web Cam girls and Steve are the best. They are like family to me as well. Laurie Dunlap does so much to help the sport. They also make the best cams on the market."
McBride added – "Red Line is the best oil on the market or Alan Johnson would not be using it."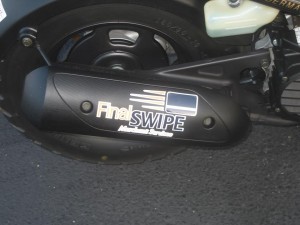 "Drag Specialties is a great company that I'm honored to be involved with. They are the best people to deal with."
"I really appreciate Final Swipe and Gary Baillio. He's a great man with a great company."
"There is not one sponsor that is not important." McBride thanked his associate sponsors and added, "Everybody is equally important. We couldn't do it without each one of these fine companies."

K&N Air Filters, Web-Cam, Vance & Hines Motorsports, PR Factory Store, Ferrea Valves, Kibblewhite, Precision Machine, World Wide Bearings, Vanson Leathers, Millennium Technologies, Belt Drives Ltd, Simpson Race Products, Nitrous Express, APE, EK Chain, Arias Pistons, MSD, Protect ALL, Cometic Gaskets, B&J Transmission, Carolina Cycle, L.A. Sleeve, PJ1, Mickey Thompson Tires, Valco, Goodridge, Carlisle Belts and Gates Belts.