Mark "Mr Paint" Rendeluk recorded the fastest mph ever  for PXM/Promod, 207.27 mph,
at the Louisiana Fall Brawl, Oct. 4, at Thunder Road Raceway in Gillam, La.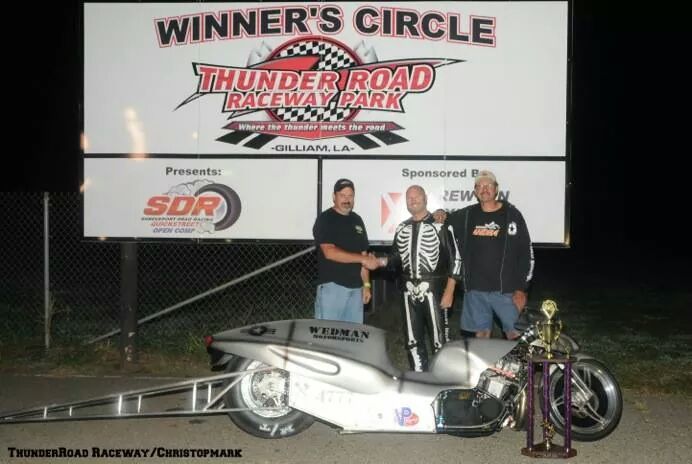 The event brought several Promods out, but one stood out after the first pass. Rendeluk
ran a 6.76 pass just putting a subtle tune up in and trying to figure out what the
track could handle. He soon realized after that pass that the track could
handle more.
The Mr Paint, Wedman Motorsports, DTM sponsored Promod was ready to go back up
after a little maintenance, as the sun was setting and the air was around
1000 feet. Rendeluk wanted to see his first 200 mph pass of the weekend but never
thought in his widest dreams it would be closer to 210 for the first.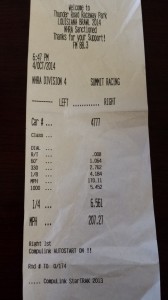 Rendeluk staged, tucked down and launched, cutting a .008 reaction time.
The PXM was moving quick as ever down the track in a straight line like it
was on a rail.  Rendeluk got to the end of the track knowing that it was a fast
pass because the shift light stayed on before the 1000 foot cone.
Vince Testa pulled up behind and asked Rendeluk what his fastest pass on the bike
was. Mark tells him 6.59 at 198  ans Vince tells him that he went a 56. Mark asks
him if he went 200, Vince wasn't sure of the mph just ET. Chris Wedman,
Mark's crew chief and best friend comes down the return road shaking his head
saying, " I thought we would have run faster than that" handing Mark the
ticket.  Mark looks Down to see 207.27 and starts jumping up and down
yelling, "207,that's got to be a record!"
Excitement couldn't be contained as the team got ready for the next round.  Rendeluk decided to work on the short track
numbers on the tune up and talks to Chris what
they can do to get a better ET.
Next round they run another .50 pass, this time recording an 1/8 mile time of 4.13 and then a 6.52 at 202 mph resetting the ET
Thunder Roads track record yet again, as well as their personal best.
Rendeluk went on to run another .50 in the finals, taking the win and heading home with
excitement and a smile that no one could wipe of his face. Dan Wagner of DTM has
been helping Mark, teaching him the do's and do not's of tuning as well
as how to ride. Wagner's tune-ups have lead Rendeluk in the
right direction to build off of.
Rendeluk runs the PDRA and PMRA series and is currently leading the points chase in
Pro Open, aiming for his sixth overall Championship.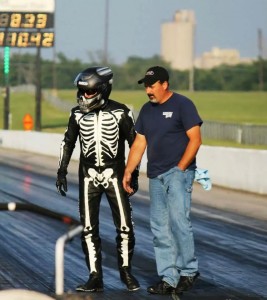 Good luck to Mark and his team and to clinch another championship for his Mr
Paint Wedman Motorsports DTM sponsored PXM Promod motorcycle.
Special thanks to
Chris Wedman/ WEDMAN MOTORSPORTS
Dan Wagner/ DTM
Walter Timblin/ Timblin Chasis
Rick Ward/ Ward Performance
Eric@ ARC
Bill Wedman
Story by Jake Rusch