It's been a season to remember for Pro Street racer Frankie Stotz. Below is a blog from the motorcycle drag racing team.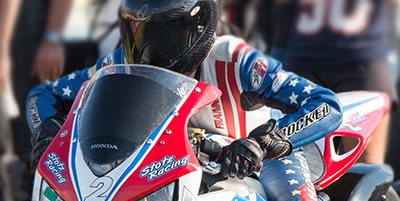 The first race of the year we ran 6.908 on the 6.905 record, and every race since we have run 6.90's. This summer at the July Man Cup race we qualified #2 but developed a motor problem. We have been fast enough to win the races but reliability issues caused us to not be able to finish some races. This is particularly disturbing as for the past twenty years Stotz Racing has prided ourselves on working extremely hard to find horsepower in testing and and then making it reliable to use through the completion of a race.
Thank You to Millenium Technologies, Falicon Crankshaft, JE Pistons, Microblue Racing, ARP, American Honda and all of our sponsors for going above and beyond to help resolve our reliability issue. We have used up many favors and many more parts than in our normal race season. We could not have made it without all of your help. Thanks also to Steve Nichols, George Bryce III, and Tom Jobe of American Honda for their combined brain trust in getting to the real issue and helping us to resolve it while maintaining the horsepower gain.
Proof was in the pudding at the NHDRO Finals at Indy in September when we qualified #2 and runner-ed up in the finals running 6.90's all day with the motor intact at the end of the race weekend. The additional horsepower was contributing to the motor damage but now should contribute to record setting times. Our 6.91 in Indy was with a 1.21 60 ft time and our normal 60 ft is a 1.17 to 1.18 with our best being a 1.15 60 ft time. With our better 60 ft times that 6.91 should drop to a 6.85 to 6.87 especially with cooler weather coming.
The MiRock Battle Royal was a non points event for us. Our CBR1000RR is very light in the rear and we had trouble getting a hold of the track all weekend. We are looking forward to record setting performance at the upcoming Manufacturers Cup Finals in Valdosta GA. Nov. 14-16th. We also might attend Orlando Speedways 21st World Street Nationals Oct 17-19th to try some new ideas and prepare for the Manufacturers Cup Finals in Georgia. Hope to see you at the Finals. Come by the Stoz Racing -Honda racing pits and join in the excitement.
Stotz Racing, home of the First 6 Second Turbo ProStreet Bike thanks American Honda, Falicon Crankshaft Components, Star Racing, Rock Solid Mfg, Al Lamb's Dallas Honda, JE Pistons, Mickey Thompson by PR Factory Store, MicroBlue Racing, BST Wheels by Brock, Pro Honda Oils and Chemicals, Air-Tech Streamlining, Millennium Technologies, EPMPerf.com-HyperPro, Robinson Ind, WorldWide Bearings, Win Racing, ARP, mobiledynamometer.com and DME Racing.