The MIROCK Fast by Gast Fall Nationals, featuring the $10,000 Pro Street Battle Royale, Oct. 3-5, from Maryland International Raceway, amidst cool Autumn air, lush surroundings and an expert track prep, was expected to be a record-breaker. The event still managed to surpass the hype and expectations.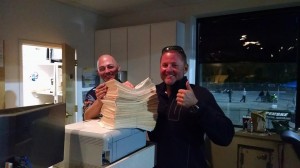 MIROCK official Jason Miller was floored when the entry count broke the coveted 800 mark – an unprecedented dragbike turnout for MIR.
"We knew this race was going to be huge, but I was not sure we would break 800," Miller said. "It's a real challenge to get that many entries down the track, but I have a great staff here at MIR and we got it in."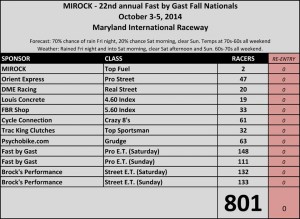 Without question the most significant milestone of the weekend was Bud Yoder recording the quickest Pro Street run ever at 6.83, backed up with a 6.84.
Although a former record-holder at MIR, Yoder surprised many when he emerged as the quickest.
In opening qualifying all eyes were on Jeremy Teasley, who set the record at 6.84 just six days prior in Indy and Joey Gladstone, who entered the race with the point lead and had been the most dominant P/S competitor at MIR all season.
In the end, Yoder left with the record but Gladstone left with the $10,000.
"Ask them if we can trade the record for the $10,000," laughed Yoder as he was tearing his bike down to the frame for a post race tech inspection.
Yoder was ousted in the semifinals and Gladstone defeated his teammate and defending event champion Terence Angela in the final.
"This is surreal," Gladstone said after the race.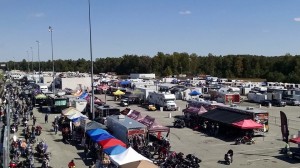 In Top Fuel many predicted the sport's second side-by-side five second pass after Larry "Spiderman" McBride and Dave Vantine accomplished the feat at the Bike Fest in July.
Instead McBride spent the majority of the weekend repairing his marvel, which included a six-hour round trip drive back to his Newport News, Va. shop to get a new outboard bearing support.
While McBride was on the road Vantine made history of his own, recording a personal best 5.891, tying him with Chris Hand as the six quickest dragbike racer ever.  Amazingly the run was not flawless.
"I was on and off the throttle. I'm not as good as Larry so I can't tell you exactly where I lifted," Vantine said.
What every fan in attendance can attest to is Vantine grabbed a fist full of throttle tube from the 330-mark on and didn't let go.
"It means a lot to me," said Vantine, a sophomore nitro racer. "I'm really glad I decided to give Top Fuel a try."
Finally in Real Street, several racers were a threat to Johnny "Turbo" Dobrin's 7.75 record. In the end the legendary Rickey Gadson left with the event victory and a new 7.70 performance mark.
"I spent all last week working on the bike and we found an issue that has been slowing us down all year long," Gadson said. "It means a lot to me. I've never won a MIROCK championship in my career. That was my goal at the beginning of the season."
Gadson's quest for a season title and all of the other season-ending point battles now move to the tour's final stop, the Lee's Performance World Finals from Rockingham, N.C. Oct. 31- Nov. 2.
Rockingham in November is renown as a record-breaker as well.
Will new marks be established there as well?