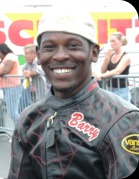 Cycledrag.com is saddened to report the passing of former MIROCK Outlaw Pro Street racer Barry "Georgia Boy" Greene. On the morning of Friday, June 8th, Greene was involved in an auto accident on I-95 near Savannah, Ga., and later succumbed to head injuries at the hospital. Greene will be missed dearly.
In the world of motorcycle drag racing, Greene will best be remembered for stellar performances on a Dan Wagner-tuned Outlaw Pro Street Bike known as "The Black Widow" from 2003-05.  Greene's most successful season of MIROCK racing came in 2003 when he finished second in points to his good friend "Fast" Joe Long.  In 2004 Greene's run of 7.13 at 198 mph was the quickest Outlaw pass ever.
Greene also found success in the Pro Mod ranks and quickly became a major contender in the AMA/Prostar series.
Known for having a deep southern drawl, a perpetual smile on his face and a great sense of humor, Greene enjoyed naming his motors.  Johnny Boy, Stone Cold, and The Junkyard Dog were three of his favorites.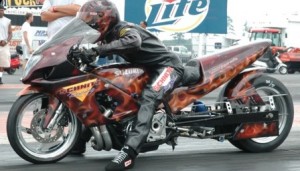 One night before a race at a Waldorf, Md., restaurant, Greene said, "Nothing relaxes me like a trip to the drag strip.  I love everything about it."
The only thing Greene loved more than racing was his family.  Sadly, he leaves behind four sons and a daughter.
Godspeed Georgia Boy.  Do a burnout in the sky for us.