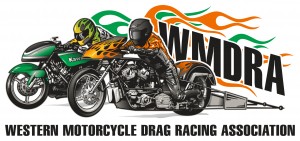 The Western Motorcycle Drag Racing Association (WMDRA) is proud to welcome S&S Cycle, Inc. as a Performance Partner for the 2012 Sturgis Nationals. "S&S has been in the v-twin high performance parts business for over 50 years, and we just couldn't ask for a more perfect partner," says WMDRA President Sandra Alberti.
Burning rubber and breaking record speeds on the dragstrip require torque and horsepower. Style and chrome don't set records, but add high performance parts and you've got a winner. Whether you race in a street class or in the pros, S&S® Cycle gives you more power.
"The WMDRA's passion for speed and S&S's proven performance is a winning combination," according to S&S Race Department Manager, Steve Rominski.
Please join the WMDRA and S&S Cycle at the 2012 AMSOIL Sturgis Nationals on August 7 and 8 at Sturgis Dragway for the high-speed action of motorcycle drag racing. The drag racing tradition at the Rally continues with bracket, index and pro classes featuring 200+ mph Top Fuel Nitro Harleys and 6-second Funnybikes!
# # #
About WMDRA
The Western Motorcycle Drag Racing Association (WMDRA) was formed in 2010 to promote the sport of ALL-MAKE (American and Metric) motorcycle drag racing in the Western United States. For more information about the WMDRA please visit www.westernmotodrags.com or www.facebook.com/WMDRA.
About S&S Cycle
For more information about S&S Cycle, call toll free at 866-244-2673 or visit them on the web at http://www.sscycle.com/. S&S Cycle, Inc., 14025 County Hwy. G, Viola, Wisconsin 54664.