With consistent performances throughout the first four races of the NHRA Full Throttle Racing Series, John Hall and Scotty Pollacheck are both feeling more at home on their Sovereign-Star Racing S&S-powered Buells, especially after this past weekend at the Toyota NHRA SuperNationals in Englishtown, N.J.
The Pro Stock Motorcycle teammates share four Round 1 wins between them and have also qualified both bikes at every race so far. As rookies to the NHRA circuit, Hall and Pollacheck are encouraged by their improved driving abilities throughout the season so far.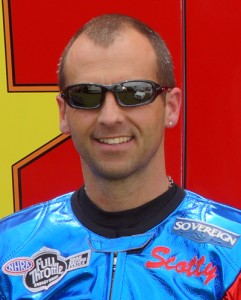 "I'm excited with my newfound rhythm with the bike. I think that was really the bright spot of the weekend for me. I have – I think – 28 passes now on that bike and I'm really starting to feel a lot more comfortable. It definitely builds confidence and makes me more relaxed when I'm up there, which means I can concentrate more on reaction times and shift points. So, that was a big positive for me from the weekend," Pollacheck said.
Hall added, "After getting a few races under my belt, I definitely feel a lot more comfortable as far as being on the bike.  I've always been comfortable during qualifying, but now I'm getting more comfortable during the race, too."
Pollacheck qualified No. 7 and Hall at No. 12 going into Eliminations on Sunday. However, they had trouble holding onto Saturday's peak performance.
"We really started to figure some things out with the motorcycle on Saturday. We had our quickest round in qualifying Saturday morning and some technical issues that afternoon, but then it seemed like some kind of magical little gremlin crept into the trailer overnight," Pollacheck said. "I definitely thought we were gonna go faster on Sunday than we ended up going, but at least we got a couple of good passes and a round win out of it."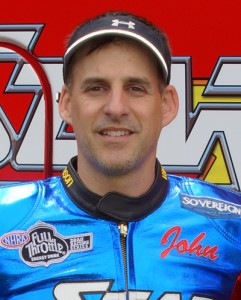 In Round One, Pollacheck was first off the line and ahead at the end when his opponent Shawn Gann took out one of the center block barriers and was disqualified.
"It was definitely interesting to see him right next to me at the finish line," Pollacheck said.
Hall's initial lead against No. 5 qualifier Michael Ray in Round 1 wasn't enough to give him the round win.
"I was first off the line and still ahead of him at the 330, but I just couldn't hang onto it there in the end," Hall said.
Pollacheck's great starting line advantage against No. 2 qualifier Hector Arana in Round 2 wasn't enough to take out his opponent, and Arana went on to face Eddie Krawiec in the finals.
"I was really disappointed with the second round because I really thought we had something going there, but it didn't turn out like we wanted. It was so close right down to the very end – we're only talking maybe three feet between us," he said.
Sovereign-Star Racing Team co-owner George Bryce wasn't deterred by the weekend's results, though, as he focuses ahead to the rest of the season.
"I think that at the rate we're learning, improving and eliminating our mistakes, we'll be in a good place when it really counts for the (top points) chase after Indy," Bryce said. "We're definitely still contenders in this series and I'm very proud of how far our Sovereign-Star Racing Team has progressed throughout the season."
Another bright spot of the weekend was Hall's return to his home track, Old Bridge Township Raceway Park, where he first began drag racing.
"It was nice being at the home track with friends and family around. I kept telling everyone that I brought my own personal Italian chef with me because my friend, Angelo, was there cooking for us all weekend. It was a great time, though; we had fun," he said.
The Sovereign-Star Racing Team would like to thank the following sponsors: Sovereign, Star Racing, S&S Cycle, Daytona Sensors, Worldwide Bearings, Americus Motorsports Complex, Who's Up Next?, and Quality Tire.