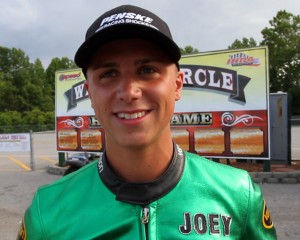 Rider Joey Gladstone and DME Racing aren't just winning Orient Express Pro Street races, they're setting milestone performance standards along the way. Last time out in the Mickey Thompson MIRock Superbike Series, the team broke into the elite 6 Second Club. This time around in the Fast by Gast Summer Showdown at Maryland International Raceway, they rang up an unconscious 213 mph trap speed.
Not that the weekend started off so hot. "You know, we were struggling in qualifying," said Gladstone, a Pro Street rookie. "We were number 11 qualifier going into the third round and had to calm the bike down, get it down the track with a 7.04 (good enough for number 2), and just take one round at a time in eliminations."
First up on raceday for Gladstone and DME was Del Flores, just breaking in the clutch set-up on his new "Sinatra" nitrous Pro Street 'Busa and running on motor only. Easy pickins for Team DME, who ran 7.10 at a slow and spinning 187. Next up was an earned bye and a 7.18 at a slower 175. "We kept running the right lane and we kept having traction issues," said Gladstone. From the starting line, the right lane looked like the way to go. But the DME 'Busa was spinning on the top end. "And then luckily, Danny Cox (who had lane choice in the semi by .002 of a second) put us in the left lane. So then we went a 7.02 at 207 to win and get lane choice for the final and we were like 'Yeah, let's go with the left lane again.'"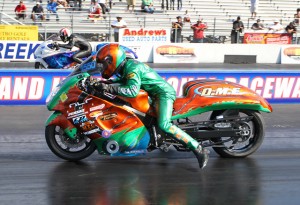 Gladstone and DME faced one of the most storied riders and bikes in the business: number 1 qualifier Ryan Schnitz and the first 6-second streetbike. "Believe me, I had butterflies," said Joey. "I still do whenever I race Ryan, 'cause he is the most cool headed guy out there. When you see him make a pass, nothing phases him. So I knew I had to bring my A-game, I knew I had to do it on the tree. I wasn't trying to do too much, just do what I had to do. We left together—.044 to .046—and he had me to the 1000 foot. I'm not kidding."
But Gladstone and the DME 'Busa uncorked monster MPH—213.74—to drive around Schnitz in the final 320 feet, 6.98 to Schnitz's 7.01 at 200. "That helped," Joey said about his trap speed. "We needed that. We were stuck around 205-207 all weekend. We knew we had more in the bike, we just had to get some traction down there and we found it."
And it was only because of the left lane that team DME was able to pour the big MPH beans on at the top end. "It was there all along, and we were finally able to use it," said DME team boss Dimey Eddinger. "The right lane was good to the 60, but we didn't know the left lane was so good on the back half. It worked out for us."
Gladstone rang up a 213.94 on the South Georgia Motorsports scoreboard earlier in the spring. "We found some power at the end of last year, but never expected the 213," said Eddinger. "We called Jason (MIR race promoter Jason Miller) after the 213 in Valdosta and he said 'Well, their clocks can be a little happy.' So our crew chief Andy Sawyer told him we'd come to his track and run 213. So it was good to be able to do that and prove it, real good to back it up here in the MIRock series."
Although Gladstone is a Pro Street rookie, he's a veteran of other classes including Real Street but had never gotten two straight wins in any class. "I've gotten two wins in one day, but never two in back-to-back races.
"I want to thank Dimey, of course my dad Skip, Andy Sawyer, Penske Shocks. Cole Seitzinger from Penske has been here all weekend. He's an awesome supporter of ours. NLR Boost Controllers, CP Pistons and Carillo Rods. And of course I want to thank my mom."
Eddinger also wanted to thank Andy Sawyer, Penske, his own DME Racing, MPT Oil, Catalyst Racing Composites, NLR, Vanson Leathers, CP/Carillo, and Skip Gladstone.
Needless to say, the DME team is pretty amped at this point in the season. "Yes we are," agreed Gladstone. "You can't really ask for anything more. Monster mile-an-hour, monster ET and a good win. We struggled a little bit and then really came together as a team when we needed it in the finals. Everybody worked together and it worked out great. It was our day—again."
The DME Racing Team races next June 30-July 1 at North Carolina's Rockingham Dragway.
Joey Gladstone and Dimey Eddinger thank DME Racing http://www.dmeracing.com/ , Penske Shocks http://www.penskeshocks.com/ , MPT Oil http://www.mptindustries.com/index.htm , Catalyst Racing Composites http://www.catalystracingcomposites.com/ , NLR http://www.nlrsystems.com/ , Vanson Leathers http://www.vansonleathers.com/ , and CP/Carillo http://www.cp-carrillo.com/
Results: http://www.mirockracing.com/results/2012/race3-mir/sunday/ORIENT_EXPRESS_PRO_STREET_2012-06-03.html
Find out more about the Mickey Thompson Performance Tires MIRock Superbike Series at http://www.mirockracing.com
This report was prepared by Tim Hailey. Enjoy everything there is to read, see and watch about motorcycle drag racing and more at http://www.eatmyink.com