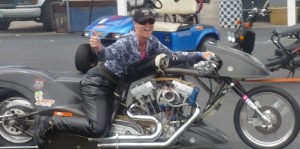 Janette Thornley is hungry for a solid performance in Norwalk Ohio,after a long weekend in Atco, New Jersey and not qualifying due to a mechanical problem, Dream Chaser Racin'  Janette, Freddie Robbins, and the entire Ray Price Race Team worked fast and furious trying to locate the gremlin in her bike and get in a qualifying run in on Saturday but was unsuccessful.
"It's amazing how everyone is family at the race track and pitched in to help, hoping I would get into the race!" said Janette "I appreciated all the support."  They didn't stop on Sunday either, hoping that I could run in the outlaw class (meant for non-qualifiers and 1st round losers) and be ready for Norwalk.
"It was frustrating not to be able to identify the issue" said Thornley,     "I know this happens in racing but I feltlike I was really getting into a groove. I'm not discouraged though, I'm ready for Norwalk and anxious to get back into the game now that the Ray Price team took the bike back to the shop and found a couple problems including a bent valve that contributed to the mechanical failure.
Thornley will be back on track with AHDRA's Ohio Bike Week Nationals Presented by The Northern Ohio Harley-Davidson Dealers at Summit Racing Equipment Motorsports Park Norwalk, OH, June 9 and 10th.
Janette Thornley is owner and operator of a nitro burning, carbureted, 121 cid Pro Dragster and Dream Chaser Racin'.Thank you to my sponsors: Autolite Sparkplugs and Lowry Callahan of Quality Refrigeration Company. Special thanks to Ray and Jean Price; Freddie Robbins for his time, patience and dedication; to Bill Hendren for your time; and to the Ray Price Race Team – Tommy Grimes, Justin Heinle, Jeremy Hoy, Mark Morgan and Ray Price for all you do; and Dalton Matthews.  Sponsors always welcome!    Contact Dream Chaser Racin' at dreamchaserracin@yahoo.com