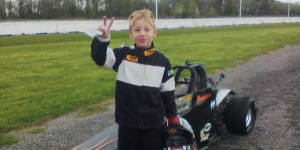 Although Christopher Richterberg just started racing in January of
2012, he is no stranger to the track!
Christopher has been traveling the AMRA and AHDRA
racing circuit since he was 1 ½ years old, with his dad, Christopher Sr.  Christopher Sr. raced pro fuel Harley's in the
AMRA racing circuit and acted as Crew Chief for numerous teams racing the AHDRA
Circuit.  Christopher Sr. recently
retired from racing to support his son's racing career.
Christopher Jr. turned 8 on July 28, 2011.   His gift, a long anticipated Junior
Dragster!!  Christopher Jr. rolled up his
sleeves and did what needed to be done to get his Junior Dragster Competition
License.  Christopher Jr. is the one to
watch at the track this season as he has already taken home his 4th
consecutive win.
On January 28, 2012 he made his debut run, going out
first round, due to tuning difficulties.
During a recent interview with Chris Sr., he said "I'm use to making
things go fast not slow, but we will get it next time" and get it they did!
February 25, 2012, Chris Jr. claimed his 1st
win after qualifying 5th.
March 11, 2012 he qualified 4th and claimed his 2nd
consecutive win.   Following his victory
he was asked to make an exhibition run for the JEGS Cajun Sports National held
at No Problem Raceway March 17th in Bell
Rose, LA
and was able to take home his first exhibition win!  Although, the exhibition run was not for
points, as racers know "a win is a win".
Christopher qualified first and earned his 3rd
points win on March 24, again at No Problem Raceway in Bell
Rose, LA.
Christopher Jr.
Staked claim to his 4th consecutive points win on May 26th
2012 after qualifying 5th.   and is currently number one in points leading
the pack by 22 points, quite an accomplishment for this young man running his
first season!
Christopher has been invited to represent No Problem
Raceway during the Eastern Conference Nationals for the Junior Drag Racing
League, being held at Thunder Valley in Bristol TN July 26th through
the 28th.
Christopher would like to thank his sponsors for their
support and allowing him the opportunity to race in the Junior Dragster
Competitions.
Christopher Richterberg SR. AKA Dad
Lirette Ford/Morgan City, Louisiana
Complete AC/ Houma,
Louisiana
J&J Motor Co/Houma,
Louisiana
V-Twin Service/Humble, Texas
Ruh Roh Nitro/Chesterton,
Indiana
Hawaya Racing/Millers
Creek, NC
Sponsorship is always appreciated; if you are
interested in helping Christopher Jr. please contact Chris Richterberg
985-856-4161 or Leanne Purvis 336-973-5078