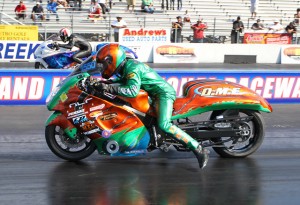 A mid-season tweak to the Orient Express Pro Street rules delivered exactly the kind of parity between turbo and nitrous bikes that the Mickey Thompson MIRock Superbike Series was looking for. Giving the nitrous bikes back some of what was taken away at the start of the year, just in time for the Fast By Gast Summer Showdown at Maryland International Raceway on June 2-3, resulted in a qualifying order with nitrous and turbo bikes alternating like a zipper, and a nitrous vs. turbo final.
Threatening to top the parity plot line this weekend, though, was the crash and return of MIRock star Jeremy Teasley. Riding Ken Edwards' überpowerful "No Joke" turbo Suzuki Hayabusa, Rockingham winner Teasley's carbon fiber real wheel broke apart at high speed just before the eighth mile. With no spokes whatsoever, Teasley rode the bike like a bull—hub-on-rim—for an amazingly long time before the 'Busa finally pitched into a series of rollovers.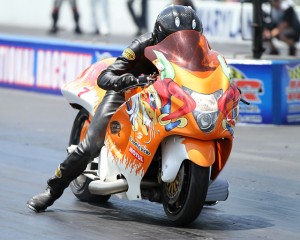 With multiple scrapes, a broken finger, and probably a broken foot as well (what you don't know won't keep you from racing), Teasley showed up the very next round to qualify in Real Street. All the while, Edwards and crew rebuilt the "No Joke" Pro Street bike in time for Teasley to qualify 6th in round 3 with a 7.26, behind number 1 Ryan Schnitz's 6.99.
Running straight but wheelieing wildly, Teasley lost in Pro Street round 2 against Danny Cox on the Hampton Roads H-D/ HTP Performance nitrous 'Busa. Cox then lost to April race winner Joey Gladstone on the DME Racing 'Busa in the semi. Schnitz's nitrous huffing HTP 'Busa overpowered upstart Neal Riddle's turbo 'Busa in the other semi, putting Ryan in the final against Gladstone, with Joey getting lane choice.
Cox had lane choice in the semi and chose the right, putting Gladstone in the left. Joey and the DME crew had been avoiding the left lane because the first 60 feet looked better in the right, but when forced into it they found the left had a better top end and chose it for the final. They used that advantage to beat Schnitz, who led until 1000 feet when Gladstone used a fastest-ever 213.74 mph top end charge to drive around for the rookie's second straight win. The 6.98 to 7.01 race at the home of the world's first 6-second streetbike pass was undoubtedly the quickest side-by-side street tire race ever, and nitrous vs. turbo to boot.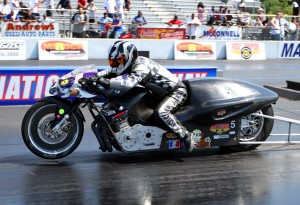 Multi-time DME Real Street champ Teasley continued a frustrating year in that class, losing to Rickey Grayson in round 2. Grayson then lost to Rickey Gadson in the semi, setting up another nitrous vs. turbo final with Superstar Gadson and his Roger Starrette-tuned nitrous Kawasaki ZX14 against number 1 qualifier Johnny "Turbo" Dobrin's turbo 'Busa. Gadson had lane choice and took the right. As in the Pro Street final, both bikes left within .002 of each other. Dobrin stepped it up to a 7.86 vs. Gadson's 7.91 and scored his third MIRock win of the year and his seventh straight overall in multiple sanctions.
Ronnie Procopio took over the Mickey Thompson Pro Mod points lead with a great 4.21 to 4.22 eighth mile final round win over fellow Legion of Doom racer Robbie Hunnicutt. "Another win for the Legion of Doom North Carolina Chapter," Procopio quipped in the winners circle. He entered the event tied with Mac McAdams, who was timed out in round 1 against the broke bike of Eran Pielert.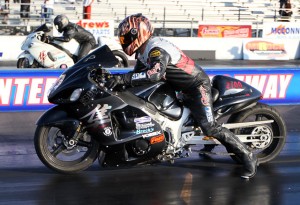 An all-Maryland Trac King/APE Top Sportsman final went to Kevin Hamilton over Chris Clontz. Kevin's bother Dale won Fast By Gast Pro ET over Kip Green on Sunday, while Jimmy Shifflett won over Derek Crawford on Saturday. Fearsome Andy Baumbach doubled at MIR, winning House of Speed Crazy 8s over Robert Johnson on his Suzuki streetbike and FBR Shop 5.60 Index over Daniel Joyce on his Kawasaki dragbike. Jermaine Proctor held up the Proctor family honor with a Brock's Performance Street ET win over Clay Davies on Saturday, while Clay's bother Matt won over Desmond Allen on Sunday.
Saturday night's Afterdark Underground ran before a big crowd under a moonlit sky, and MIR's famous bikini contest featured a lovely field—judged by the media to be the best ever—in bright sun on Sunday.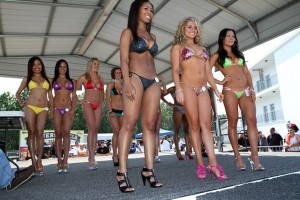 Results: http://www.mirockracing.com/results/2012/race3-mir/index.htm
The Mickey Thompson MIRock Superbike Series races next June 30-July 1 at North Carolina's Rockingham Dragway.
Find out more about the Mickey Thompson Performance Tires MIRock Superbike Series at http://www.mirockracing.com
This report was prepared by Tim Hailey. Enjoy everything there is to read, see and watch about motorcycle drag racing and more at http://www.eatmyink.com