Cycledrag.com has confirmed Skip and Joey Gladstone's IDBL championship-winning DME Real Street "All-Motor" Suzuki Hayabusa "Maggie May" has been sold and will soon resurface.
Much has changed since the last time the bike competed in the IDBL. On a chilly evening, October 9th, the final day of the IDBL season at Maryland International Raceway, Gladstone defeated Jeremy Teasley in a "must-win" situation for Gladstone to capture the championship. Gladstone battled back to win the title after suffering a first round -.002 redlight at the season-opening race. Gladstone's father Skip was moved to tears.
Since the impressive come-from-behind victory in the category's championship chase, Gladstone has shifted his focus to the Pro Stock Motorcycle category. Gladstone has partnered with Joe Riccardi and San Marino Excavating. The young rider also secured a personal athlete sponsorship from Trim-Tex Drywall products.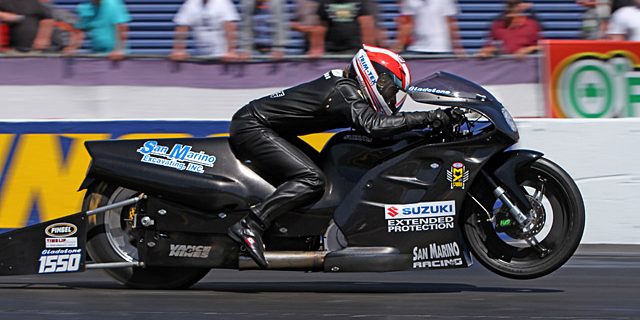 Following a Real Street rule change to maintain pairity and a special $5,000-to-win race in May, the DME Real Street class has experienced a resurgence with the influx of new teams. In May the category boasted its first full field since 2014.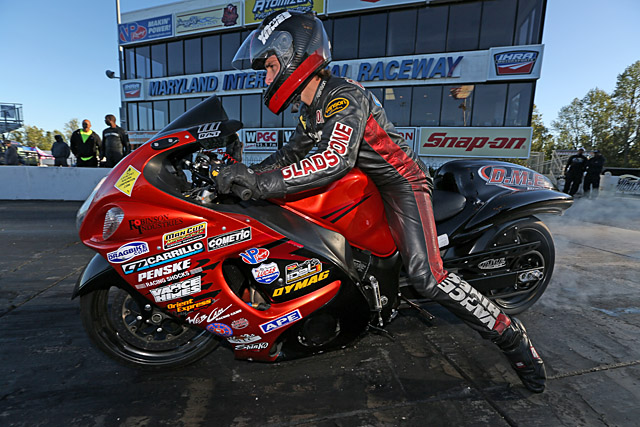 Sources confirm the "Maggie May" Suzuki Hayabusa has been sold and will be seen at the dragstrip again very soon. Cycledrag.com cannot reveal the buyer at this time but has learned this individual is very talented and highly accomplished in the sport of dragbike racing. It is also know that the individual is not in the same weight class as Gladstone and would not have to run the bike at 68-inches like Gladstone would. It's unclear exactly how the new owner intends to use the machine. The owner has not ruled Real Street competition out.
Cycledrag.com has also learned that Gladstone Performance has been busy building another very fast Hayabusa for another customer, who also has not ruled Real Street competition out.
All of this makes for exciting news for fans of "Maggie May" and the Real Street category.
Who is the new owner of the Rod Stewart-inspired machine? We may find out at the huge IDBL Bike Fest from Maryland International Raceway July 28-30.
Here's hoping to see Maggie May again soon.