No two-car or two-bike NHRA team is dominating a class the way White Alligator Racing (WAR) is in Pro Stock Motorcycle. The Louisiana-based Suzuki team has won four straight races in the Mello Yello series and qualified number one in the race they let get away.
After years of trial and error, platform and personnel changes, and this year the expansion to two bikes, WAR is the hottest team in drag racing.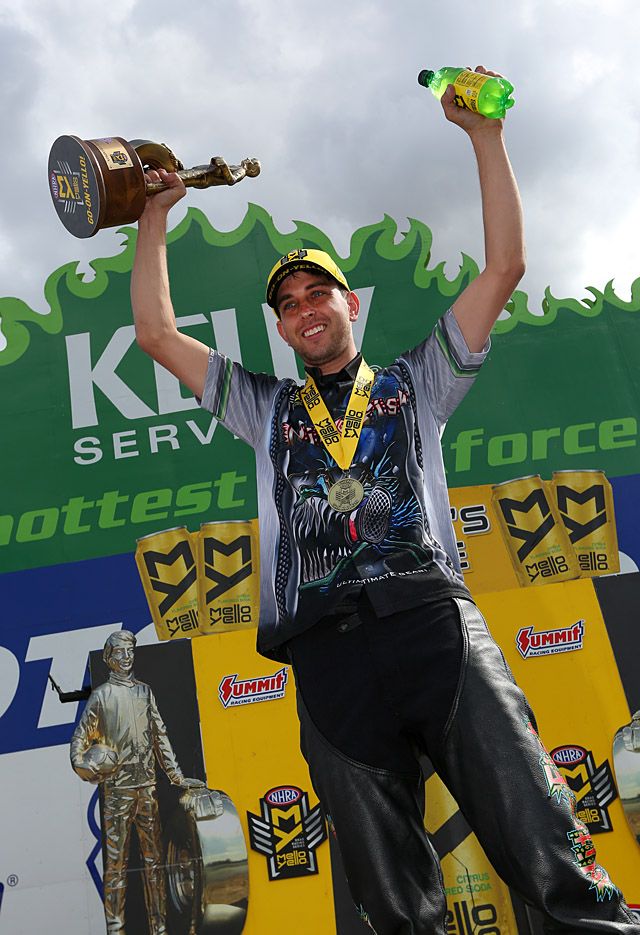 "I don't really think about that," said team owner, rider, and defending PSM champion Jerry Savoie. "I know how it felt to wanna win a race—just one race—and it hurts."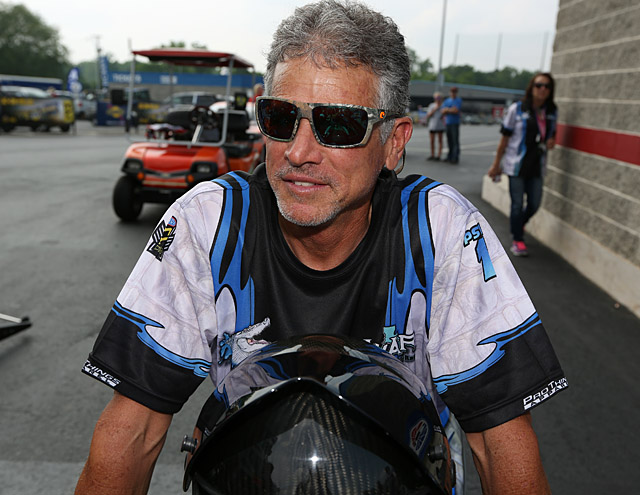 Those days before Savoie's first Wally are quickly disappearing in the rearview. Savoie nearly won the championship in 2015, completed the deal in 2016, and with tuner Tim Kulungian and new teammate LE Tonglet, is showing that the groundwork he laid for a successful and sustainable team operation is bearing winning fruit.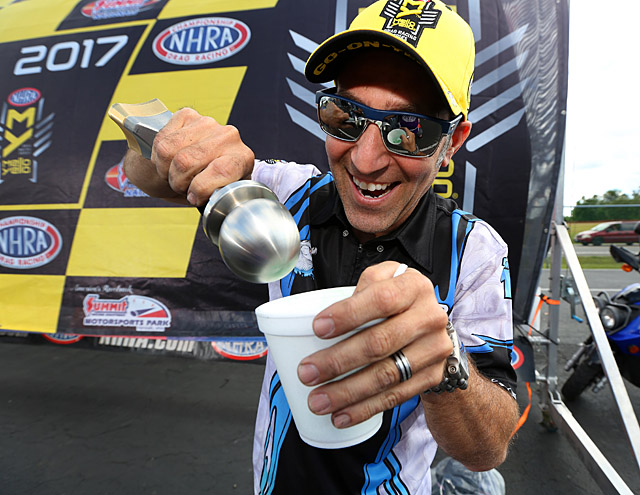 Even with Savoie as the defending champion, his team is achieving new milestones with nearly every win. Tonglet's Four Wide win in Charlotte was WAR's first with a rider other than Savoie. At the very next race in Atlanta, the team had its first all-WAR final.
Then after winning at Englishtown, alligator farmer Savoie had to skip the next race at Norwalk. With Tropical Storm Cindy putting his gator nests under three feet of water, his two egg-spotting helicopters and fleet of LS7-powered airboats had to throttle up and go further afield to find the nests to keep his farm afloat.
You've seen how crab boats sweep all over the Bearing Sea to find crabs in a limited hunting season on "Deadliest Catch"? Same thing with alligator eggs, and this year Savoie's sweep took place during a serious tropical storm. "We did pretty well over here near Lake Charles, but we lost everything in southeast Louisiana."
So when Tonglet outran number one qualifier Matt Smith in the final and won Norwalk's famed ice cream scoop trophy with his Nitrofish Suzuki, another major milestone for WAR was achieved. Proud rider Savoie may struggle to admit it, but the successful and hard working businessman Savoie can admire this one. It was WAR's first win without the team boss at the racetrack. Ask Don Schumacher, Joe Gibbs, Roger Penske, etc—that's a big deal. That's years of building a team that knows how to achieve it's objective and function as a winning machine.
Kulungian is Key
Perhaps the best decision Savoie has made since he bought Don Schumacher's motorcycle team before the start of the 2011 season was to hire and then promote Kulungian—a data driven workaholic who parses words as specifically as he programs the Suzukis' Motec ECUs.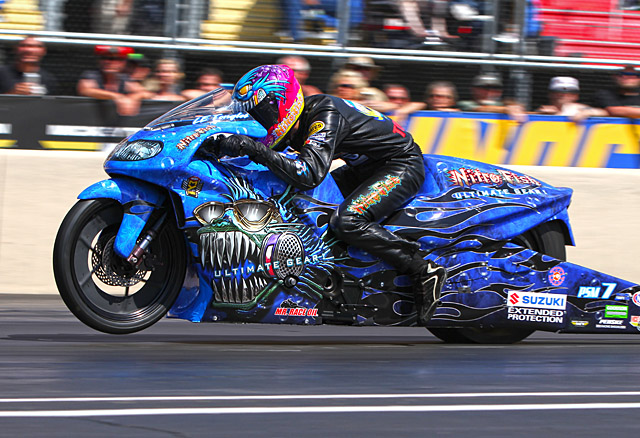 "The first time I met Tim I thought that he was somebody I could race with," said Savoie. "We hired him on to help us with the Buell project. The Buell put such a sour taste in my mouth, and the team broke up. I felt like this young guy had some ideas and some things he wanted to do that he never had the funding, or the authority to make the decision, to do the things he wanted to try."
So Savoie gave Kulungian that opportunity. "One of the first things Tim wanted to do was fuel injection. And I knew to go forward in this class, to go faster and keep up with the Harleys, we had to go to fuel injection. I felt like that was the next greatest thing."
Fuel injection—with all its maps, data, and nearly infinite programmability—fits squarely within brainiac Kulungian's skillset. "This young man is very smart, very intelligent, and he's learned A LOT in the last three years. To make one bike go fast is hard enough, but to make another bike go just as fast—that's pretty badass. It's hard to get two bikes to do the same thing, you know?"
The look on Kulungian's face this season as he struggled to field two competitive bikes has been one of being completely overwhelmed, and yet the results have been stunningly successful.
But getting one bike to do what the team wanted over the first two days at Norwalk—qualify number one—was difficult enough, especially without the valuable data that running a second bike gives Kulungian to work with. "Jerry not being here was a huge impact," said Tonglet. "We didn't have double the data each qualifying session, so it was a lot tougher."
Tonglet the Right Fit
Waiting for the right match to ride the second WAR bike was another good move by Savoie. Riders had coveted the seat for a year without a deal being made.
Savoie has known the Tonglet family for decades, and when LE's sponsor Kenny Koretsky of Nitrofish came sniffing around, the planets aligned to put the right rider in the seat. "When we raced in Reading (last year), Kenny sat down with us and said 'Whatcha got?'" recalled Savoie. "We told him and he said 'I'll take it.'"
Tonglet—trained to win by his dad Gary and brother GT practically since birth—won the championship in his rookie year of 2010. But repeating that success proved difficult for his small family team. Now with WAR, LE has the chance to show what he can do when the budget is there.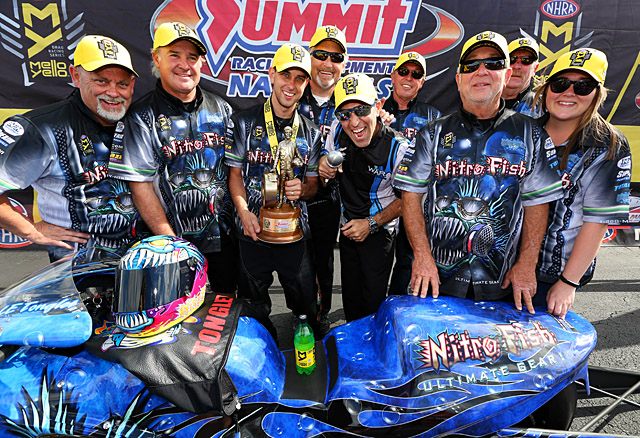 "I provide—hopefully—the same amount of tuning advice as Jerry does," said Tonglet. "The bike shows each round whether it's runnin' good or it's a turd, and sometimes it's a turd."
And while not exactly a "turd," sitting third after the first qualifying session at Norwalk wasn't what this team had in mind. "Tim said 'My feelings aren't gonna get hurt, just let me know if it's a turd,'" laughed Tonglet. "It started running after Q2."
Not running well enough to knock Smith off number one qualifier, but enough for the team to know they had a good piece to work with on raceday. "The whole weekend we were two hundredths behind them and I didn't see any winlights in qualifying. But I saw it today and that's the only day that counts.
"First round (of eliminations) we kinda got a little aggressive and it spun with a little too much wheel speed in first," continued Tonglet, who beat Melissa Surber that round. "Tim calmed that down and that's when our ET really dropped and we kinda stayed consistent right there."
Tonglet then beat Kulungian's former employer Steve Johnson in E2 and number three qualifier Hector Arana Jr. in the semifinal to set up the showdown with Smith.
LE and Matt left within .001 of each other at the starting line. "The final was a very good run for us," said Tonglet. "Matt slowed down a lot in the semis, but he had a .000 light that round and we were talking back in the pits that he wouldn't be able to do that again. We just tried to have a .010 or .020 light. We both had .030something reaction times and we just out-powered him. Tim's tuning has the bike just flyin' right now."
Proud rider Savoie feels his bike might have been flying even a little more. "I feel like I could've qualified number one in Norwalk," said Jerry. "My bike's a little different than LE's bike, it's a little more predictable. You don't know unless you're there, but I feel strongly that what he ran on raceday is what we could have run in qualifying."
Getting Kicks on Route 66
With egg gathering season over, Savoie is ready to hit Route 66 Raceway just outside of Chicago with a full head of steam. "I can't wait to go to Chicago, I want to win there. I'm ready to knock 'em out. I hope LE and I both end up in the finals again, that'd be cool."
But Savoie also knows that the other teams in the PSM paddock are working just as hard as his to knock WAR into the swamp. "There's some good teams out there having some misfortune, but they can turn it around and I'm not gonna lay down for anybody. We're gonna try and win some more. Once you get in the groove, you get so confident, and it's hard to break it. We've also got some new things we're working on too, so we're ready to try them and see if they work."
With Eddie Krawiec losing in round one at Norwalk, Tonglet is now leading the points. "This is a huge statement for our team," said LE, who likes being a good teammate but likes winning even better. "Jerry's win in Englishtown was cool. That's the first time I was actually on the starting line cheering for my teammate. But I like riding the bike and winning myself."
And with the WAR team solving problems and running as successfully as Savoie's alligator farm, LE and Jerry might be racing each other for most of 2017's PSM Wallys.
Watch an extensive interview with Kulungian in this video:
Jerry Savoie, Tim Kulungian and LE Tonglet thank everyone at Vance & Hines http://vanceandhines.com , PJ1 http://pj1.com/ , Mr. Race Oil http://www.mrraceoil.com/ , Motec http://www.motec.com/ , Denso Spark Plugs http://densoautoparts.com/ , Kenny Koretsky and Nitrofish https://nitrofish.com , tuner Tim Kulungian, crewmen Jeremy Deroche, Steve Zelem, and Chris Parker, their families, and the staff of Savoie Alligator Farm.
Results from Norwalk: http://www.nhra.com/results/2017/nhra-mello-yello-drag-racing-series/1326/ladders/pro-stock-motorcycle
The White Alligator Racing team races next on July 7-9 at the Fallen Patriots Route 66 NHRA Nationals, Route 66 Raceway just outside of Chicago, Illinois, USA.
For more information about White Alligator Racing go to http://www.whitealligatorracing.com/