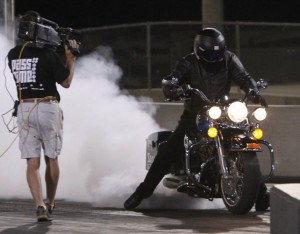 Recently Star Racing's George Bryce took part in a taping of the SPEED Channel's popular show, Pass Time, at South Georgia Motorsports Park in Valdosta, Ga.
After a John Force-esque burnout, Bryce motored his V-twin to an elapsed-time of 10.91.
"I pulled a big second-gear wheelie all the way to the 330′ clocks," Bryce said.  "It was awesome."
The show is scheduled to air sometime in February.