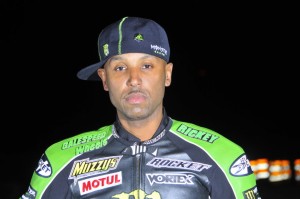 Multi-time motorcycle drag racing champion Rickey Gadson sustained a concussion after crashing in Las Vegas while participating in a Kawasaki promotional shoot on Friday, Sept. 23.
On his Facebook page Gadson posted the following, "Thanks everyboby for there well wishes. Can't believe that I remember NOTHING at all! 40 to 50 mph crash, but I was thrown into the ground, and knocked unconscious. I woke up in the hospital with all the attention on me, and a catheter up my______ I was strapped to the bed and hoses down my throat and nose, and IV's every where. People kept saying "do you know why your here"
We wish Gadson a speedy recovery.