Ever since the inception of the Vance and Hines Harley-Davidson V-Rod in the NHRA Pro Stock Motorcycle class, the unique marvel of engineering has been a major topic of conversation and controversy.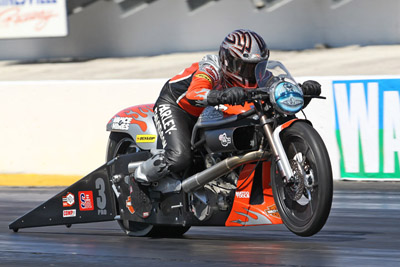 In the V-Rod's infancy in the early 2000s, the big question was, could such a machine even qualify in a Suzuki-dominated class? After several years of hard work by Vance and Hines and rule alterations by the NHRA, the V-Rod has become one of the most dominant and popular motorcycles in the category, amassing multiple event wins, the first sub-seven second run and four championship titles.
Detractors are outraged that the V-Rod is the only vehicle in NHRA competition that is not available to the public. Only Vance and Hines can own, build and race a NHRA-legal Harley-Davidson V-Rod. Adding to the controversy is the fact that Vance and Hines supplies engines for the overwhelming majority of PSM racers who compete on Suzukis and V&H has also entered the PSM Buell market.
Perhaps the most outspoken critic of the situation is Star Racing owner and six-time NHRA champion, George Bryce. Make sure to read Bryce's Cycledrag.com interview on this situation and listen to his RPM tonight interview (Sep. 21, 2011) to better understand the 78-time event winner's argument.
This issue has come to the forefront once again with the recent war of words between Vance and Hines rider Eddie Krawiec and Suzuki racer Jerry Savoie, who has asked how Krawiec can be proud of winning a race on a motorcycle no one else is allowed to compete on?
Who is right? Who is wrong?
Those questions are moot compared to the harsh reality of why this unique situation exists in NHRA PSM; the class simply isn't popular enough.
That statement may not sit well with most visitors of Cycledrag.com, a site dedicated to drag bike racing.
I love PSM and, most likely, you love it too. Bryce loves it. Vance and Hines loves it. Unfortunately the masses do not love it.
Don't believe me? For the next NHRA national event, let's make an announcement that the only class competing throughout the weekend will be PSM. How many spectators will show up? What will the ratings be for the NHRA television show? There is no question the event would fail miserably.
Now let's pretend NHRA makes the announcement that PSM will not compete at the next event. I bet NHRA doesn't see more than a 3-5% drop in attendance, if that. In fact, Top Fuel alone would probably bring out at least 80% of the fans who planned on attending. The harsh reality is PSM is not a huge money maker, it's not a draw. It never has been and likely never will be. Major corporate sponsors are not lining up to get involved in PSM. The class is there to serve as a side dish to NHRA's main event, Top Fuel and Funny Car.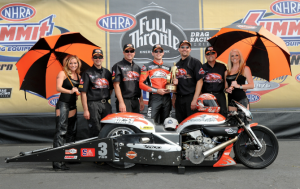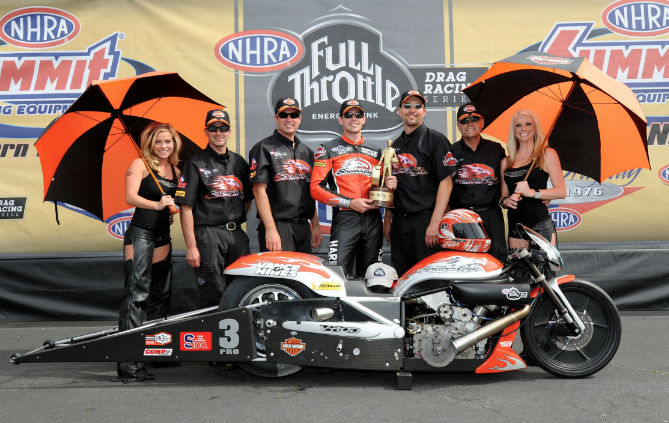 So how does that play into the NHRA PSM Vance and Hines V-Rod controversy?
Is NHRA aware that V&H being the sole owner of the V-Rod is a bit unfair? Sure. It doesn't matter though. NHRA exists to make money. NHRA is only concerned about the big picture and having America's most popular and marketable motorcycle manufacturer, Harley-Davidson, associated with the class is a wonderful thing. The class may not even exist otherwise. Can you blame NHRA? No.
Harley-Davidson is an enormous, billion-dollar company that is only involved with NHRA as a small marketing and advertising project. Harley's NHRA involvement is a minuscule blip on the company's radar compared to all of the business it does on a daily basis. Clearly to Harley-Davidson, letting anyone but Vance and Hines own, race or build a V-Rod in PSM isn't worth the risk. We all know George Bryce, who has represented successful companies like Winston and S&S, would make Harley proud. But what about the wealthy, less-than-skilled rookie racer who could buy a V-Rod and possibly do damage to the Harley brand by breaking or not qualifying, tarnishing Harley's NHRA involvement? The marketing project wouldn't make much sense for Harley at that point. In reality, damage to the Harley brand by poor PSM performance may not be plausible, but clearly it's not worth the risk to Harley. Can you blame Harley for wanting to get the most out of its investment? No.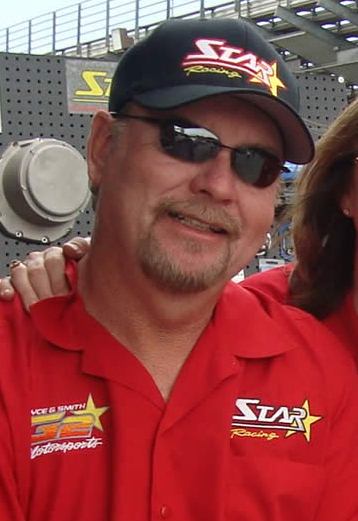 Vance and Hines is a company that has been involved in PSM since the beginning. Byron Hines and Terry Vance have ensured the PSM class has remained part of NHRA over the years. NHRA has shown they are not afraid to cut a non-nitro class that doesn't greatly contribute to the gate or bottom line of the company (See Pro Stock Truck). Vance and Hines established a connection and a high level of trust with Harley-Davidson to convince it to race in the NHRA. The battle in PSM is as much about making business deals and obtaining sponsorship as it is about cutting lights and tuning engines. Is Vance and Hines supposed to turn its back on Harley because Harley only wants to do business with V&H? No. The Harley-Davidson deal has elevated the popularity of Pro Stock Motorcycle and has been financially successful for V&H. Can you blame V&H for taking the deal? No.
The NHRA V-Rod may be the dominant machine and many believe Vance and Hines controls the entire class, but let's not forget the parity could be a lot worse. The V-Rod didn't win eight championships in a row. Last year L.E. Tonglet won the season crown on a Suzuki and Matt Smith and Hector Arana have won the title on Buells.
And finally, does George Bryce has a valid point about the rules not being fair and the injustice that exists with only one team being able to race a particular type of vehicle? Yes. Bryce has dedicated his life to the sport. He is not used to losing. He has won championships with the great John Myers and Angelle Savoie. Can you blame Bryce for wanting to own the equipment he feels gives him the best chance of winning? No.
Anyone who investigates the rules should be able to conclude that the situation in PSM is not 100-percent fair. It is not an ideal competitive environment. Such a situation would never exist in a highly-successful, large spectator attraction like the NFL. The Pittsburgh Steelers wouldn't be allowed to use one-of-a-kind spikes, helmets or shoulder pads to its advantage. But then again, people pay billions of dollars to watch NFL players compete on an even playing field. PSM is lucky to exist at all. It's a niche within a niche. What's fair and what makes money can differ greatly.
The harsh reality is, as motorcycle drag racing fans, we are fortunate to have PSM as part of the NHRA lineup. We are fortunate drag bike racing can be seen on ESPN. We are fortunate Vance and Hines has dedicated over 20 years to the class. We are fortunate George Bryce and Star Racing have greatly contributed to PSM and are passionate enough about winning to cry foul. We are fortunate a juggernaut like Harley-Davidson is involved in the sport and continues to pour money into the class.
This might be the one thing NHRA, Bryce, Vance and Hines, Savoie and Krawiec can all agree on.
The buzz and controversy surrounding the issue is also good for the class.
The situation is not perfect, but it could be a lot worse. Motorcycle drag racing fans, it's the best we have and it's a lot better than nothing.