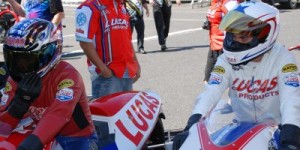 Lucas Oil Buell riders Hector Arana Sr. and Hector Arana Jr. will prepare for this weekend's AAA of Texas NHRA Fall Nationals at Texas Motorplex in different locations this week.
Arana Sr. and the Lucas Oil Pro Stock Motorcycle team left Charlotte after last weekend's race and headed straight for the Texas Motorplex. Any work done to the team's two Lucas Oil Buell motorcycles will be done on the road instead of at the team's shop in Indiana.
That's where Arana Jr. is this week, as he has college classes in engineering at Purdue University – College of Technology in New Albany, Ind. He'll be in Dallas just in time for Friday's first two qualifying sessions.
So while Arana Jr. is listening to his professors, his dad, his brother Adam and crew chief Dan Gonzalez will be working in the team's bikes.
"It sucks they're on the road," Arana Jr. said. "We've got a lot of work to do. 'Gracie' is hurt, so they're going to have to do some on-the-road work. I've got to go to school, and I feel bad for my dad, Dan and Adam. I wish them all the best in getting everything together."
Arana Jr.'s main engine, named Gracie after his mom, Grace, suffered some damage in a qualifying run at Charlotte. The backup, ironically named "Charlotte," helped Arana Jr. qualify No. 8 and win his first-round matchup. But the motor wouldn't start for the second round, and he was eliminated – one race after winning the U.S. Nationals.
Arana Jr., though, has already put the Charlotte race behind him.
"I don't let that stuff get to me," Arana Jr. said. "That's just the way I am. We could fistfight right now, and 10 minutes later I'll forgive you. I'm not going to let that get into my head. You can't do that when you're racing. We've just got to get our stuff ready for the next race."
Arana Jr. is sixth in the Pro Stock Motorcycle points standings, one position ahead of his dad. Arana Sr. went out in the first round in Charlotte with a mysterious mechanical issue. Arana Sr. had qualified No. 4, his best effort in four races.
Like his son, Arana Sr. also is looking ahead.
"We've got to regroup for Dallas," Arana Sr. said. "We can't let anything that happened in Charlotte bother us because that's water under the bridge. There's nothing we can do about that now. We have to stay focused, and we need to go rounds."
Both drivers have some work to do to chase down PSM points leader Eddie Krawiec, but that's not the issue now, Arana Jr. said.
"We can't worry about the points," Arana Jr. said. "If we worry about the points, it'll kick us. We've got to keep doing our thing. It'll come to us."