On May 9th, 2010, Star Racing's George Bryce drew the sketch below of a new concept in motorcycle drag racing – the "Drag Bagger," to compete in the ADRL Pro Extreme Motorcycle (PXM) class.
Nine short months later, 2009 NHRA Pro Stock Motorcycle Champion Matt Smith piloted his Pro Extreme "Drag Bagger" to victory at the Qatar Racing Club (QRC). This was one for the history books as it was the first win of the Pro Extreme Motorcycle class by a V-Twin ever!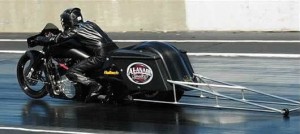 On February 5th, Smith's 4.115 e.t. at 171.55 mph defeated Terry Schweigert who ran a 4.164 at 172.65 in round six of eight in the 2010-2011 Arabian Drag Racing League.
This win comes on the heels of sitting a new track record of 4.12 during the January segment. Those are pretty impressive numbers for a motorcycle that was a pencil drawing less than a year ago!
In addition to his win in the PXM class, Smith went to the semi's in owner Al-Anabi's '68 Camaro in a very competitive Pro Extreme division.
The QRC "Battle of the Belts" has two more events planned to round out their season. Round seven is scheduled for February 10-11, and the finals will be held February 17-18.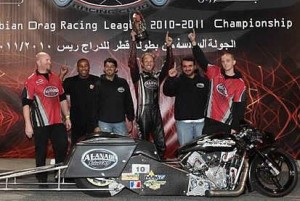 Smith's Drag Bagger is the first of four of these super fast motorcycles on order at Star Racing. It is a unique combination of an H-D® "Bagger" combined with a Pro Extreme drag bike.
Each motorcycle comes equipped with a highly modified S&S Cycle billet 160 cubic inch pushrod engine in a 60° V-Twin configuration.
For more information on the Drag Bagger, click here, call Star Racing at 800-841-7827 or email.