Lucas Oil Racing TV rider Hector Arana Jr. knocked one monkey off his back in the NHRA Summernationals on Sunday at Old Bridge Township Raceway Park, and he'd love to knock another off soon.
Arana beat Jim Underdahl to score his first round-win of the season. Next, Arana has his sights set on a race victory that would be his first since St. Louis last year.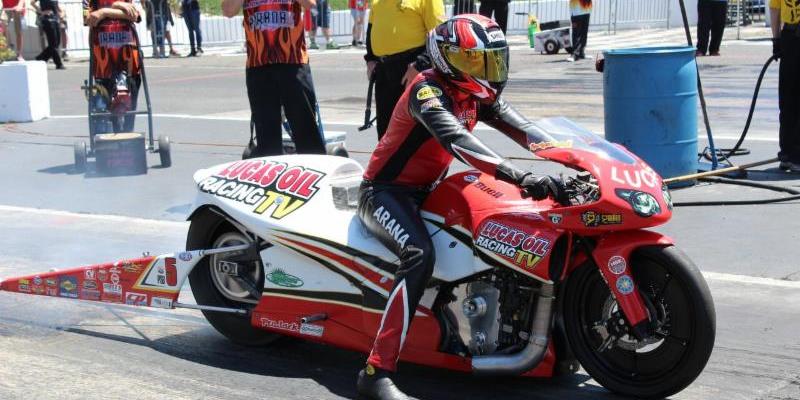 "We're definitely heading in the right direction," Arana said. "I was doing really well, and I had the No. 1 60-foot for three of the runs, so that's very impressive. Now, we've just got to get the bike to run the back half like she used it. We're really close, and we'll get there."
After a slow start to the 2016 Pro Stock Motorcycle season, Arana qualified No. 3 in Englishtown — his best performance of year. He then knocked off Underdahl with a pass of 6.921 seconds at 192.33 mph, overcoming Underdahl's 7.089-second pass at 187.63 mph.
"That was the first round-win this year, right?" Arana said. "Hopefully, I can go a couple of rounds faster than going one round at a time. We'll get there."
Arana then squared off against Chip Ellis, who had one of the best elapsed times of the first round. Arana had a huge advantage on the starting line with a .027-second reaction time to Ellis' .079, but his pass of 7.011 seconds at 193.35 mph couldn't turn on the win light. Ellis made a run of 6.903 seconds at 194.21 mph, making up Arana's starting-line advantage early in the run.
"Unfortunately, for whatever reason, we bogged off the line," Arana said. "I've got to figure out why it did that because I didn't touch the clutch tune-up or anything. Everything looked good before the run and it looked promising, so evidently something happened. We've got to go in there, download our information, study all that, and see if we can find a cause to what happened."
Arana returns to the Lucas Oil Racing TV Buell for the 10th annual Summit Racing Equipment NHRA Nationals on June 24-26 at Summit Racing Equipment Motorsports Park.