Lucas Oil Buell rider Hector Arana Sr. shook off a first-round exit in the NHRA Summernationals on Sunday at Old Bridge Township Raceway Park, perhaps knowing better times are ahead for the veteran Pro Stock Motorcycle racer.
Arana, the 2009 series champion, found some performance in his Lucas Oil bike in the weeks before Englishtown and then spent the weekend here working on a new tune-up.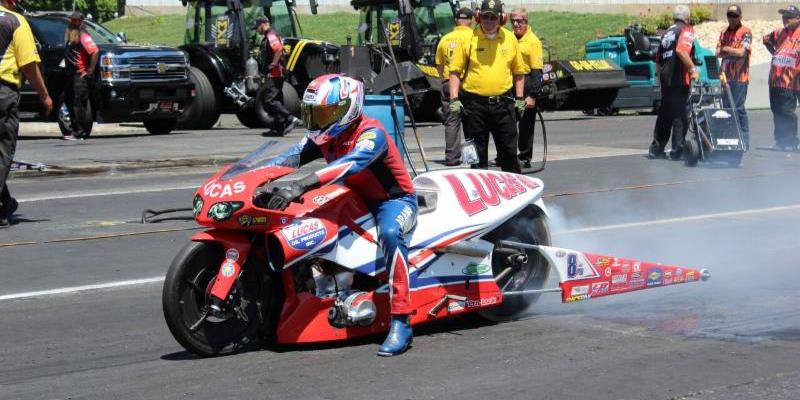 He qualified No. 9 but then couldn't get around No. 8 qualifier Steve Johnson in the first round.
"Today didn't go as planned, but sometimes that's how it goes," Arana said. "Overall, I believe we performed well. Qualifying went pretty good for us, but we've got to go and see why we started losing performance in eliminations. Once we find out the problem, we can fix it and we should be able to stay consistent."
Veterans Arana and Johnson had nearly identical reaction times, meaning the race would be won on the track. Johnson made a better pass, 6.947 seconds at 192.11 mph to 6.987 at 189.82 mph, to advance to the second round.
"My goal is to stay consistent, running the same e.t or improving," Arana said. "But it seemed to go in the other direction. We'll find it and we're going to do better at the next race."
That would be the 10th annual Summit Racing Equipment NHRA Nationals on June 24-26 at Summit Racing Equipment Motorsports Park.
Arana also was pleased with the improved performance by his son, Hector Jr., who qualified No. 3 and won in the first round.
"Hector qualified third, he's running good, and the numbers were good," Arana said. "It is a good feeling because I know he loves this. I know he has passion for racing: He loves it, he breathes it. I can't wait until we perform better and start winning rounds and going to the finals. That's our goal."