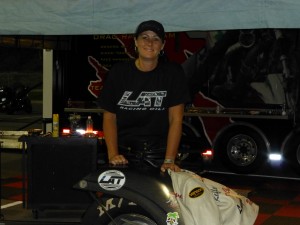 Janette Thornley, owner and operator of a nitro burning, carbureted, 121 cid Pro Dragster and Dream Chaser Racin' is very pleased to announce her association with LAT Racing Oil.
LAT high performance synthetic oil products have multiple applications but it's the nitro-methane and the motorcycle oils that are of great attention to Thornley.  "The nitro methane application is already proven through a wide variety of nitro apps from hot rod cars and now the nitro motorcycle field.  I'll be using the product and sharing my experience with their product throughout the remainder of the year."
The
According to the website LAT Racing Oils are the next generation in maximum performance Synthetic Racing Oils, Synthetic Performance Oil, High Performance Petroleum based oil, Break In Oil, Assembly Lubes, Synthetic Oil Additives and Gear Lubricants. Over the past several seasons LAT RACING OILS have become the lubrication of choice for race teams around the globe.                         hot rod cars to off road racing. I'll be using the product and
Thank you to my existing sponsors: Autolite Sparkplugs and Lowry Callahan of Quality Refrigeration Company. Special thanks for your continued support to Ray and Jean Price; the Ray Price Race Team (Tommy Grimes, Justin Heinle, Jeremy Hoy, and Mark Morgan), Doug Atkinson, Freddie Robbins and Bill Hendren and Dalton Mathews.
Visit LAT http://www.latracingoils.com/ for more information.
Contact Dream Chaser Racin' at dreamchaserracin@yahoo.com