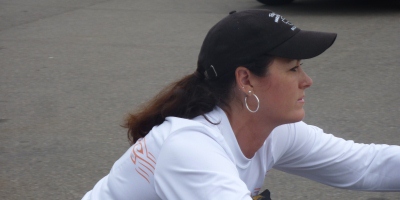 Dream Chaser Racin', Janette Thornley kicked off her first season of drag racing at a Manufacture's Cup held in Valdosta, Georgia, April 13-15. It was exciting weekend as Thornley, owner and operator of her nitro burning, carbureted, 121 ci Pro Dragster, as she raced her way into the finals.
"This was an amazing weekend for me", said Thornley, "I continue to learn how to ride in the nitro powered Pro Drag class. Valdosta was a milestone as we trimmed nearly .500 of a second off the ¼ mile run and I ran my quickest pass at 7.332 ET (elapsed time) and fastest at 174.55 mph."
Under the guidance of the veteran racer and tuner, Freddie Robbins and the Ray Price Race Team, Thornley was able to land a #5 qualifying spot, running a 7.445 ET at 171.90 mph. This was a last chance pass as she was not yet qualified to race on Sunday, no pressure there, huh?
In the first round eliminations, Thornley stayed focused and was able to pull off a win with a 7.332 ET at 170.45 mph. Advancing to the semi-finals, Thornley kept moving up on the ladder with a 7.370 ET at 174.55 mph. The finals didn't prove as successful , but she didn't feel too badly about finishing runner-up to Johnny Vickers, former national champion and her instructor at the Pro Drag school.
The following weekend Dream Chaser Racin' landed in Gainesville Florida for the All Harley Drag Racing Association season opener. The weekend offered Thornley more valuable learning opportunities as she continues to develop racing skills.
"As a rider, right now I'm focusing on the basics of drag racing, getting the bike down the track straight and safe." says Thornley "I know I've come a long way in a short time but there are so many things to think about in 7 seconds and I don't want to get ahead of myself – winning will be great but there's plenty of time for that!"
On Saturday, Thornley qualified in the #6 spot running a 7.635 ET at 169.19 mph. Moving into eliminations, Thornley made a strong pass of 7.601 ET at 174.35 mph but not enough to take the win.
"It was a close race, a great race and neither one of us knew for sure who won", says Thornley. "I felt great though because it was perfect pass in my mind and right now, that's what I'm striving for!"
Dream Chaser Racin' would like to thank Autolite Sparkplugs; Ray and Jean Price for our business arrangement for transport and maintenance of the bike and Ray's amazing coaching to make the learning curve maybe a little easier. Special thanks to Freddie Robbins for his time, patience and dedication, keeping me grounded when necessary and being my "go to track guy"; to Bill Hendren for your time; and to the Ray Price Race Team – Tommy Grimes, Justin Heinle, Jeremy Hoy, Mark Morgan and Ray Price for all you do; and Dalton Matthews.
Sponsors always welcome!
Contact Dream Chaser Racin' at dreamchaserracin@yahoo.com