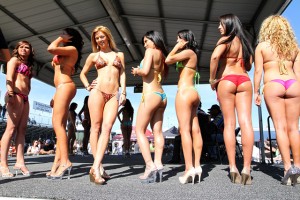 Showers that cancelled Saturday night's program failed to dampen the high-horsepower action when the Mickey Thompson MIRock Superbike Series opened the Maryland International Raceway portion of its season with the Fast By Gast Spring Nationals this past weekend, April 28-29. MIR's super sticky track surface delivered the world's first 6-second streetbike last October, and two bikes joined the exclusive 6 Second Club this time around.
Two-time defending Orient Express Pro Street champion Rodney Williford rang the magic number up in round 2 of qualifying on Saturday with a deep 6.95, then matched it in round 3. "I actually spun on that second pass," reported Williford, who was tuning his turbo Suzuki Hayabusa with a 6.80 in mind.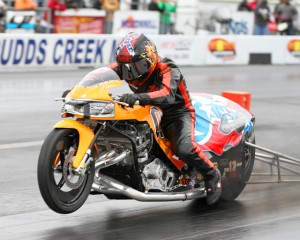 Jeremy Teasley won the MIRock opener last month at North Carolina's Rockingham Dragway on Ken Edward's "No Joke" turbo 'Busa, then won the Manufacturers Cup race in Valdosta, Georgia and rolled into MIR with full head of steam. But the No Joke team blew a motor in Friday practice, yet qualified number 2 with a 7.03 despite never laying down a good looking pass. Pro Street rookie Joey Gladstone was third on the DME Racing 'Busa, and Ryan Schnitz fourth on the HTP Performance nitrous 'Busa.
Schnitz had to roll out of the throttle in round 1 and lost to upstart Shannon Maylee, who then lost to Gladstone in round 2. Williford lowered his record further to 6.941 on a round 1 broke bye, then beat Danny Cox in round 2. Teasley raced past Neal Riddle in round 1, then wheelied wildly and lost to Bud Yoder in 2. The round win was a costly one for Yoder and builder/tuner Ronnie Mitchell, as they scattered their second motor of the day.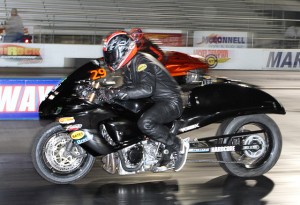 So Yoder no-showed for his semifinal match-up with Gladstone, who nailed a 6.994 at a record 211.23 mph. Williford had an earned bye in the other semi and boiled his tire badly at launch. Trying something out or sign of a malfunctioning clutch? Apparently the second choice, as the final was a carbon copy of the semi for Williford and Gladstone streaked down the track for the first Pro Street win for him, DME, and DME's Dimey Eddinger—who stepped out of the saddle this year to make room for jockey-sized Gladstone.
Maybe losing round 1 allowed Schnitz and HTP Performance builder/tuner Cecil Towner to focus on their brand new EFI/nitrous/Hayabusa Mickey Thompson Pro Mod combination, which they hope will subdue the class' long-dominant, ancient, Suzuki GS motor. Qualifying looked like it might be a month's long searched for competiveness with the full-fairing HTP Hayabusa, but the team ripped off a 4.28 in eliminations round 1 of the eighth mile class to trailer long time Pro Modder Robbie Hunnicutt.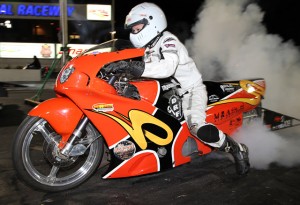 Two-time Pro Mod champ Ronnie Procopio broke in his round 1 win over tire-boiling Jamie Emery, giving round 2 opponent Schnitz a bye to the final. Surprise number 1 qualifier Mac McAdams also had a broke bye to the semi. Earlier, McAdams was frustrated with a 4.22 best in Friday testing, then popped off a 4.12 without warning in Saturday qualifying.
On Sunday afternoon, McAdams seemed to have a performance advantage of over a tenth for the final, but an event that was supposed to serve as a test session for HTP suddenly turned into a chance for a win. Their new bike and its performance were an unknown quantity for opponent McAdams, who none-the-less laid back on the tree. Schnitz did improve by over 4/100ths in the final, but McAdams' pass held true to form and his 4.16 was good enough for his first Pro Mod win.
DME Real Street is often thought of as Jeremy Teasley's personal playground, as he's won multiple Real Street championships in multiple sanctions on nitrous-huffing Kawasaki ZX14s built by owner/tuner Roger Starrette and the Adams Performance/RS Motorsports team. But Exoticycles' Johnny "Turbo" Dobrin came to MIR with five wins in his last five appearances, including the Rockingham opener and the Manufacturers Cup.
Dobrin qualified number 1 at MIR, but found himself surrounded in the semis by all three RS Motorsports ZX14s, ridden by Teasley, Valdosta runner-up David Merks, and Kawasaki superstar Rickey Gadson. Teasley wheelied badly and lost to Merks, while Dobrin vanquished Gadson, setting up a Valdosta final rematch. Merks took the tree and was 100% on the bottle early, but Dobrin's turbo power was too much and he drove around for another win.
Fighting the pro classes for attention on Sunday was the Fast By Gast Pro ET double payday brought on by Saturday night's rainout. After beating MIR homeboy Chris Clontz in the Trac King/APE Top Sportsman final, Rickey Butler Jr. took aim at a big money double in Pro ET. Likewise, Mac McAdams hurried quickly out of the Pro Mod winners circle to get back on track with his bracket bike. Butler didn't last long, but McAdams carried it all the way to the final before redlighting by .004 against Derek "High Dollar" Christensen and his no-bar Hayabusa.
Jeremy Teasley's younger bother Cameron was going rounds in House of Speed Crazy 8s, and advanced to the final to face MIR legend Shayne Proctor. "Oh no," said Cameron's father James "Crow" Teasley. "If Cameron wins this we won't be able to drive home with him in the car. We'll have to put him in the trunk so we don't have to listen to him."
Crow needn't have worried this time around, as Kawasaki die-hard Proctor nailed a .010 light on young Teasley in the double breakout race. Both these riders have a deep family posse at the track, but none is deeper than MIR homeboy Proctor's. There are more Proctors at the track than you can imagine, and his cheering section erupted when the winlight came on in the left lane.
A young rider who was able to seal the deal is 17 year-old second generation racer Ashley DeTurck. In the FBR Shop 5.60 Index final, DeTurck went up against one of the toughest veteran racers of all time in "Fearsome" Andy Baumbach. But Virginia plumber Baumbach felt something funny in the clutch/tranny during his burnout, and when he put his black Kawasaki on the 2-step the bike launched straight away, well before the tree was activated. "I didn't know what to think," said DeTurck, who none-the-less did the right thing by waiting on her greenlight, making her lap, and taking her first MIRock win.
The last class to finish, sometime around midnight, was Brock's Performance Street ET, where Mike Schulz now remains undefeated on the year after taking both races at The Rock in March. And to prove that point about the Proctor family, Schulz beat Anthony Proctor in the final.
Saturday night's Afterdark Underground rainout sure didn't keep many big races from going off, as Possum, Big Dre, CJ400, Lil' Charlie, Caleb Holt, Jeremy Teasley and more all saw serious action in the light of day. And the sun shined brightly on MIR's famous bikini contest, where the Mid-Atlantic seaboard's hottest models kicked it out for the crowd.
The Mickey Thompson Performance Tires MIRock Superbike Series races again at MIR for the Fast By Gast Summer Showdown, June 2-3, 2012.
Results: http://www.mirockracing.com/results/2012/race2-mir/index.htm
Find out more about the Mickey Thompson Performance Tires MIRock Superbike Series at http://www.mirockracing.com
This report was prepared by Tim Hailey. High-res images for editorial use are available by e-mailing timhailey@earthlink.net . Enjoy everything there is to read, see and watch about motorcycle drag racing and more at http://www.eatmyink.com