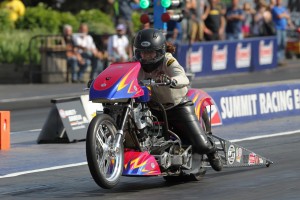 Dream Chaser Racin', Janette Thornley is excited about their first win and first Wally as they appeared in NHRA's Harley-Davidson Drag Racing Series at the "The Mickey Mart Rewards Cavalcade of Stars presented by Budweiser", Summit Racing Equipment Motorsports Park, Norwalk, OH.
It was another exciting weekend as the team continues to grow and develop. "I knew my crew, Freddie Robbins and Buddy Foss, had the tune we needed to bring home a win. They told me so, I just had to focus, do my job and I DID."
"After this weekend we can say unequivocally that we LOVE the NHRA
Harley-Davidson Drag Racing Series format, we now understand how the event flows and what we can expect. It's really much more laid back and with trophy in hand, it's the best racing experience ever."
After the Dream Chaser Racin' team had to part ways Sunday night, they look forward to celebrating their success and going for another Wally as they meet again on Friday in Atlanta GA for another NHRA Harley-Davidson Drag Racing Series Event May 25 & 26.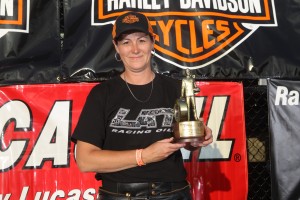 Dream Chaser Racin' would like to thank LAT Racing Oils, Robbins Performance and MaP for your sponsorship. Sponsors always welcome!
Contact Dream Chaser Racin' atdreamchaserracin@yahoo.com
Facebook Friend-Janette Thornley and dream chaser racin'