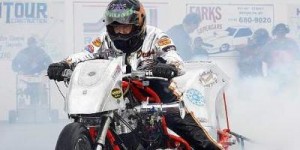 Larry "Drums" Brancaccio and Bammer Racing shook out all the cobwebs for their first event of the season.
Not only did they perform with their standard flash, they made the quick eight out of 15 of America's finest nitro powered Top Fuel monsters at the NHRA -Harley-Davidson Drag Racing Series "The Mickey Mart Rewards Cavalcade of Stars presented by Budweiser" at Summit Racing Equipment Motorsports Park, Norwalk, Ohio,
Crew chief, Michael Hopkins had taken time to focus on some new tune up combinations and  remained hopeful that they'd done their job at home in prep work, but every racer and crew chief knows the proof of all the time, hard work and late nights comes down to a few precious seconds on the track. As always the crew and management at Summit Racing Equipment Motorsports Park was right on top of things.
"We were thrilled with a 8 quick eight position for eliminations on Sunday. Things were going well and we got a little squirrely off the line against Douglas Horne. We knew he's a hard competitor to get at the lights, but we ended up going to the center line and were disqualified by hitting a the foam blocks. We'll disappointed but ready to go racing again," said Hopkins.
Bammer Race Team consists of
Drums Brancaccio
Crew Chief: Michael Hopkins
Dickie Roberts
Joe Wysocki
Richard Murray
Sponsors for 2013 include:
Central Metal Fabricators  www.centralmetalfab.com
Anthony Augliera, Inc  www.augliera.com
Richard Murray
Keith's Custom Seats  www.keithscustomseats.com
World Wide Bearings  www.worldwidebearings.com
Capone Landscape  www.caponeracing.com
Vanson Leathers  www.vansonleathers.com
Tattooville Tattoo  www.tattooville.com
Autolite   www.autolite.com
Chris DiMaggio Property Services
Starlight Tattoo www.starlighttattoo.com
phone 973 667 8504
website. www.bammerracing.com