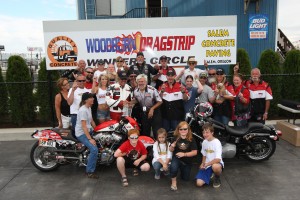 Verl "Smitty" Smith of VSR4VETS went to the semi-finals at the NW Drag Bike Season Opener in Woodburn, OR. Smitty says, "We ran our best time ever in the 1/8th mile @ 5.72 @ 126 MPH, & ¼ mile @ 8.89 @153.65 MPH!!! I would like to thank Lori Post, who took over the helm, picking my launch spot, & kept track of info, GREAT JOB, LORI! She was accompanied by a new recruit Joel Gittleson, they both did a great job!"
That brings us to our new sponsors, we would like to welcome them to the team, Baker Drive Train, JIMS USA, Feuling, Jaclyn McNeill LMT, & Mulligans & More M/C. Thank you for your support & also thanks to our continuing sponsors!
Next on the agenda is our revised schedule: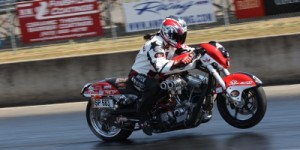 May 17-18 NWDB Woodburn Drag Strip Season Opener
June 8-9 NWDB @ Woodburn, OR
July 26-27 NWDB @ Woodburn, OR
Aug 2-3 Bikers Choice @ Sturgis, SD
Aug 4 15th Annual Griz Robinson Veterans Memorial Bike Show @ Fort Meade Medical Facility @ Sturgis, SD
Aug 5-7 Racing/Baker Burnout (TBA) Sturgis, SD
Aug 11 (TBA) Cruz-In Benefit For Veterans @ Eugene, OR
Aug 17-18 NHRA Div. @ Seattle, WA
Aug 24-25 NW Nitro Nationals @ Woodburn, OR
Sept 14-15 NWDB @ Woodburn, OR
Oct 31-Nov 2 NHRA Divisionals  @ Las Vegas, NV
If it wasn't for our VETERANS we couldn't do what we do!
VSR4VETS would like to thank our Sponsors, Associate Sponsors & Contributors:
Air-Tech
Avon Tires
Biker's Choice
Baker Drivetrain
Black Widow Cams
Bitchin Seat Co.
Camille B Hook, LMT
Celorie Bros. Dump Trucking, Inc.
Columbia HD
Davey Rocket RV Repair
Deka Batteries
E/T Performance
Feuling
JIMS USA
Hanson's Auto Body
Mickey Thompson Tires
Motor Whiskey
Mulligans & More
Movers & Shakers
Oak Grove Choppers
RT Performance
Rush Racing Products
Spark of Life Chiropractic
Spyke, Inc.
SA Racing
Works Performance Shocks