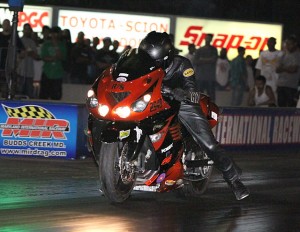 Multi-time DME Real Street champ Jeremy Teasley and his Roger Starrette owned and tuned, nitrous-huffing Kawasaki ZX14 had found themselves shut out of the winners circle the previous couple of races, but worked their way back in at the Mickey Thompson Performance Tires MIRock Superbike Series Fast by Gast Fall Nationals, October 4-6 at Maryland International Raceway in Budds Creek.
The team was running as the underdog again at MIR when defending champ Johnny "Turbo" Dobrin qualified his Exoticycle turbocharged Suzuki Hayabusa number 1 with a 7.750. Super Dave Stewart, also on a turbo 'Busa, qualified second with a 7.81. Teasley was third with a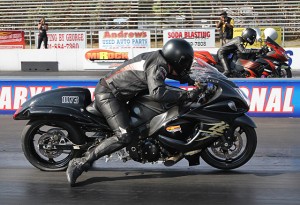 7.84 and all three, strangely, went through the traps at 189 mph. "We've been fighting a fourth gear wheelie issue for the last few races," said Starrette. "Not that Jeremy minds hanging the front wheel in the air, but it was coming up dangerously high very quickly. I finally cut the nitrous completely off in fourth gear for over half a second and slowly ramped it back in from there."
And from that baseline, Starrette dialed-in more spray and Teasley sliced his way back to another final against rival Johnny Turbo. Dobrin gave up the tree with a .121 to Teasley's .067,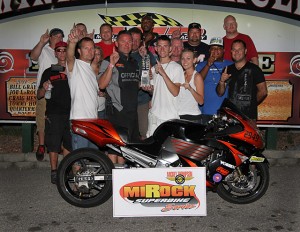 then ran just .005 slower than Teasley's ET. "Our eighth miles were identical, the thousand foots were identical, but I left first," said Teasley. "The tree's where it happens.
"Also, we finally fixed the nitrous in fourth gear and finally started going fast again. I missed the winners circle these last two races, so it feels good to be back."
"We aren't back where we want to be, but we did get the win and a good starting point for the next race," said Starrette. "Hopefully we can get back into the .70s then."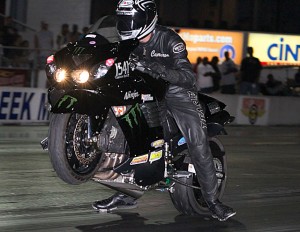 That next race is the MIRock Lee's Performance World Finals, November 1-3 at legendary Rockingham Dragway. "If I make it to the semis at Rockingham, the championship is over," said Teasley. If that happens it will be his fifth Real Street championship in different sanctions. Teasley also has a nearly insurmountable lead on his ZX14R streetbike in MIRock Crazy 8s, which makes one wonder—when IS Kawasaki going to come out with a Jeremy Teasley edition Kawasaki ZX14R?
But Starrette's RS Motorsports team is more than just Teasley, and even more than just Kawasakis. "We have been struggling with David Merks' turbo bike (Suzuki Hayabusa), too," said Starrette. "I think we have it sorted out now, but unfortunately for him, he raced Jeremy in round 2, and Jeremy ran his quickest pass of the weekend. But look for Merks to be solidly in the 7.80s in Rockingham.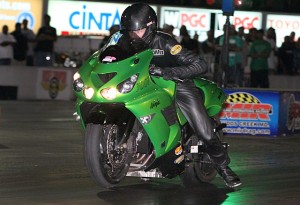 "We just put a new Motec ECU on the green ZX14 that Chris Moore rides, and with no testing before qualifying, we still had some bugs to work out. Another point worth mentioning is that before the Maryland race, Chris had never ridden a turbo Pro Street bike in his life. With only three passes he qualified for the quickest Pro Street field in history on Rodney Williford's purple bike, so that's pretty impressive.
"And don't count Cameron (Teasley, Jeremy's younger brother) out in Real Street either. He has been riding better each race and is headed towards his own 7.80s." Will it happen at The Rock, Cameron?
Jeremy concluded by dishing out the thanks to those responsible for getting him back in the winners circle. "I want to thank Roger, my dad James 'Crow' Teasley, Chris 'CJ' Johnson for helping us tune at the 800 foot mark, Muzzy's http://www.muzzys.com , Worldwide Bearings http://www.worldwidebearings.com/ , Adams Performance http://www.adamsperformance.net , and my girlfriend Toni Miller."