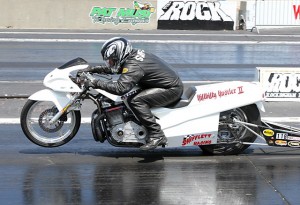 The Mickey Thompson MIRock Superbike Series blistered legendary Rockingham Dragway this past weekend, as the world's largest motorcycle drag racing organization concluded it's 2013 season with the Lee's Performance World Finals on November 1-3. Mother Nature made it a tricky three days for Steve Earwood's hardworking staff, washing away a beautifully prepped track with a deluge on Friday and coming back with rain, cool, and damp conditions Saturday night. But through it all, Rockingham starter "Little Man" and his staff kept spraying plenty of PJ1 traction compound to deliver track records from the most razor-edge bikes around—the high horsepower, street legal rubber-shod machines of Orient Express Pro Street.
Looking to nail down his first championship, Joey Gladstone qualified number 1 with a 6.949 at 211.70 mph on his turbocharged, DME Suzuki Hayabusa. Gladstone bettered that in eliminations with a 6.942, and along the way secured enough points to finally stop three-peat champ Rodney Williford's stranglehold on the class. Gladstone needed a holeshot to get past teammate (and Battle Royale winner) Terrence Angela's 213.98 mph blast in the semi, then faced Battle Royale runner-up Tony Ficher in the final.
Ficher was slaying all-time supercharged Pro Street records on his deafeningly loud 'Busa, and nailed an .018 light to Gladstone's .044 in the final. Ficher lost a little ET somewhere on the track, and as both bikes streaked through the traps side-by-side at 210 mph, Gladstone's winlight flashed on.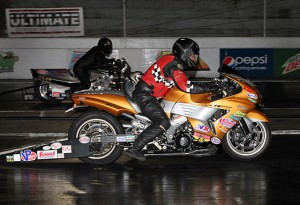 DME Real Street also saw an intense points battle between class titans Johnny "Turbo" Dobrin—the defending champ—and multi-time champ Jeremy Teasley. By the time these two met in the final, Teasley already had the championship secured. Then in the final, "Jeremy had me by a little bit on the tree, as he always does, and a little on the 60 foot, as he always does," said Dobrin. "Then I missed my shift button. I found it, then I missed it again!" The exasperated Dobrin had to watch Tealsey pull away to the win on the Roger Starrette owned-and-tuned, nitrous-huffing Kawasaki ZX14, while Dobrin's own Exoticycle turbo 'Busa slowed from the missed shifts. It was Teasley's incredible fifth Real Street title in multiple sanctions.
But Teasley wasn't finished winning championships. Jeremy also won the MIRock Crazy 8s championship on his own ZX14R. The Crazy 8s race was won by number 1 qualifier Chad Milford, who shook off the effects of getting nailed in the staging lanes by a runaway scooter. Milford beat Rick Janney Jr. in the final.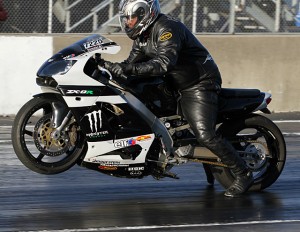 Riding Barry Purnell's stealthy ZX9, Richard Gadson took out new FBR Shop 5.60 champion Marion Ford in the final of that class. Gadson had an .012 light on the streetbike.
Veteran racer Kenny Cornnell finished his season off in style, bookending his first ever win at The Rock back in March with another one in November and the first ever Louis Concrete 4.60 championship. Cornell beat Jay Beasley in the final.
After a spirited battle with a whole host of potential winners, "Hillbilly Hustler" Jimmy Shifflett won the Trac King/APE Top Sportsman championship. But in the final it was Jay Windsor and Richard Diggs. Windsor redlit and Diggs took the win.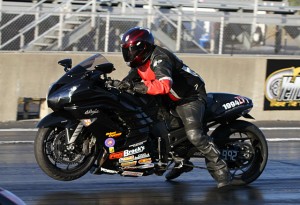 The absolute best of the best in the two-wheeled bracket racing world fought mano-y-mano in the Street and Pro ET Tournament of Champions. Connecticut Kingpin Bob Carlson beat Barry Pryer Sr. in the Street ET Tournament final. In what was also a battle of streetbikes, Michael Herman Jr. beat fellow Virginian Glenn Glass in the Pro ET Tournament final.
Jerry Turner beat Boyd Mathias in Saturday night's Nitrous Express Pro ET final, but Mathias came back around and won Sunday's final over Wayne Smith. Wayne also runner-upped in Sunday's Brock's Performance Street ET final, with Spencer Claycomb taking the win. Mike Schulz beat Herman in Saturday's Street ET final.
The Hustler's Paradise known as Afterdark Undergound raced past 2:00 am, with Gadson claiming two wins on "Bud Light Lime." And as always, a family reunion atmosphere flourished all weekend beneath beautiful Rockingham sunsets.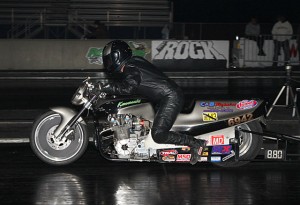 Keep checking all your favorite websites for the 2014 Mickey Thompson Performance Tires MIRock Super Bike Series schedule, and for any additional info on the series check http://www.mirockracing.com .
Find out more about PJ1 motorcycle products at http://www.pj1.com/
Find out more about Rockingham Dragway: www.rockinghamdragway.com
 To see more Tim Haley photos from this race click here.

This report was prepared by Tim Hailey. Photos are for editorial use only. Enjoy everything there is to read, see and watch about motorcycle drag racing and more at http://www.eatmyink.com