With multiple championships, records and a successful and innovative business, the great Terry Kizer has certainly accomplished enough in the sport of dragbike racing to be considered a legend. From the genesis of his dragbike racing career back in 1978, riding a B-altered turbo bike in Tom Laughlin's Dragbike league, to Pro Comp, to domination in Funny Bike to a staggering nine championships, Kizer has earned Hall-of-Fame status.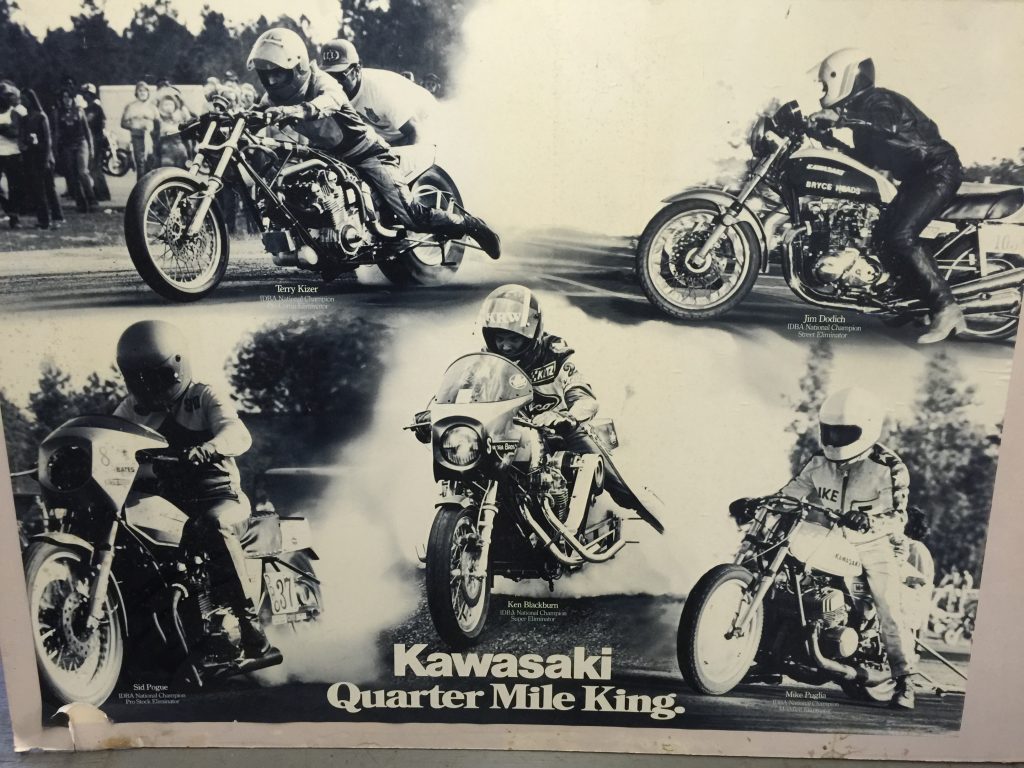 However he hasn't done it all. Not yet anyhow.
The accomplished veteran is ready for a totally new endeavor; one few dare to explore – the daunting and exciting world of nitromethane-fed, supercharged Top Fuel Motorcycle racing.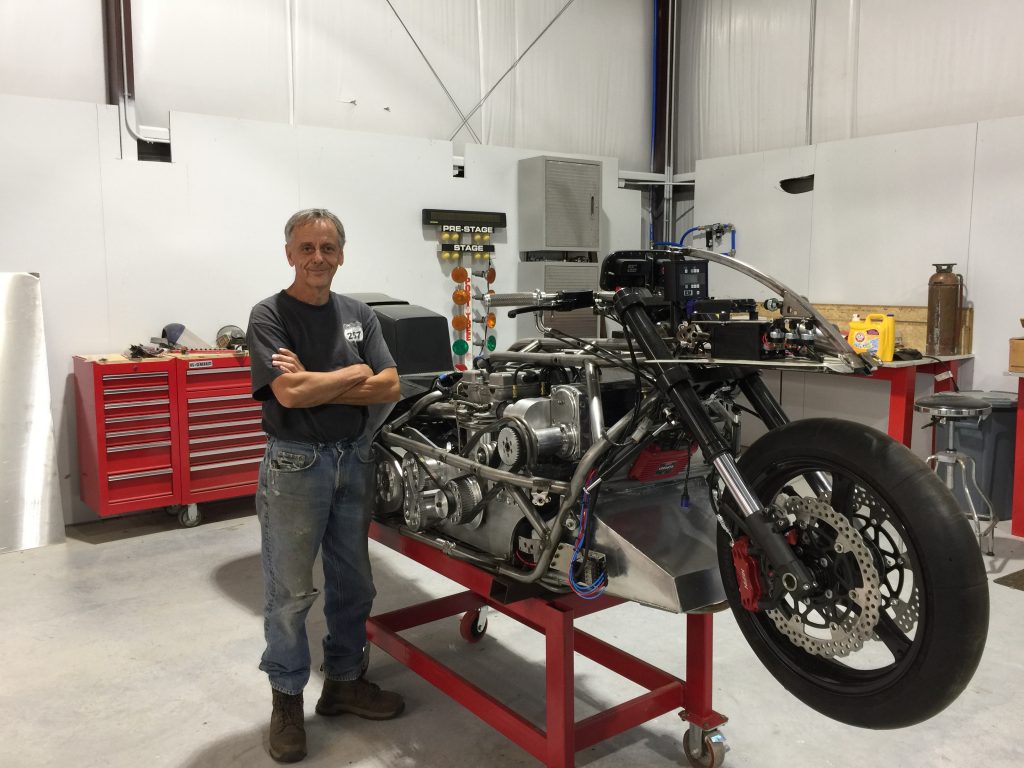 Motorcycle racing can often create a love-hate relationship. There's the deep passion most racers share for the incredible speed, the thrill of competition, and of course winning. Then there are the perils and trepidation that inherently come with the natural dangers of the sport. It's something veteran champion Kizer fully understands, and it's with this mindset that he carefully approaches his next goal.
"Racing these bikes is much more psychological than physical," Kizer said. "You better make a commitment when you crack that throttle and know what's coming or these things will hurt you."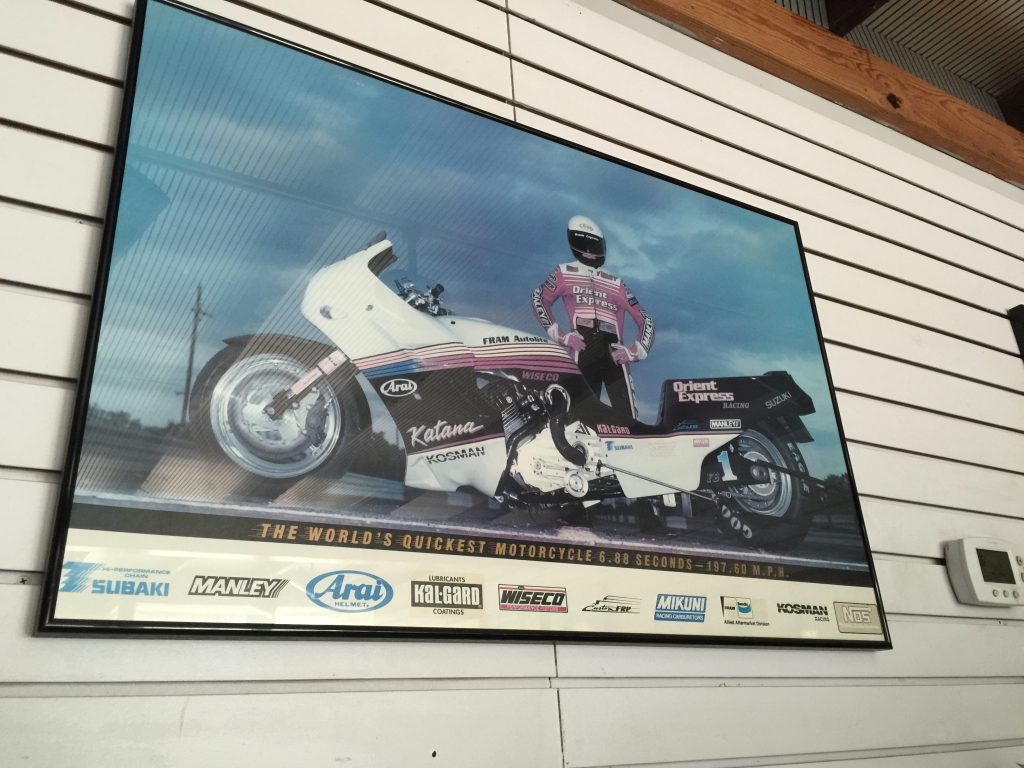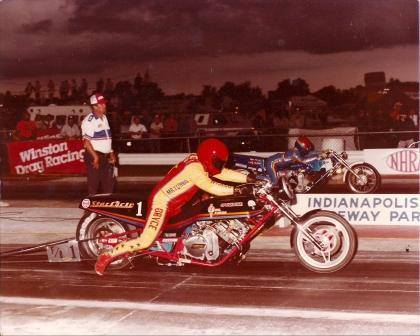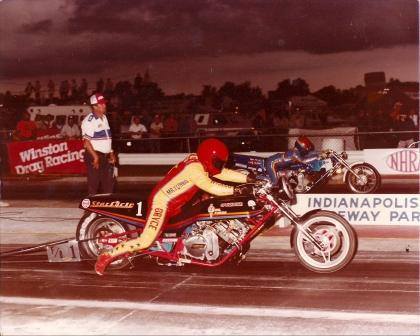 No one ever said motorcycle racing on any level was without risk, but many would agree nitro-fed, high-speed, shot-from-a-cannon Top Fuel dragbikes are in a league of their own.
There is clearing 100-foot gaps in Supercross, maneuvering through tight corners in road racing, cliff climbing in the woods, and the incredible mph that comes with land speed racing.
Then there's 250 mph in just 1,320 feet on two wheels without a roll cage or seat belt. Yes, even most accomplished dragbike racers want no parts of the class due to its extreme nature.
Astute Kizer respects the peril and plans to take his time in getting acclimated to the unforgiving motorcycle.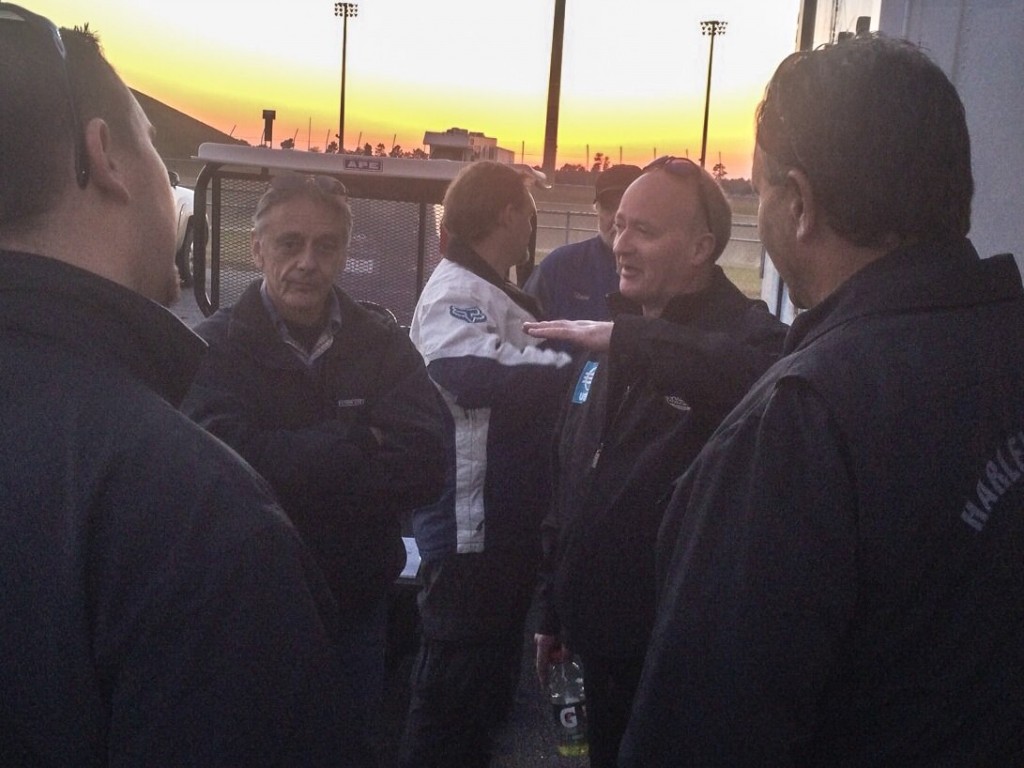 "I'm not stupid. I help teach people how to ride fast bikes. They come into my shop asking for 500 horsepower and I tell people you need to chip away at it," said Kizer, the longtime owner of Mr. Turbo. "I started out drag racing going 12.00s. The next thing I got on was in the 10.00s and it was like getting on a spaceship. I learned to go fast a tenth or half-a-tenth at a time. That's the learning curve I want again."
Certainly not the words of a rookie. Kizer has successfully piloted very fast turbo and blown bikes throughout his illustrious career.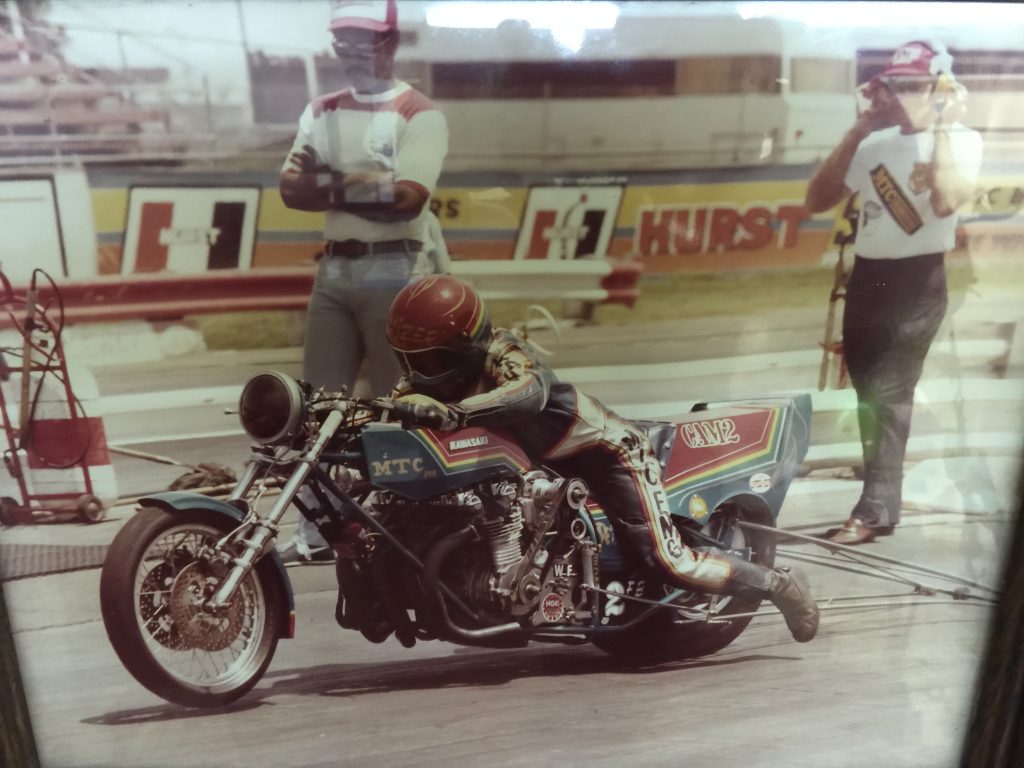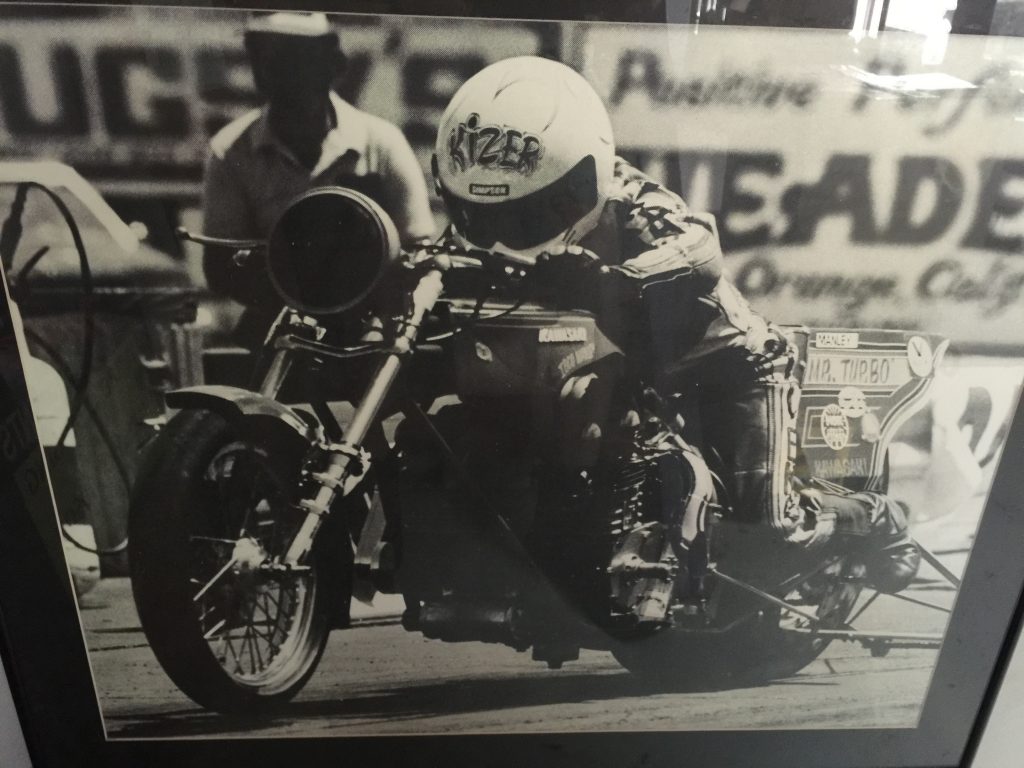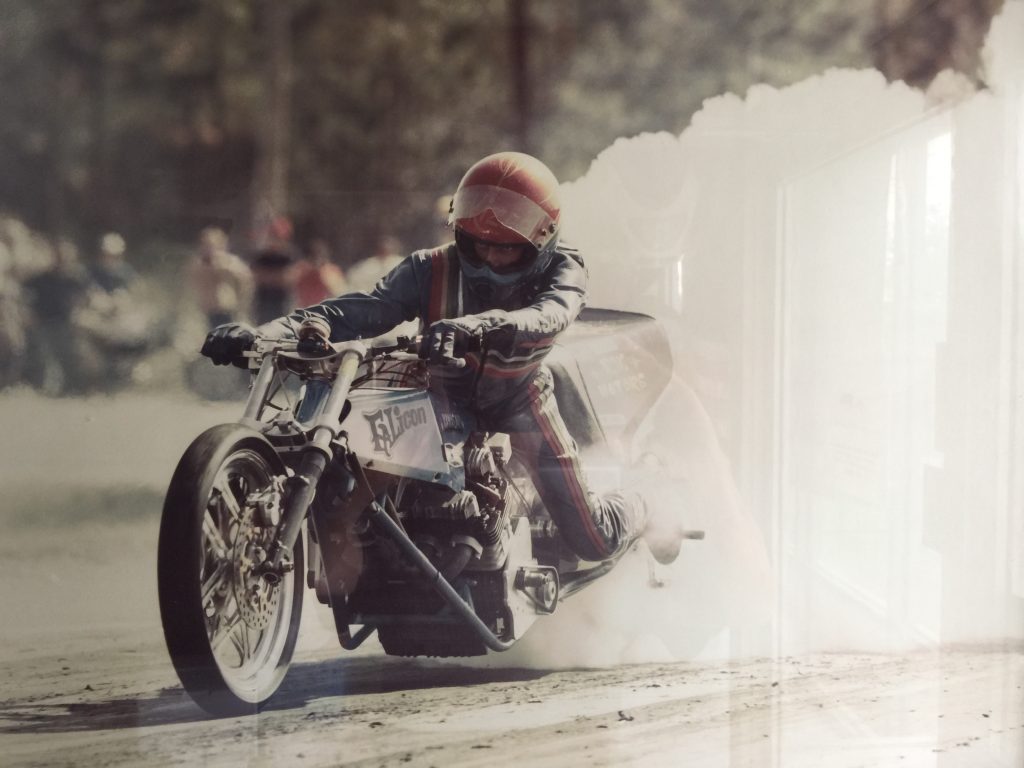 Kizer was the class of the Funny Bike field for more than a decade.
He was even AMA Prostar's (Then IHRA Motorcycle Drag Racing) first Top Fuel champion, winning the organization's winner-take-all championship race in 1989 at Atco Raceway aboard his Orient Express turbo-charged Funny Bike.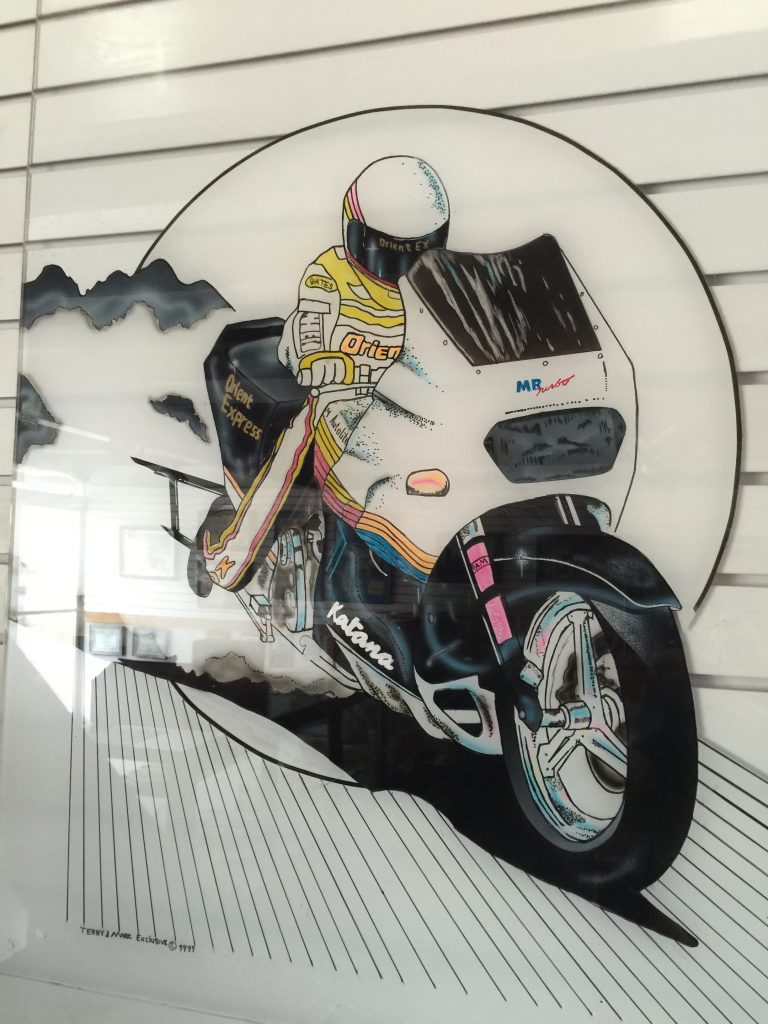 Then came a long hiatus. Aside from a few appearances on the NHRA tour racing Pro Stock Motorcycle, Kizer took time to reflect about what he really wanted to do next in the sport.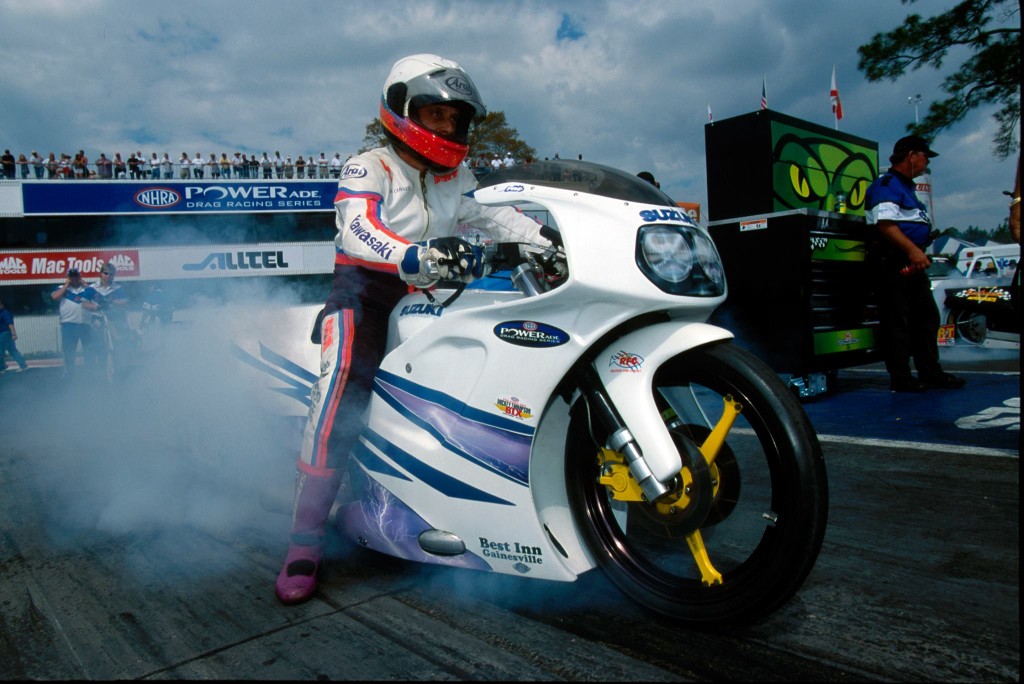 The answer became clear – succeed in Top Fuel, but not the way he succeed in in 1989.
"People say you are Mr. Turbo, so you should build another turbo bike," Kizer said."But Top Fuel is blown nitro and should always be that way. You need to make noise for the fans."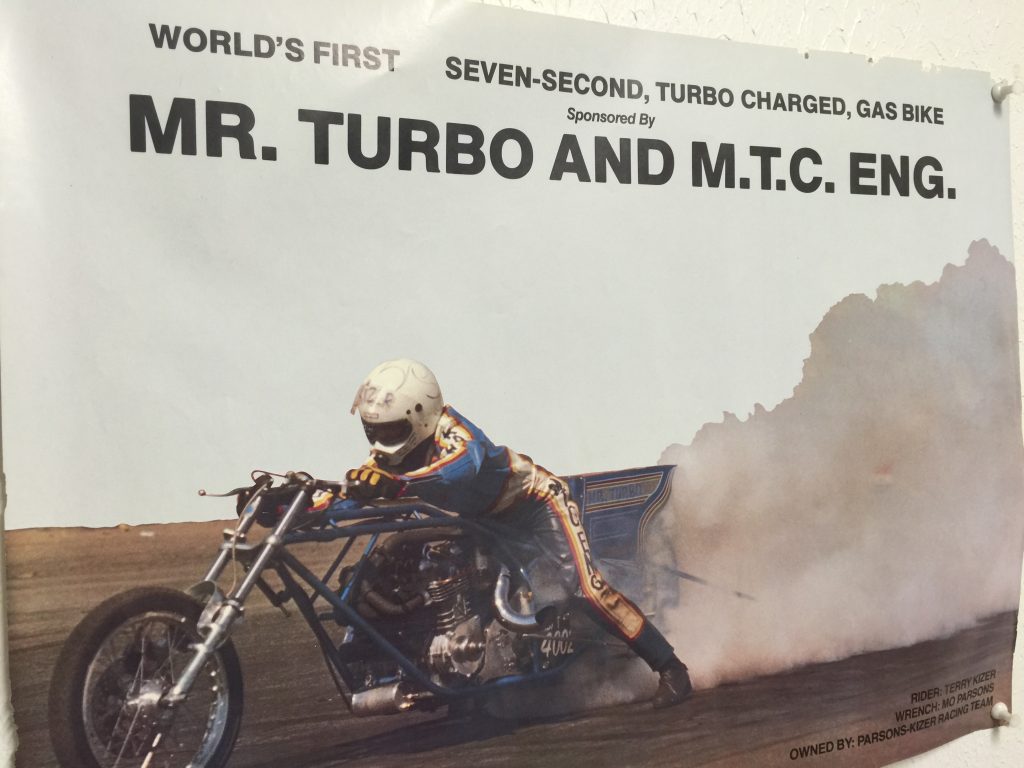 Kizer also knows when it comes to today's Top Fuel motorcycles, there is no comparison.
"The performance level of these things is well beyond where I have been. We really want to chip away at this," Kizer said. "We want to keep it reliable and keep it alive."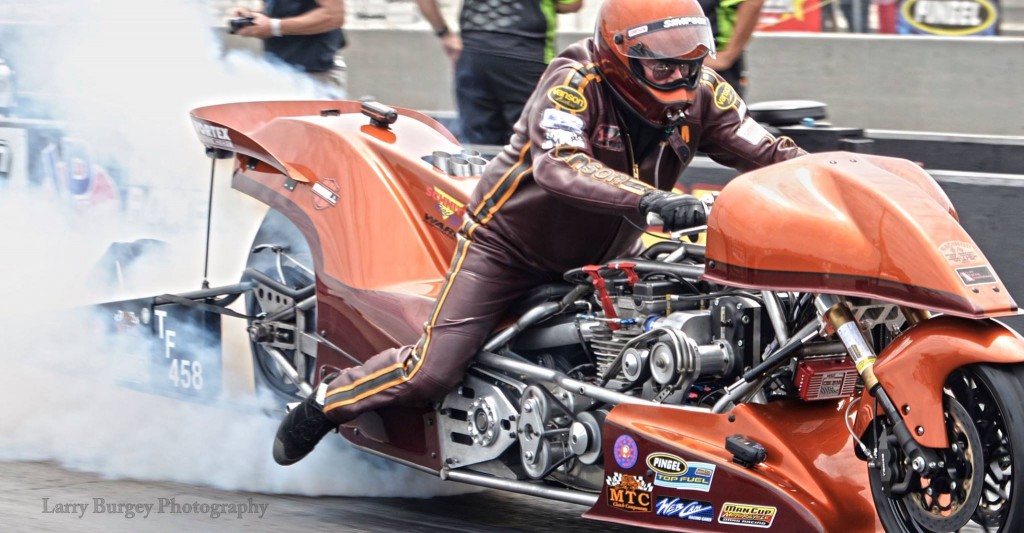 After several years building the creation, Kizer, who has a shop located in Houston, TX, says he is in the process of making plans to go out and test his new Fuel bike.
After purchasing a new heavy-duty starter to help fire his beast Kizer says his bike needs nothing.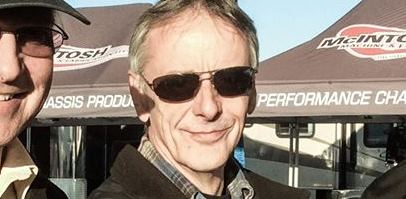 "It's just a matter of finding the time to get my entire crew together. We will start with some burnouts, launches, and 330″ passes. We need a good venue where there are no questions," said Kizer, who will most likely test at Royal Purple Raceway . "We probably won't go past the eighth for a while because if this thing is running right we will be going 200 mph."
Royal Purple Raceway is an historic venue for Top Fuel Motorcycle racing. It's where Larry "Spiderman" McBride recorded the sport's first five second pass in 1999. Kizer was still recovering from being involved in a transporter crash on the way to a race in Gainesville, Fla. with his longtime crew chief Mo Parsons when McBride made history. Despite being banged up, Kizer was sure to make it to the track for Spiderman's historic run.
"I went right up to Larry and asked him what it was like to go 245 mph out the back door. I had to know. I couldn't wrap my head around it," Kizer said. "Larry told me, "Every bone in my body was telling me let off we are going to die. I knew I was close to a five and I had to hang on."
Kizer never forgot McBride's analysis.
"Sam (Wills) told me the same thing," Kizer said. "He was blown away when he went 230 mph."
McBride often talks about how he has no desire to be the speed king of the sport and will take win lights over big mph any day. Kizer couldn't agree more.
"I've been 250 mph on a street bike on the Texas mile. To do it in a quarter-mile? I don't know I want to do that. I don't want to get blown off," Kizer said. "Let's go 220-230 mph and run the quickest E.T.s. Elapsed-time is all about 60-foot and 330."
Avoiding getting caught in the wind is something right in Kizer's wheelhouse. He is an innovator and aerodynamics expert.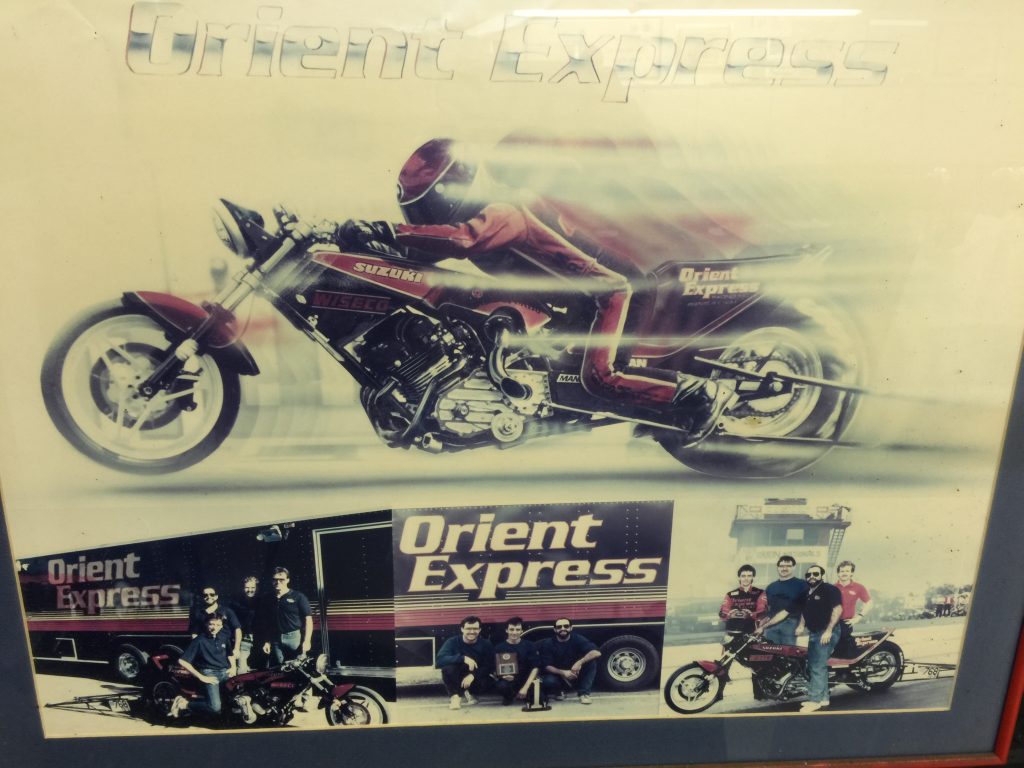 "I've been rather creative with bodywork over the years and I want it to be very aerodynamic, " Kizer said. "I worked with Dave Schultz and Air-Tech and we did a lot with a full faring."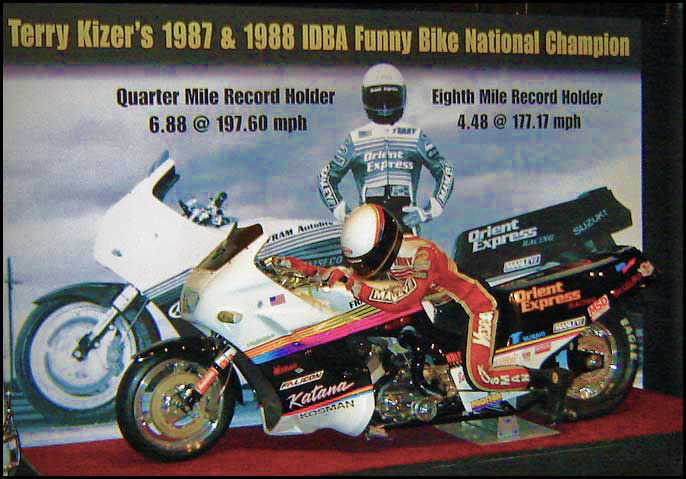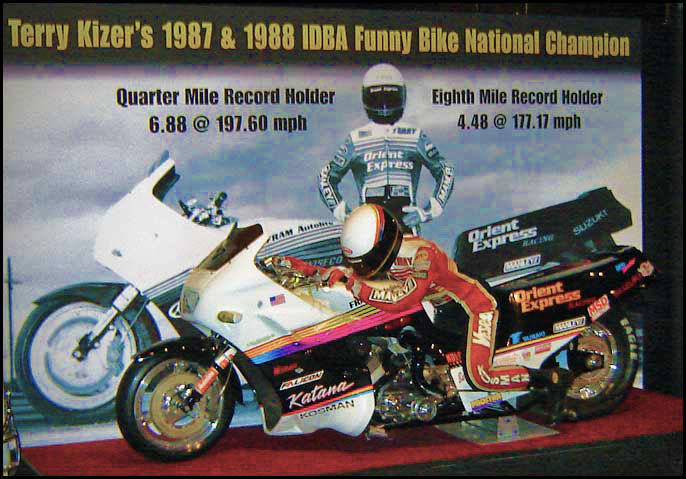 Aside from the aero package Kizer has several other creative ideas for how a modern-day Top Fuel Motorcycle should look.
"My vision is a 700-pound Fuel bike (hundreds of pounds lighter than what is currently in use)," Kizer said. "It would not need the power those guys make. Motorcycles should not weigh 1,100 pounds. The only reason they are so heavy is everything has gotten so much beefier and heavier to hold all the power."
Another critique is Kizer doesn't think the machines have gotten much safer over the years. He sees little change in the fearsome motorcycles since he went deep into the six-second-zone back in the early-90s.
"We have not changed chassis technology in 30 years. Not a bit. They still look like they did when I was racing," Kizer said "I want to make some radical changes. I want a rear suspension, stock cases, fuel injection and work in all the new technology. We need to take all this technology going into no-bar street bikes and put it into what we are doing. "
Kizer has kept a close watch on what is going on in drag racing with the Suzuki Hayabusa, GSXR 1000, Kawasaki ZX-14 and many others, including late-model import cars.
"The speed and E.T.s have come from power management. The new ignitions that are available, the clutch technology, it's all there," said Kizer, who once rode the great Elmer Trett's Top Fuel bike on the return road. "Top Fuel bikes are two-wheel Funny Cars. We need to correct them and make them lighter, smaller and utilize better power management."
However, now in his 60s, Kizer knows the project in his mind would take three to five years to properly develop. A conversation one day with his buddy Wills changed his mindset.
"Sam put me in my place. We were king of the power in turbos, making more than 750 horsepower with 400 pounds of torque," Kizer said. "Sam asked me, "Do you know how much torque you will make with a blown nitro bike? 1000 pounds he said! That bottom end would never stay in the chassis."
Kizer opted for a more conventional build.
"If this was 20 years ago I'd be up for everything I mentioned, but in the end, I said let's just build what is proven," Kizer said. "The first thing we did was go spend a day with Larry and Steve McBride to expose my crew to his operation."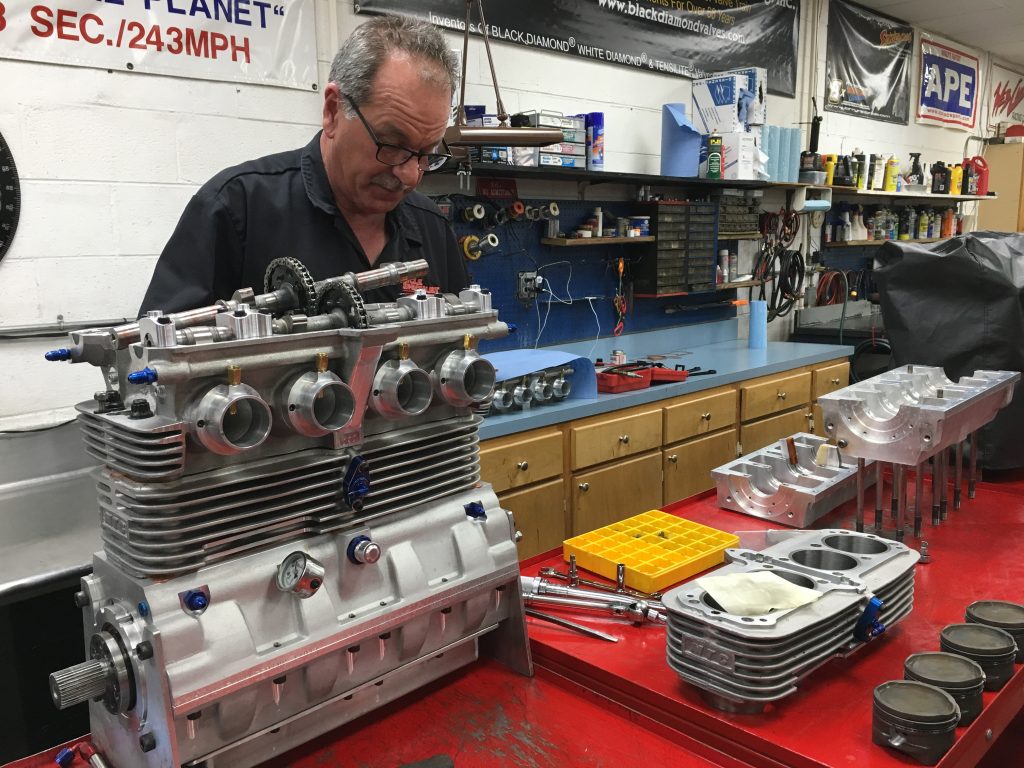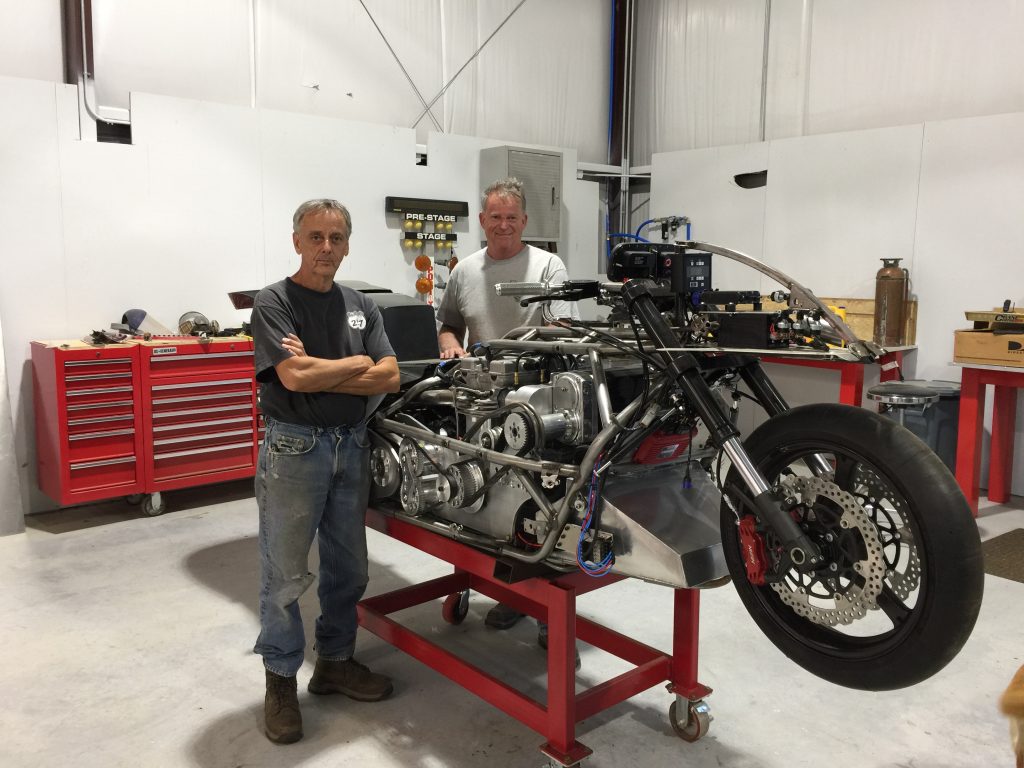 Another reason Kizer wants to utilize new technology is he knows it is what is best for the sport. He watched his brother Keith "Scooter" Kizer become one of the most successful dragbike promoters of all-time . At one point Kizer's AMA Prostar organization had all four major factories involved and represented at the events. It was paramount, adding much-needed funding and cachet to a niche sport.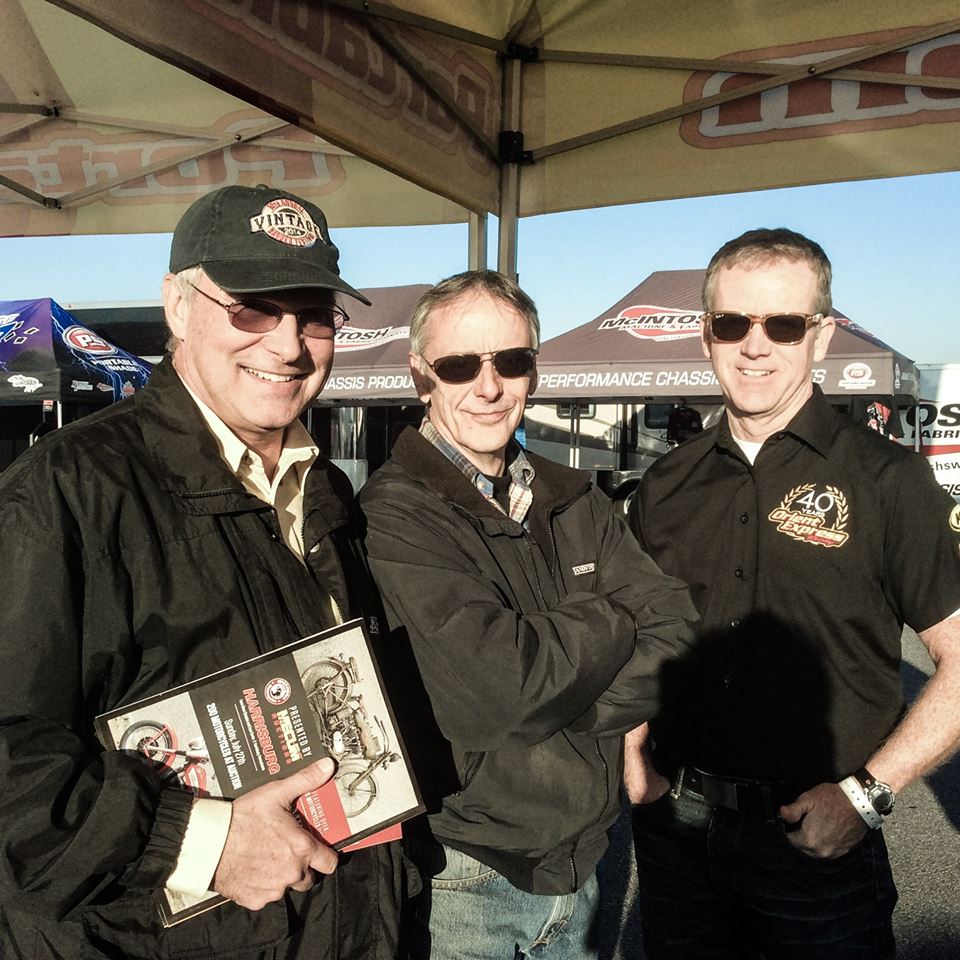 "John Hoover (the late Kawasaki representative) and Scooter successfully brought Kawasaki to drag racing. We need to do it again," Kizer said. "It's a whole new group of people at all the factories. It's all about educating people in the corporate world."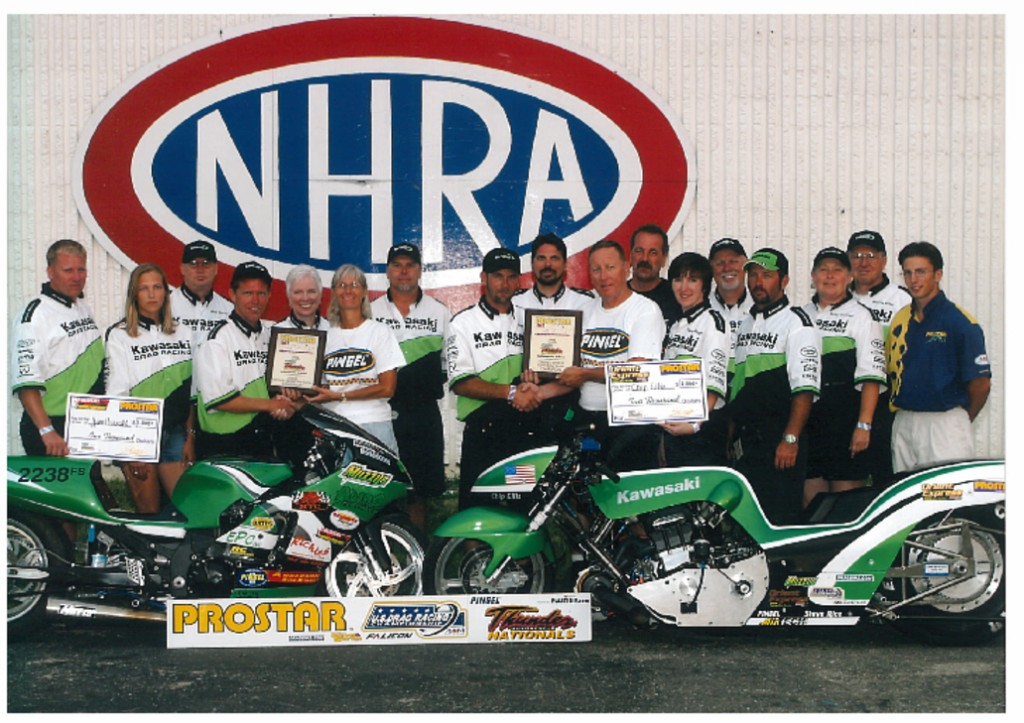 And like so many, Kizer believes there is no better representation of the sport than crowd-pleasing Top Fuel.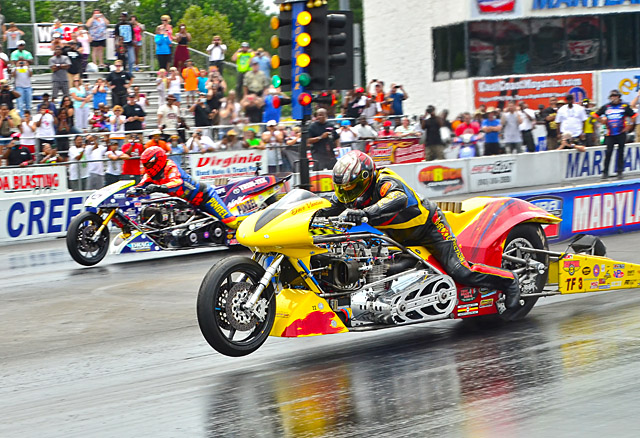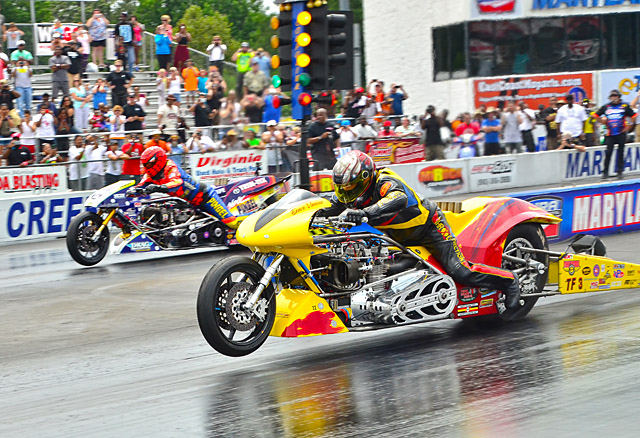 "If we can get six to eight of these bikes that can tour together and go to different meets, I bet we could put on one hell of a show," Kizer said.
Kizer also believes the Top Fuel import bikes and Nitro Harleys need to find a way to race together for the greater good of the sport.
"We need to do what did back in the 70s. We showed up in Memphis in Pro Comp and the record was an 8.90. When we left it was an 8.60. Those people were angry and thought we were cheating. At the end we went to an index to keep things even," Kizer said.
It wasn't the last time Kizer was criticized for going too quick.
"With Jack O'Malley's Funny Bike we went 6.80 at over 200 mph. It took them years 7 years to break that record. Mo Parsons was tech director and everyone wanted to throw us out," Kizer said. "Scooter told them they didn't need rule changes, they needed to go do their homework."
For his new project Kizer's expectations are much lower. Having fun takes priority he says.
We are not going for a championship. Our big deal is we don't want to come out and look like a bunch of idiots. We need to dial the bike and rider in slowly," Kizer said. "I laughed and told my team if we get out there and this thing is running good, it will be game on."
Just like it was back then….
Welcome to Top Fuel Terry Kizer.