The International Drag Bike League (IDBL) is again home to the world's quickest Pro Street drag bike pass after last weekend's record-breaking MTC Summer Nationals at Maryland International Raceway.
Orient Express Pro Street racers Rodney Williford and Richard Gadson made sure the season-opening event lived up to the tag line "World's Quickest Streetbikes" with the quickest side-by-side Pro Street run in the sport's history.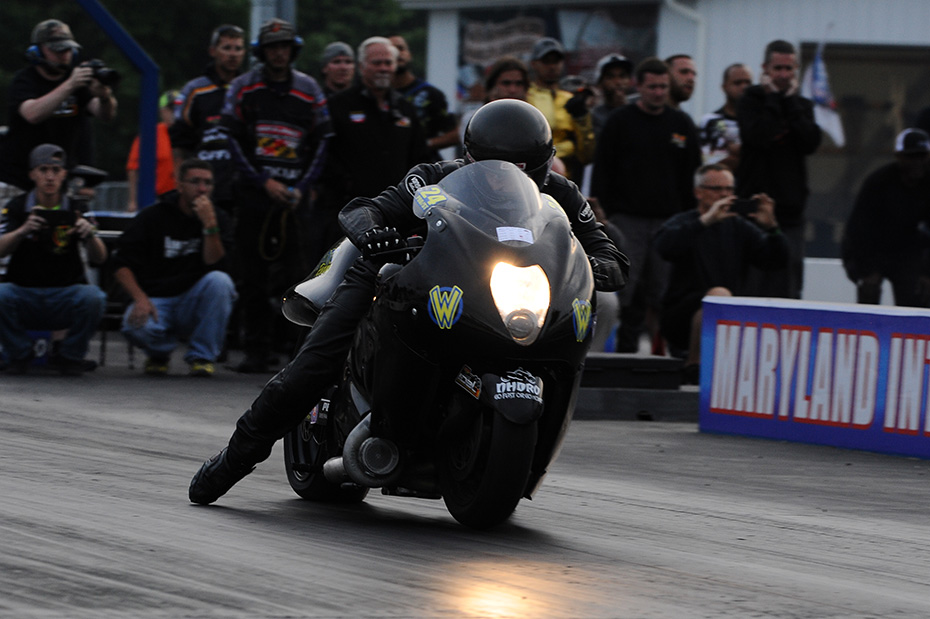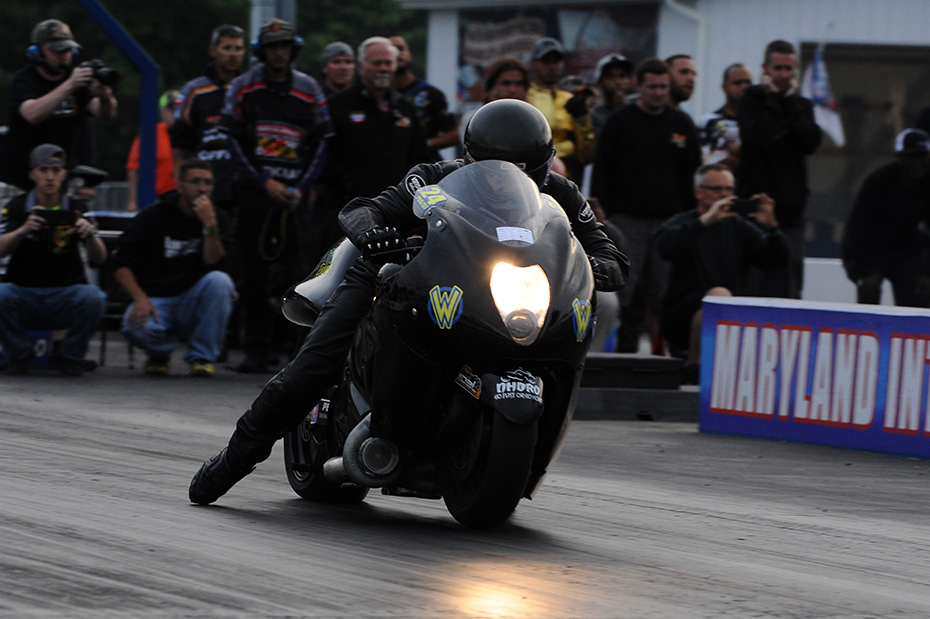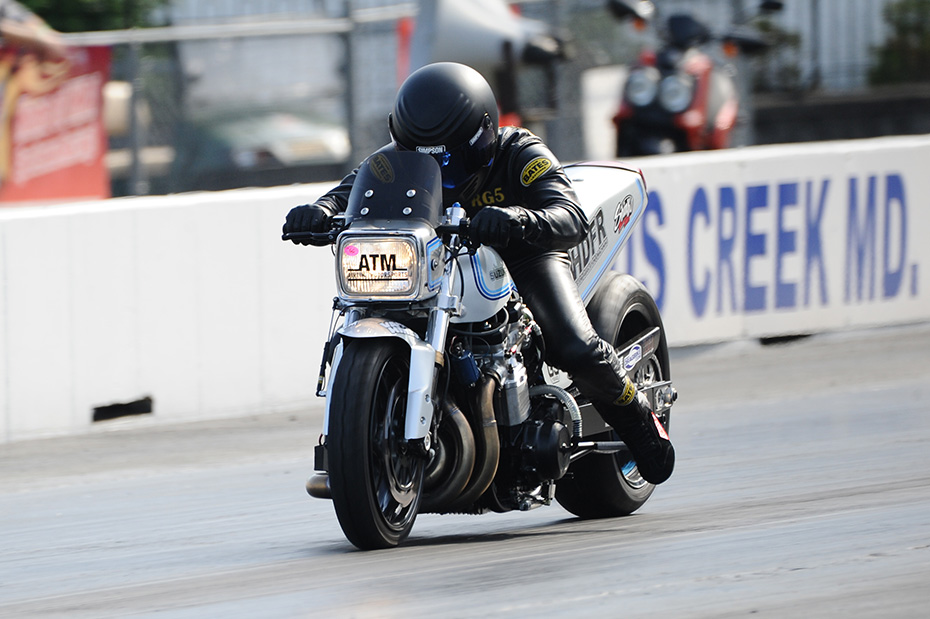 In the final, Williford's turbo-charged Suzuki Hayabusa rocketed down the track at 6.69 seconds, the first time a Pro Street bike has officially dipped into the 6.60s. He hit 222.88 mph to edge Gadson's nitrous-GS and his 6.74-pass at 204.29 mph by a mere .009 at the stripe.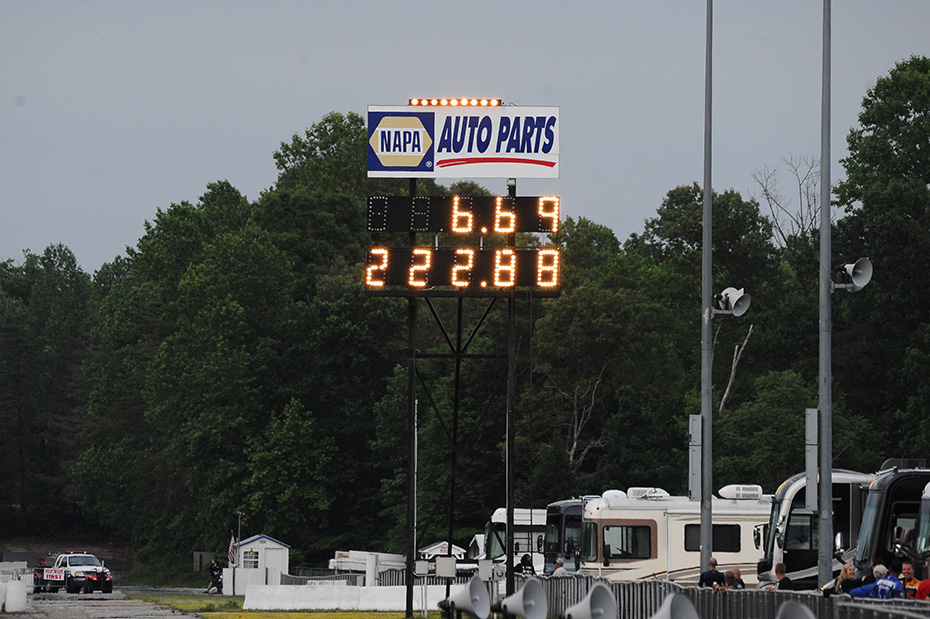 "It's awesome. We were running in the left lane all weekend but we lost lane choice in the semis. We talked about it and picked out a spot in the right lane very far to the left and pointed toward the right," Williford said. "I pretty much ended up doing a rainbow all the way around the track and took the long way. It sure worked out."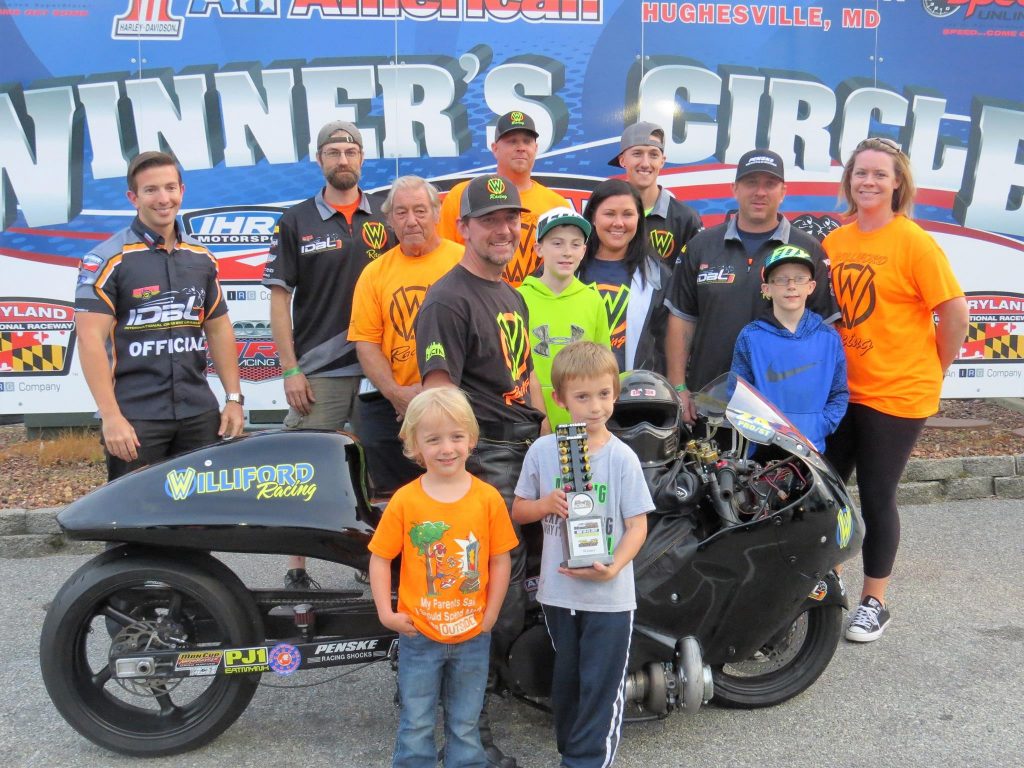 Gadson was pleased as well after leaving with a new nitrous record for the Pro Street category.
"It was a dream weekend," Gadson said. "We would have liked to win but this was a great way to start the season and we will build on this."
IDBL President Jack Korpela was just as excited as the racers over the record pass.
"If anyone had any doubts about just how good this race track is please look at that time ticket," Korpela said. "It's a testament to all the work by the IDBL and Royce Miller's track staff at MDIR. They are like crew chiefs putting the expert tune on the racing surface.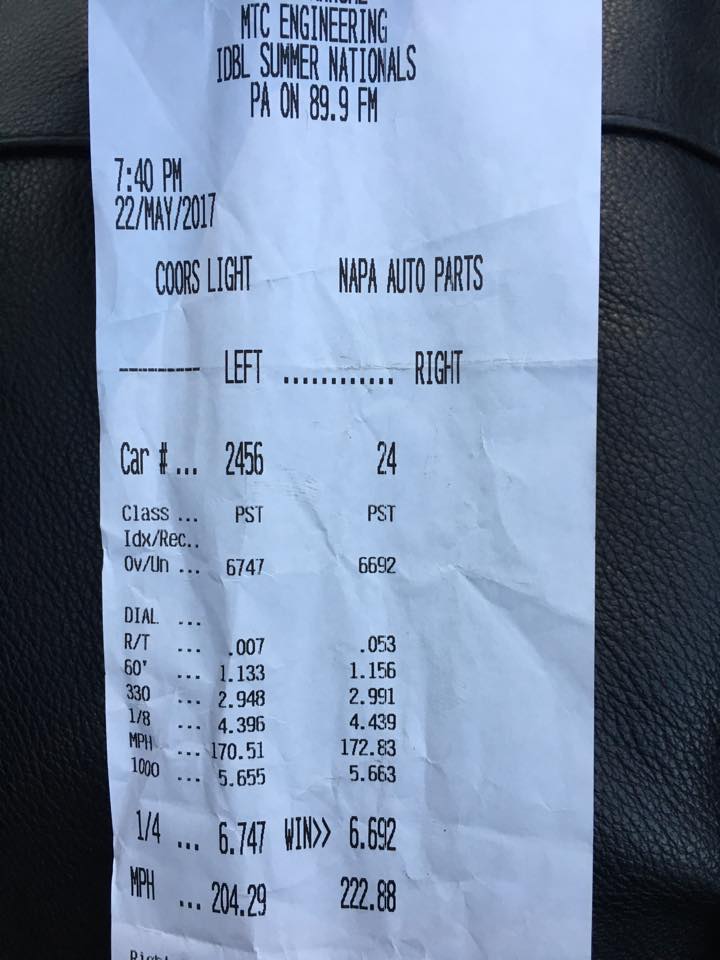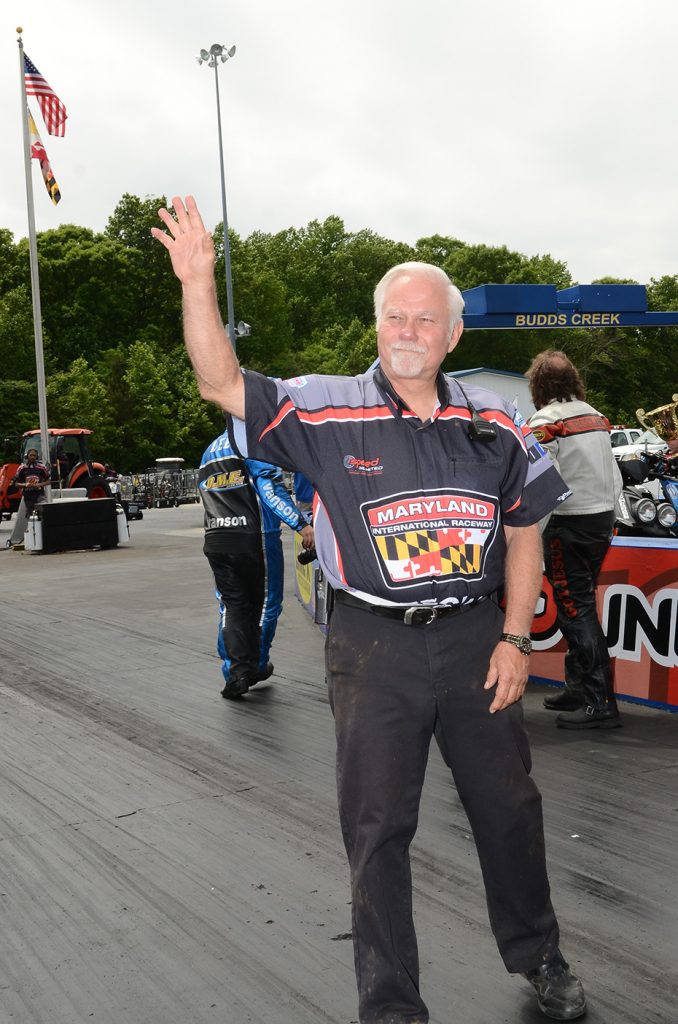 "We had six different dealerships and a ton of fans, some of them at their very first drag race, at the event. I'm very proud of Rodney and Richard for putting on such an outstanding show. You can't ask for more than that in a final round."
It was also a big weekend for the DME Racing Real Street class as the IDBL hosted a special $5,000-to-win shootout presented by CP Carrillo, 1 Stop Speed, MTC and SRW. Rule changes and bonus funds breathed new life into the class, and for the first time since 2014, more than 16 competitors entered the race. In the end, Real Street veteran Johnny "Turbo" Dobrin made the long trip from Florida pay off. His a 7.89-pass at 192 mph produced a final-round victory over "Super" Dave Stewart's 8.84 at 122 mph.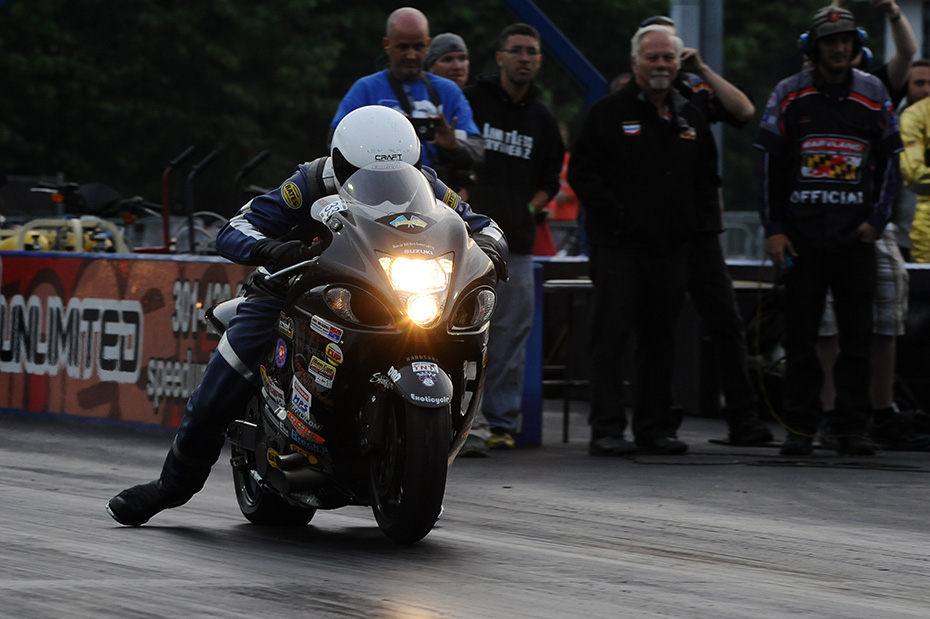 "It's awesome. It was a stressful weekend, but I just kept my head in the game and tried to win a race," Dobrin said. "We drove more than 1,000 miles for this. It feels great."
In Vance & Hines 4.60, the world's quickest-index class, Boo Brown motored his Suzuki to a holeshot, 4.63 victory over the 4.62 of Eran Pielert on the strength of a .027 reaction time. "It's the baddest class out there," Brown said from the winner's circle. "A lot of very competitive people are out here."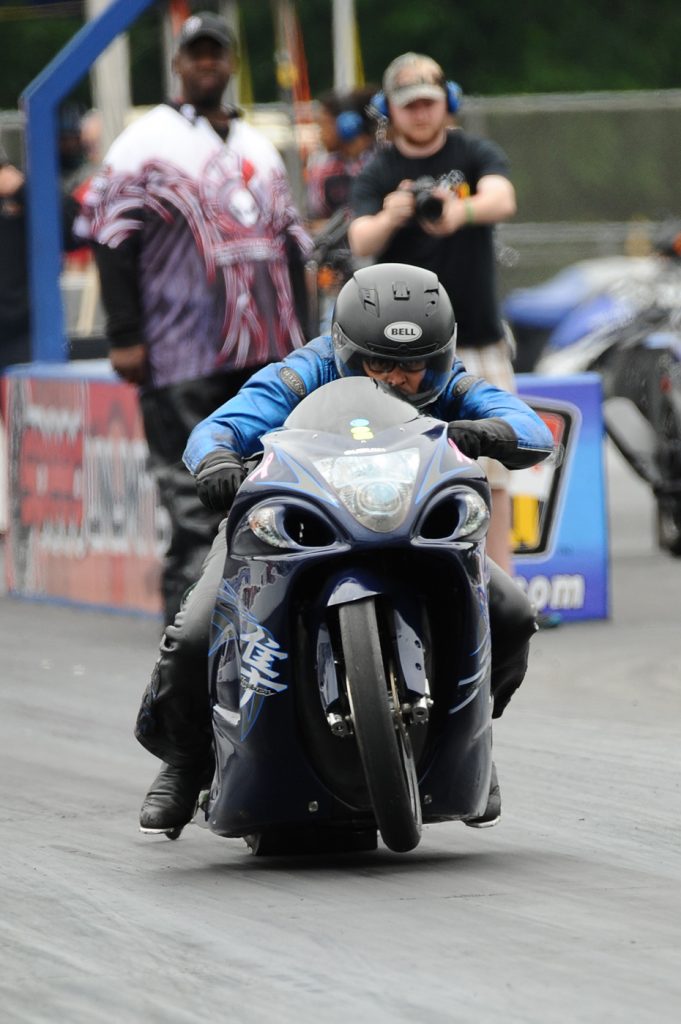 It was also competitive in APE Trac King Clutches Top Sportsman where longtime series racer and former Pro Mod car pilot Mac McAdams took the victory with a .009 package in the final. McAdams cut a .006 light and grabbed enough brake to run an 8.103 on an 8.10 to oust defending class champion Jay Windsor.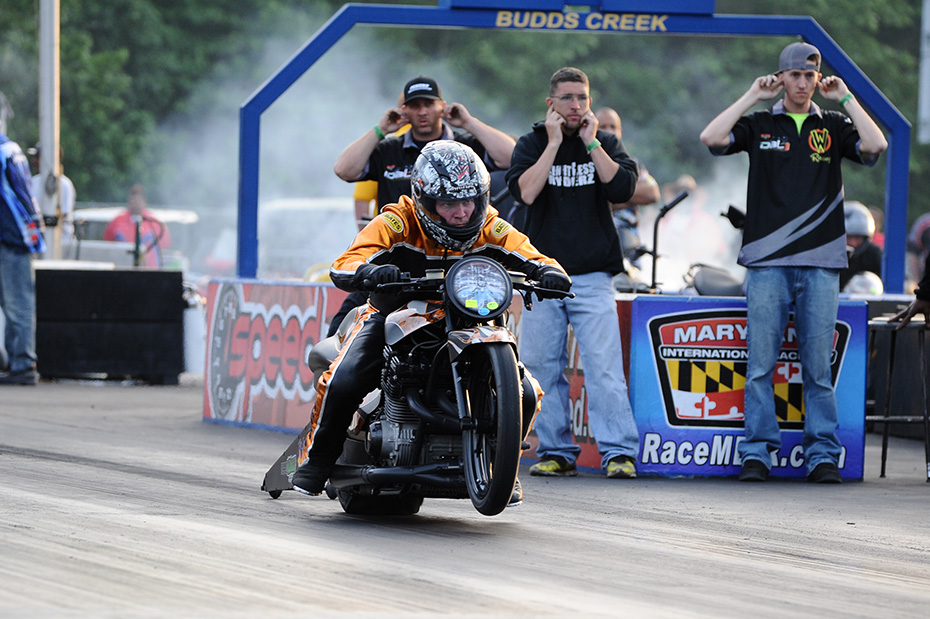 "I couldn't be happier," McAdams said. "Windsor is a tough racer and I knew I had to bring the heat in the final."
Kevin Adams outlasted a huge field in Worldwide Bearings Crazy 8's, and defeated Mike Schulz in the
final. Adams' .026 reaction time gave him breathing room, as he rolled off the gas and collected an 8.92 win to Schulz's 8.82 breakout.
Still, it was a winning weekend for Schulz, who defeated Derrick Milbourne in Saturday's Pro ET final.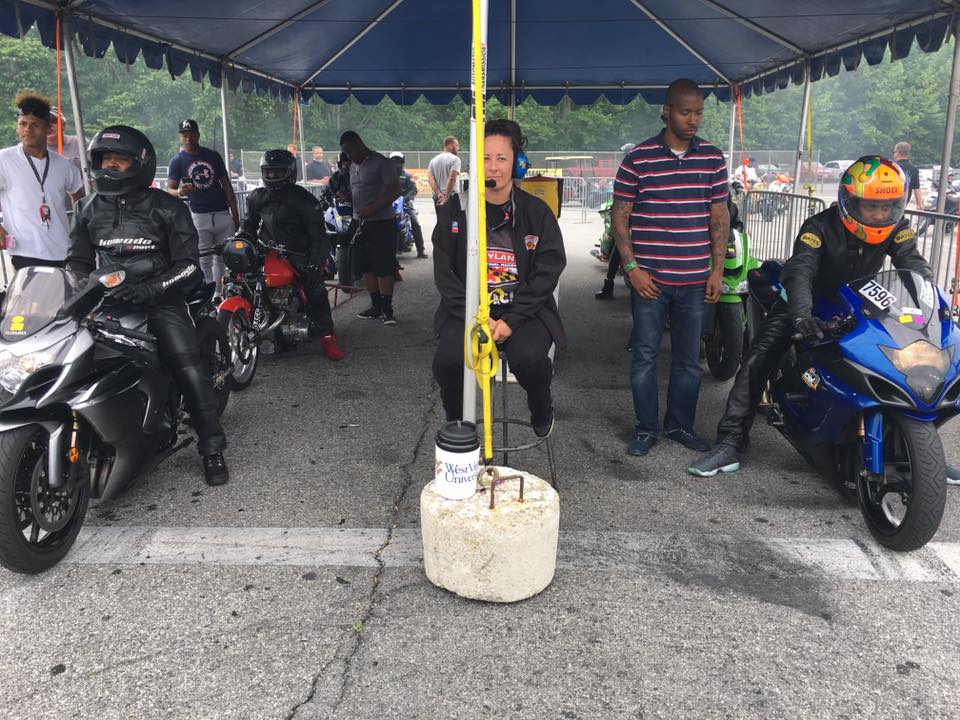 Multi-time champion Jeremy Teasley captured the win in the FBR Shop 5.60 index class. He ran a 5.64 to Dylan Wood's 5.70 in the final.
Dustin Lee, who is gaining a reputation as one of the world's toughest bracket racers, did something special in Sunday's Shinko Tires Pro ET final. In the very first race where IDBL allowed Pro ET and Street ET racers to enter up to two motorcycles in the class, the Morristown, Tenn. rider took advantage by making it to the final on both of his Suzuki Hayabusas. The unprecedented final-round result sheet read Dustin Lee vs. Dustin Lee.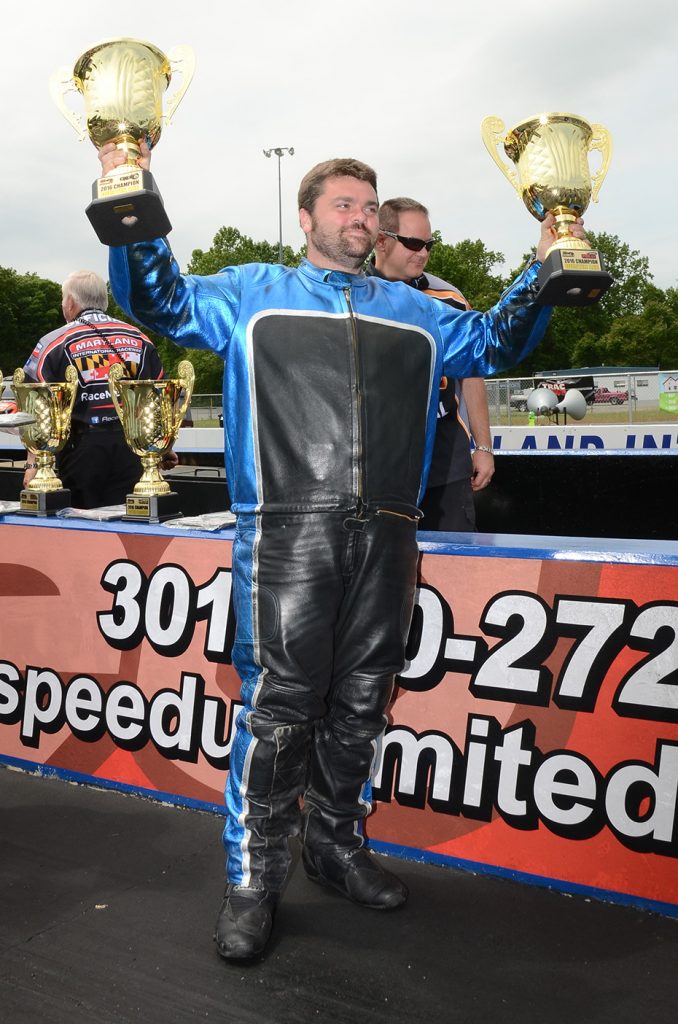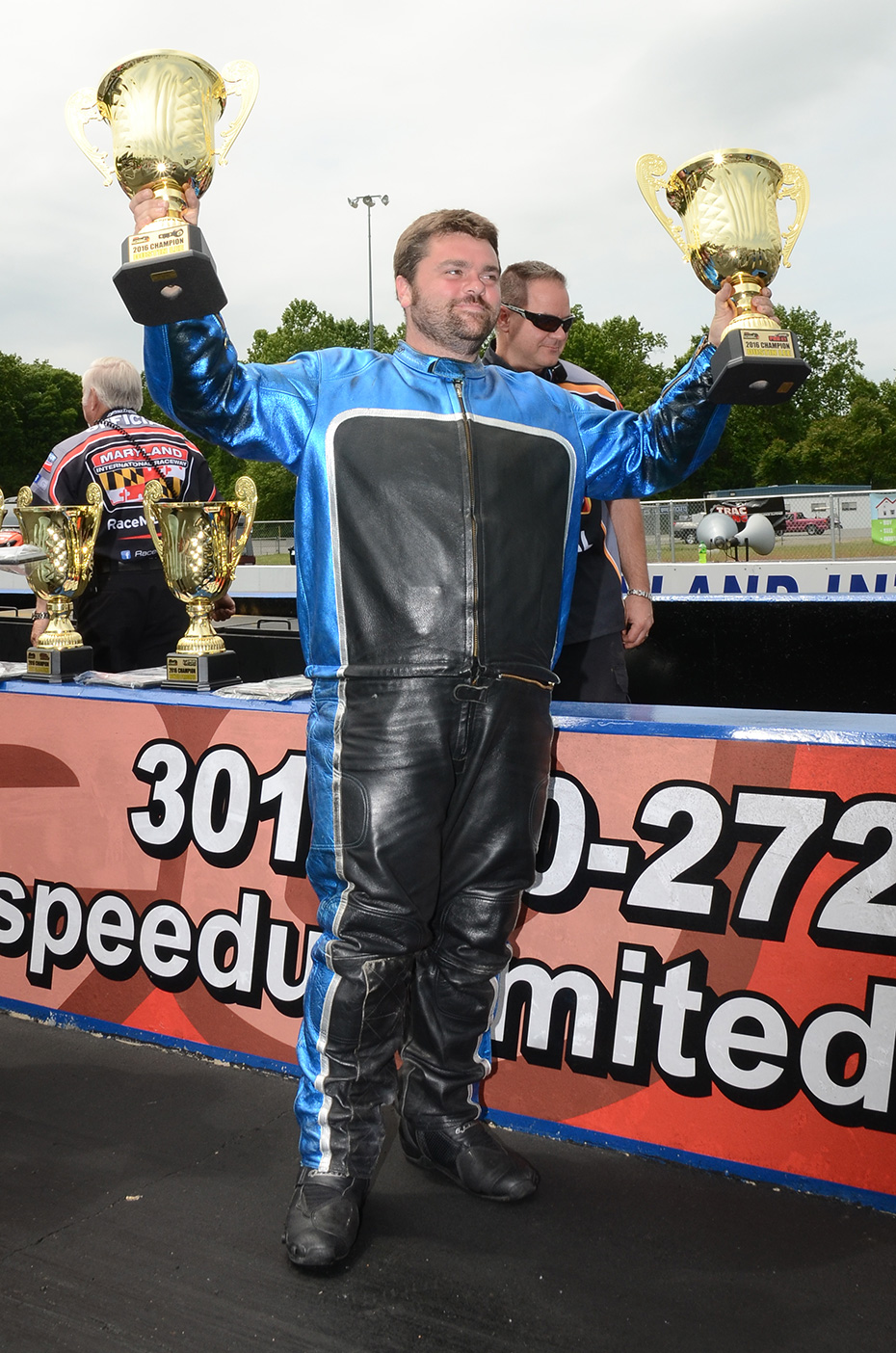 "That's a hard day of work," Lee said while holding a thick stack of time slips. "I always wanted to do this at a national event."
In the Lady Law Street ET division, Darrell Mahoney defeated Ken Thiedemann in Saturday's final and Brian Guarino defeated Michael Herman Jr. in Sunday's final.
Beyond the IDBL opener, more than 25 grudge bikes entered Saturday night's Afterdark Underground grudge sessions following the pros.
Sunday was the dawning of a new day and the 2016 IDBL champions were honored by being presented their prestigious gold cups in front of hundreds of racers and fans.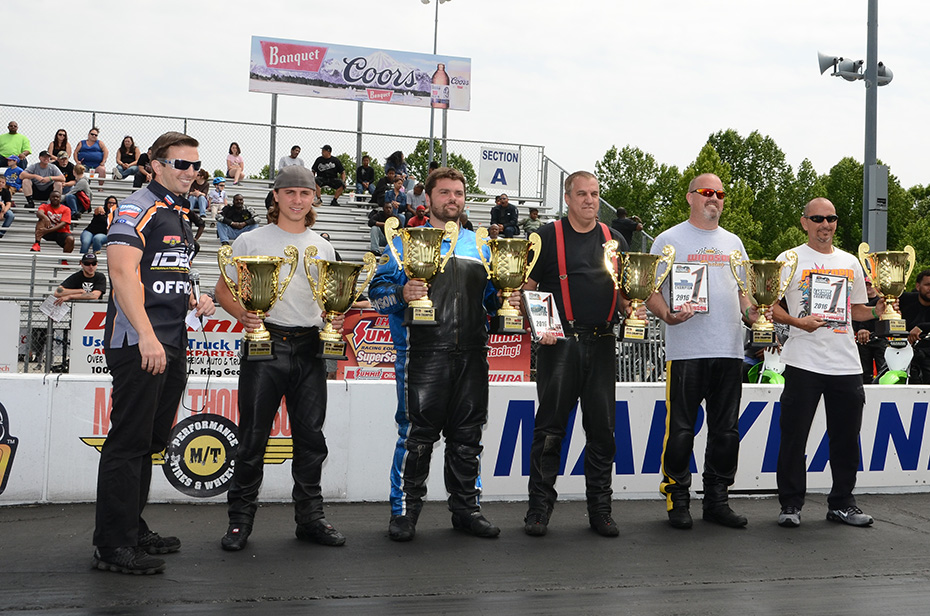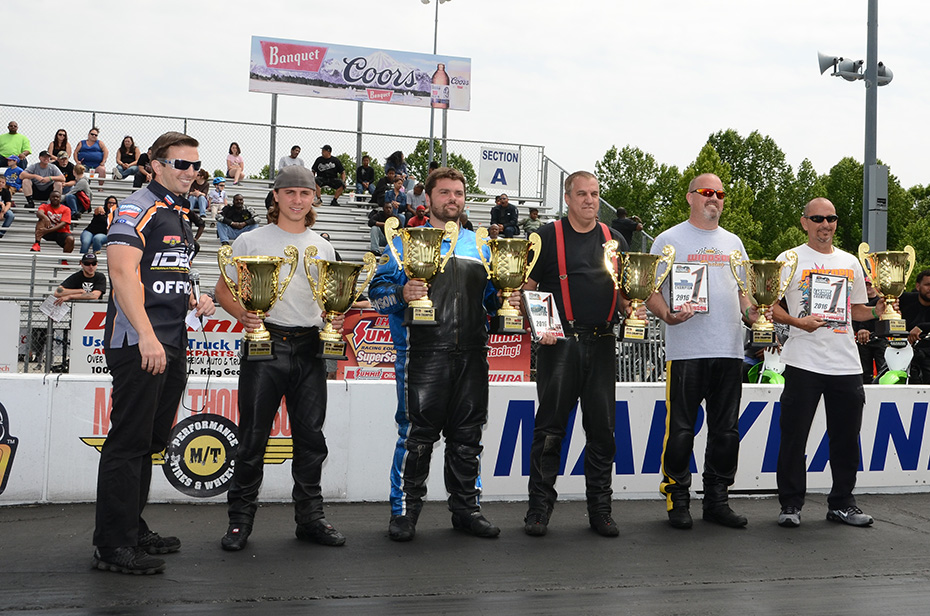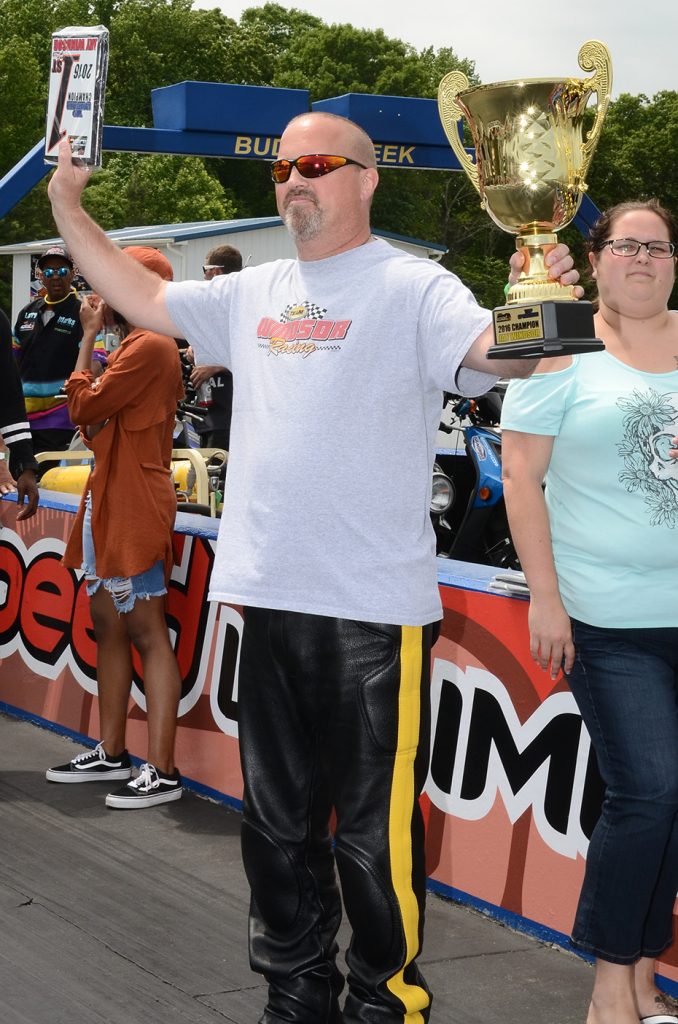 DJ Darrell Scott and musical acts Brooklyn Love and Yvon from B-Tropical kept fans entertained on Sunday during breaks in the action.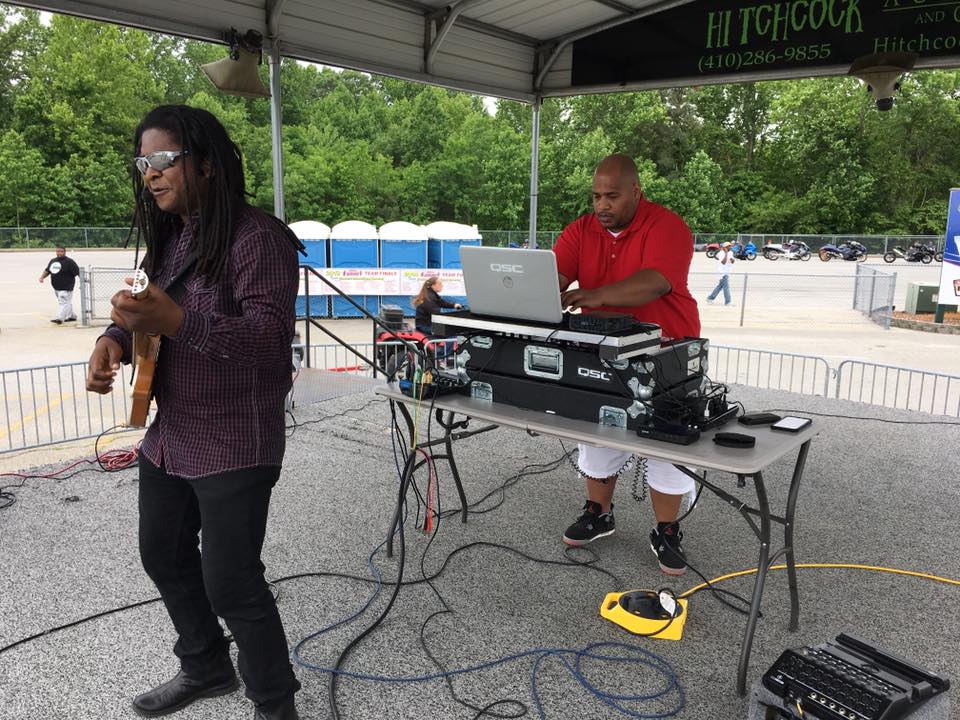 Fans were also treated to a special nitro Harley match race on Sunday between Rich Vreeland and Billy Hendren.
"I really appreciate both of those racers coming to our event and the fans really enjoyed them, Korpela said. "It's a great way to look ahead to our free entry, Nitro Harley and Top Fuel Import races July 28-30 and Oct. 6-8 at Maryland International Raceway. Also, there is free testing for nitro races all year. Top Fuel bikes have a home in the IDBL."
The IDBL championship chase resumes at the ever-popular WPGC Bike Fest from Maryland International Raceway, July 28-30. Along with Top Fuel, the IDBL will also host Pro Mod and 600 Supersport for this special event.
"If you have never been to this race, you are in for something special," Korpela said. "For IDBL regulars, this could be the biggest Bike Fest ever. Please make your plans to join us."
For more information and a full event schedule, please visit RaceIDBL.com.