"I love the thrill. I love the rush." – Larry McBride
It takes a courageous and tenacious type of individual to throw a leg over a 240-mph, nitro-guzzling Top Fuel motorcycle. Six-time AMA/Prostar champion Larry "Spiderman" McBride has been piloting these fearsome machines for the last 28 years, starting before he was able to even legally drink a beer.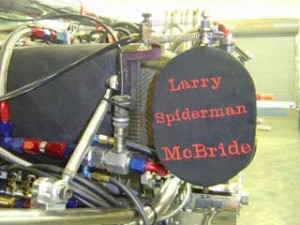 McBride's handcrafted, state-of-the-art ride has evolved into a supercharged, 17-foot, five-inch-long, 100-inch wheelbase wonder fit only for a man of McBride's 6-foot-3 200-pound stature. The beast consumes over four gallons of nitro-methane on each quarter-mile run and produces over 1,250 horsepower.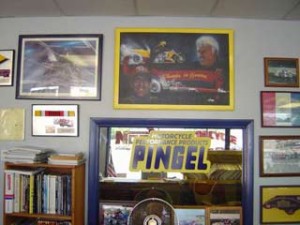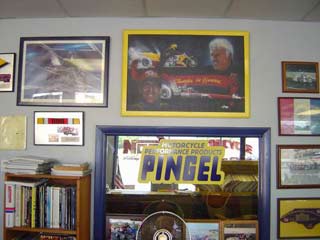 Following the untimely death of his mentor and the "godfather" of nitro dragbike racing, Elmer Trett, in 1996, McBride has emerged as the sport's most dominant and highly decorated Top Fueler.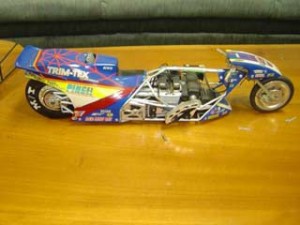 At the 1999 NHRA Matco Tools Super Nationals in Houston, Texas, Spiderman made arguably the run of his career with a 5.99-second pass, welcoming dragbike racing into the long-awaited uncharted territory of the 5's. Since then, McBride has lowered the national elapsed-time record to an astounding 5.80 seconds and raised the speed-to-beat to 245 mph.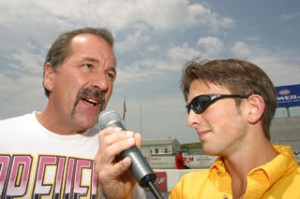 Aside from his teammate Jimmy "Hulk" Brantley, McBride remains the only dragbike racer to date to crack into the elusive 5-second club and repeat the feat on a regular basis.  In fact, McBride has become so comfortable running the crowd-pleasing 5-second blasts that he set another milestone in May of 2005 at the AMA/Prostar Lucas Oil Spring Nationals by completing an entire event, qualifying and eliminations, with all 5-second elapsed-times. What made the feat even more special for McBride was that he accomplished it in front of dozens of family and friends at what he considers his home track, and favorite track, Virginia Motorsports Park in Dinwiddie, Va.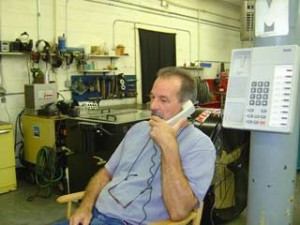 So what's it feel like to cover a quarter-mile from a standing stop in under 6 seconds at over 240 mph? This seems to be the only area where the well-spoken, passionate champion is at a loss for words.
"It's kind of like a woman trying to describe what it feels like to have a baby," laughed McBride. "It's really indescribable. It's like the excitement and thrill of bungee jumping, skydiving, and any other activity where you feel like your heart is up in your throat all rolled into one."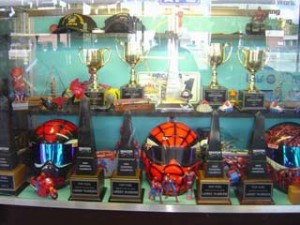 Many racers agree with McBride. Over the years, a handful of riders that have competed for a stint in Top Fuel and called it quits a few runs later. Even the legendary former Top Fuel champ Terry Vance, of Vance and Hines, admits that he doesn't miss the intensity. Vance is on record saying that he's glad his memories are just that: memories.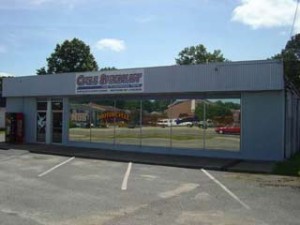 Eight weekends a year, McBride is a fearless warrior on the dragstrip with tunnel vision firmly focused on crossing the finish line first. For the other 44 weeks of the year, McBride is a laid-back family man, running his machine shop, Cycle Specialist, with his brother Steve and wife Kathie near their home in Virginia Beach, Va.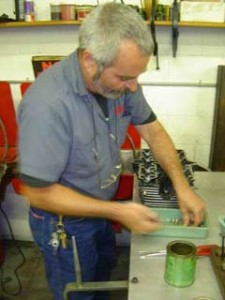 "We come into the shop at about 9 and work until 5 on all of our customers' stuff," said McBride, who handles the machine work for local Harley dealers, bikers, and Legend series car racers. "Then at about 6, we get to work on our stuff. We usually try to work until 10. If a race is coming up, we could work past midnight. We've been known to work all night."
That's another reason why Top Fuel bike racing is so demanding and exclusive. The strongly funded and highly paid NASCAR and NHRA drivers aren't giving up their beauty sleep to strip their own cars down to the frame and overhaul them for the next race.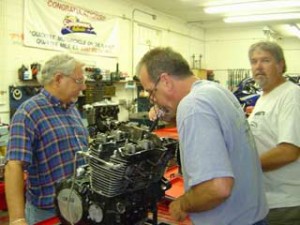 Away from the track, McBride finds time for his two beautiful daughters, Christine, 25, and Natalie, 21. McBride is also an active member of the community. In the fall of 2003, when Hurricane Isabella devastated his hometown, McBride was one of the leaders in the outpouring of support and aid to the area.
While putting in the long hours at the shop, McBride likes to jam out to Southern rock, as well his favorite band, Aerosmith. In fact, McBride displayed his dragbike outside of their 1998 concert at the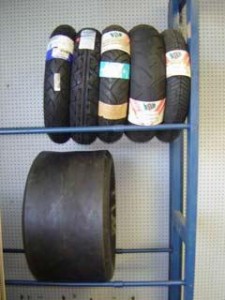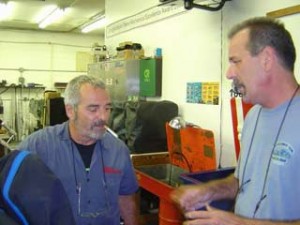 Virginia Beach Amphitheater, which drew the attention of the entire group. McBride didn't hesitate to fire up the deafening bike for the rock legends. Frontman Steven Tyler, who had never seen such a machine, wanted to know if it was possible to take the bike down the street to get groceries. Lead guitarist Joe Perry, a lifelong Spider-Man cartoon fan who helped write the theme song, was most in awe of the bike. Afterwards, the entire group signed the bike's front fairing.
McBride lives in the right part of the country to enjoy what he loves: seafood, particularly scallops. The six-time champ also likes to do some boating when the rare opportunity of a free day presents itself. Asked what his hobbies are besides racing, Spiderman quickly replied "racing," laughed, and then asked his wife Kathy, "Honey, what are my hobbies?"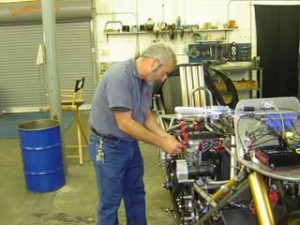 McBride has always had a soft spot in his heart for animals and still misses his beloved Rottweiler, Fueler, who passed away seven years ago. He keeps his deceased pet's legacy alive by throwing an annual birthday party for Fueler's grandson, Nitro, who is owned by a close friend. The party takes place at McBride's shop and includes a big cake, on which of course the dog blows out the candles.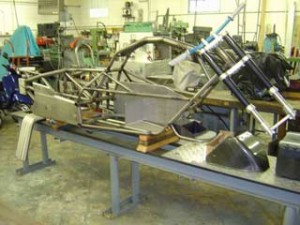 In Spiderman's home garage is a gym that includes free weights, a stationary bicycle and other equipment to help him hold onto his motorcycle and withstand the 3 Gs of force that each voyage down the strip produces.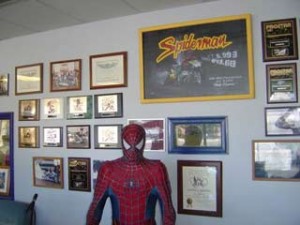 All the training, hard work and long hours on the road and at the shop haven't curbed McBride's enthusiasm. And after 28 years of racing, McBride embraces the pre-race anxiety and jitters.
"I don't mind the butterflies. I think if you ever lose that respect and fear, these things will kill you," McBride asserted.