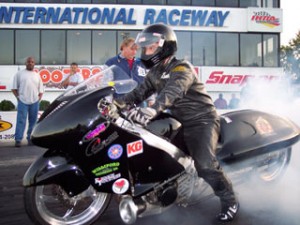 Soon-to-be-banned turbo rider pulls off the MIROCK triple crown
Earlier this month MIROCK Outlaw Pro Street racer Rodney Williford got the news that his record-holding, turbo-charged Suzuki, and all other turbo bikes would be illegal in 2007. Williford made what could be his bike's last race at MIR count by completing the elusive Triple Crown.
Williford reset the class record, took over the point lead, and won the event. He lowered the ET record to an astounding 6.97 in round No. 1 of eliminations and took over the point lead after two-time defending series champion Tony Giradi was defeated in the semis by L&W teammate Dave Norris.
"I feel good.  We came out here today and did almost everything we wanted to do.  We wanted the mph record as well but the motor was going away," Williford said.  "The 6.97 came from good track conditions and being able to apply the power that we had to the track.  We really didn't change the tune-up all day.  The track is what was changing."  Williford will attempt to become the first, and perhaps the last, turbo rider to win an Outlaw Pro Street championship this November in Rockingham.
After the loss Girardi wasn't overly confident towards his chances of winning the championship. "I might be able to win it if Rodney doesn't show up in Rockingham," laughed Girardi. "They just have way too much of a performance advantage on us now.  We're basically racing for second place."
Runner-up Norris was pleased with his performance and attributed it to his brand new chassis.  Norris fabricated the front half himself and mated it with a swing arm from L&W Motorworks.  "There is a big difference between a Chevelle and a Camaro," Norris said.  "This chassis is a big upgrade for us and is making our runs a whole lot smoother."
In Orient Express Pro Sportbike all eyes were on the escalating rivalry between the prominent Velocity Racing and NLR-backed turbo bikes.
In round No. 2  Jason Miller "Time" gained some redemption by defeating three-time series champ and bitter rival Mike Slowe of Velocity Racing. Previously Slowe had defeated Miller on the popular show Pinks on the Speed Channel and one week prior to the event Slowe had publicly called Miller out on a well-read internet article on Dragbike.com, in response to trash talk on the Psychobike.com forums.
Miller wheelied off the line but was able to pass Slowe, who broke the tire loose at half track, with a 7.91 to Slowe's 8.18.  Unfortunately for Miller he was unable to capitalize on the win and red lit in the semifinals against Velocity Racing's Vincent Demitto.
Point leader and self-proclaimed "Miller Killer" Anthony Navarro successfully defended his lead by defeating Ed Murphy, Tony Stewart, Demi Eddinger, and Demitto to win the event.
"I'd just like to thank Jason for red lighting and handing me the points," Navarro said to his adversary.  "I worked my ass off for this and I think I deserve it.  It was great to have an all Velocity final."
Miller's 7.75 in the opening round held up for low elapsed-time of the meet in Pro Sportbike.