The first man to put a street bike in the sevens, Brock Davidson, talks about the current state of heads-up no-bar racing, who the most talented rider is, and how a single run changed his life.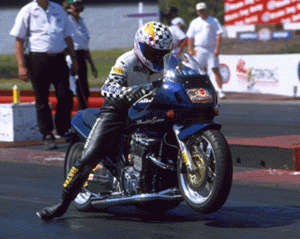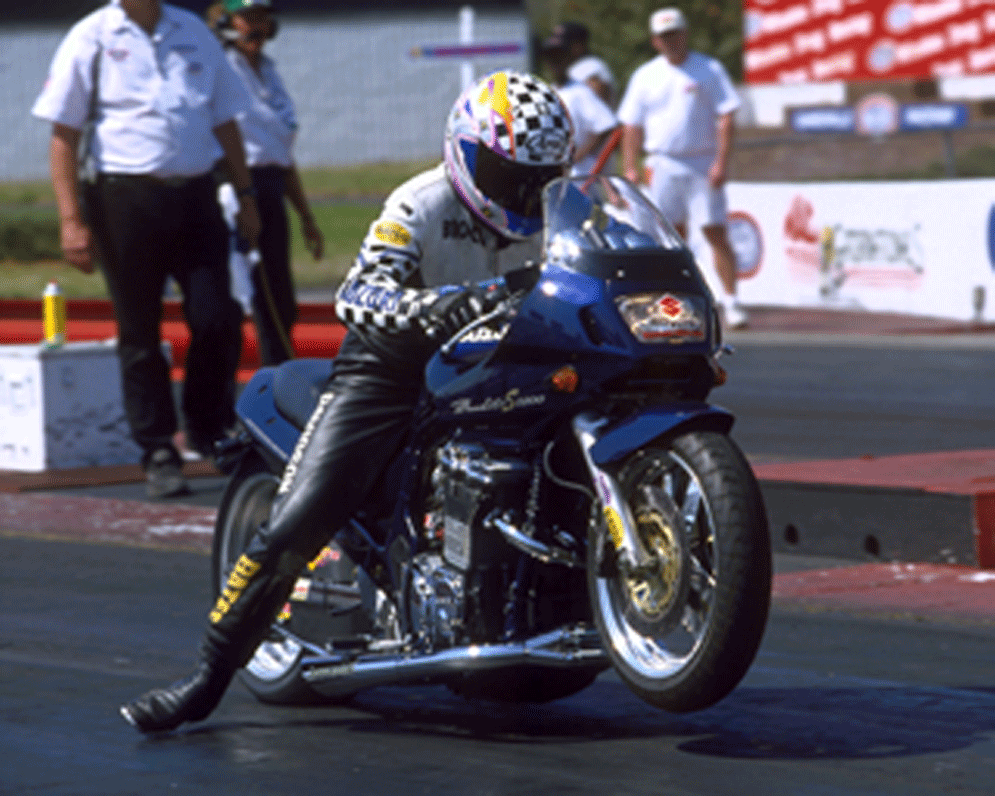 It's been over six years since no-wheelie-bar enthusiast Brock Davidson propelled his nitrous oxide-powered 1997 Suzuki Bandit to motorcycle drag racing's first seven second street bike pass.
On May 22, 2000 Davidson belted out the first sub-eight second run with a lap of 7.97 at 179 mph at an AMA/Prostar event in Rockingham, NC.
Davidson, who had been involved in the industry since the mid-80s building such components as his GS 1100 billet shift shafts, points solely to his historic run as the catalyst for the flourishing success of Brock's Performance Products.
"The publicity I got from that one run made it easy," said Davidson, who raced with Suzuki factory support for several seasons. "Someone will always be quicker, but I will always be first."
The prestigious run changed Davidson's life and it appears the class in which he used to compete in has changed as well.
The days of the dominant nitrous bikes of riders like Davidson, Keith Dennis, and Tom Micelli, have seemingly come and gone. Currently turbo racers Kent Stotz and Barry Henson share the AMA/Prostar street bike records, with Stotz holding the ET mark at 7.33 and Henson owning the mph record at 200 mph.
The trend has spilled over into other series. Velocity Racing-backed Mike Slowe utterly dominated the MIROCK circuit during 2004 and 2005 with his turbo-charged Suzuki Hayabusa.
Davidson believes the influx of the high dollar turbo charged machines has crippled the ability of a mid to low budget race team to compete.
"It has changed so much technology wise and cost wise that I'm not even interested in doing it all," Davidson said. "I'm not interested in spending the 100 grand it would take to build and develop a competitive motorcycle. I'm in the industry and it's still not practical. In my mind that's a problem"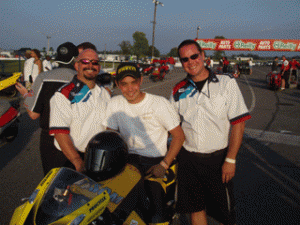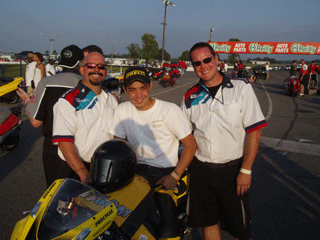 Despite the expensive evolution of the category Davidson and others agree that the popularity of no-bar racing with the fans should cement its place in drag racing.
"There are plenty of guys with bikes and it's a really fun class to watch, so I don't see it going anywhere," Davidson said.
Davidson has raced with and against some of the most talented no-bar racers in the world, and was initially reluctant to reveal who he feels to be the most skilled no-bar rider in the sport today.
"I could get in trouble for this," laughed Davidson. "There are probably four or five at the top of the list, but if I could only pick one I'd have to go with Ryan Schnitz. He has the rider skill, a major weight advantage, and has proven he can come through in stressful NHRA situations. He can go fast and cut a light under high pressure."