Matt Smith very well could have celebrated the highlight of his career at the 2006 Mac Tools US Nationals.
Smith, son of well noted Pro Stock car racer "Tricky" Rickie Smith, has been racing motorcycles since 1996 and has garnered championships in AMA/Prostar Super Comp and the now defunct Top Eliminator. Smith even captured an NHRA Wally earlier this season. However, for Smith no prior success even comes close to the jubilation he felt after winning the largest and most prestigious drag race of the year.
"This is by far the best," Smith said. "Nobody can express what it actually feels like to win Indy unless they've done it."
The victory comes one season after Smith had seemingly won the US Nationals, but was asked to give his trophy back a day later when television replays clearly showed Smith's bike crossing the finish line behind official winner Steve Johnson.
"Nobody is taking this one," asserted Smith.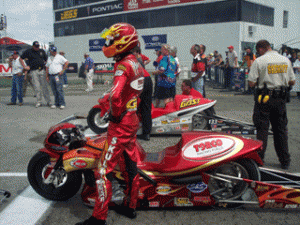 Smith was able to outlast one of the most competitive fields in the history of Pro Stock Motorcycle with a wounded motor. Smith qualified on the pole with a new track record of 6.99, but ran progressively slower throughout eliminations. In round No. 1 Smith defeated GT Tonglet with a 7.02 to Tonglet's 8.17, which would mark Smith's last pass in the 7.0s. In the next two rounds he slowed to a 7.15 and a 7.16 but was still able to beat a red lighting Shawn Gann, and, with the help of a .020 hole-shot, a quicker Antron brown.
In the final, for the third consecutive round Smith posted a slower elapsed-time than his competition yet still got the win. Three time series champion Angelle Sampey lit the red light with an -.028 and ran 7.14 to Smith's 7.25.
"I feel bad for Angelle but I'm glad we got the win," Smith said. "The motor was hurt from the second round on and we weren't sure what it was. It just kept slowing down. It must have been a crank that got tight or something. We didn't have time to swap the motor for the final so we put a couple more teeth on the rear sprocket and hoped for the best."
Smith said before the race he felt very confident that his team had a very realistic chance at winning the event.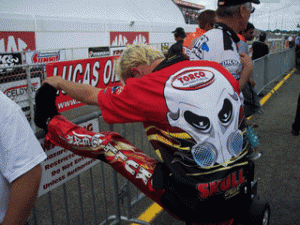 "I knew we had a fast bike coming out of Memphis and I told all the guys that if this thing holds up we can win it," Smith said. "Having a team owner like George Bryce gives you a lot of confidence. He has won Indy with so many different riders I knew we had a good chance."
Bryce of G-Squared Motorsports and Star Racing has now won The US Nationals with five different riders -himself, John Myers, Angelle Sampey, Reggie Showers, and Smith. Smith was able to keep his composure in what is notoriously known as a high pressure race by not acknowledging who his opponent was.
"I just raced myself and concentrated on my own lane," Smith said. "I tried to not even think about who I was going to be running." Smith joked in the press room, "This is the second year I crossed the finish line second and won," Smith said. "This time it's for real."