In honor of Andrew Hines winning the 2019 NHRA Gatornationals, enjoy this 15-year flashback to an article by Cycledrag (yes, we have been doing this for a long time) covering Hines' very first win, at that 2004 Gatornationals. Not only was this Hines' first win, it was the first win for the then-new Vance & Hines Harley-Davidson V-Rod. In an era where Harleys struggled to qualify this was a huge accomplishment and turning point for PSM. It provided a huge boost in popularity for the class, giving Harley fans a team to pull for.
Back then it was Hines and teammate GT Tonglet, who was the very first rider of the V-Rod. With both V-Rods advancing to the final in 2004, it was clear team Vance & Hines put in a lot of work over the off-season and a new era in the mostly Suzuki-dominated Pro Stock Motorcycle was about to be ushered in.

March 21, 2004
Who says the Harley-import rivalry is dead?
The NHRA Pro Stock Bike season-opening Mac Tools Gatornationals from Gainesville, Fla., saw the Harley Davidson V-Rod's dominate their 29 inline-four cylinder counterparts, by producing the first all-Harley final, Harley's first event win, and the quickest Pro Stock Harley runs ever.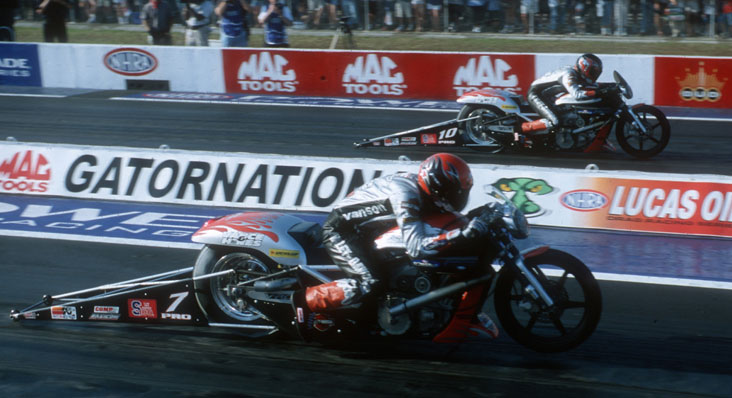 Defending class champion Geno Scali scored first for the import contingent by motoring his Trim-Tex TL-1000 Suzuki to an early Friday pole-position with a 7.10, surpassing Matt Hines' track record of 7.15.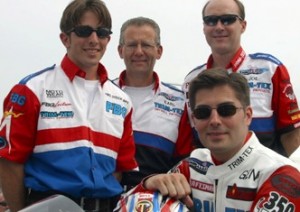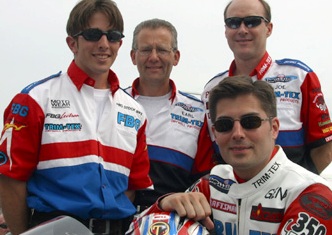 The big news Friday was that three-time class champ Angelle Savoie (Sampey) failed to qualify during the first two sessions after tire-problems caused her to cross the center-line during session-one and brush the wall in session-two.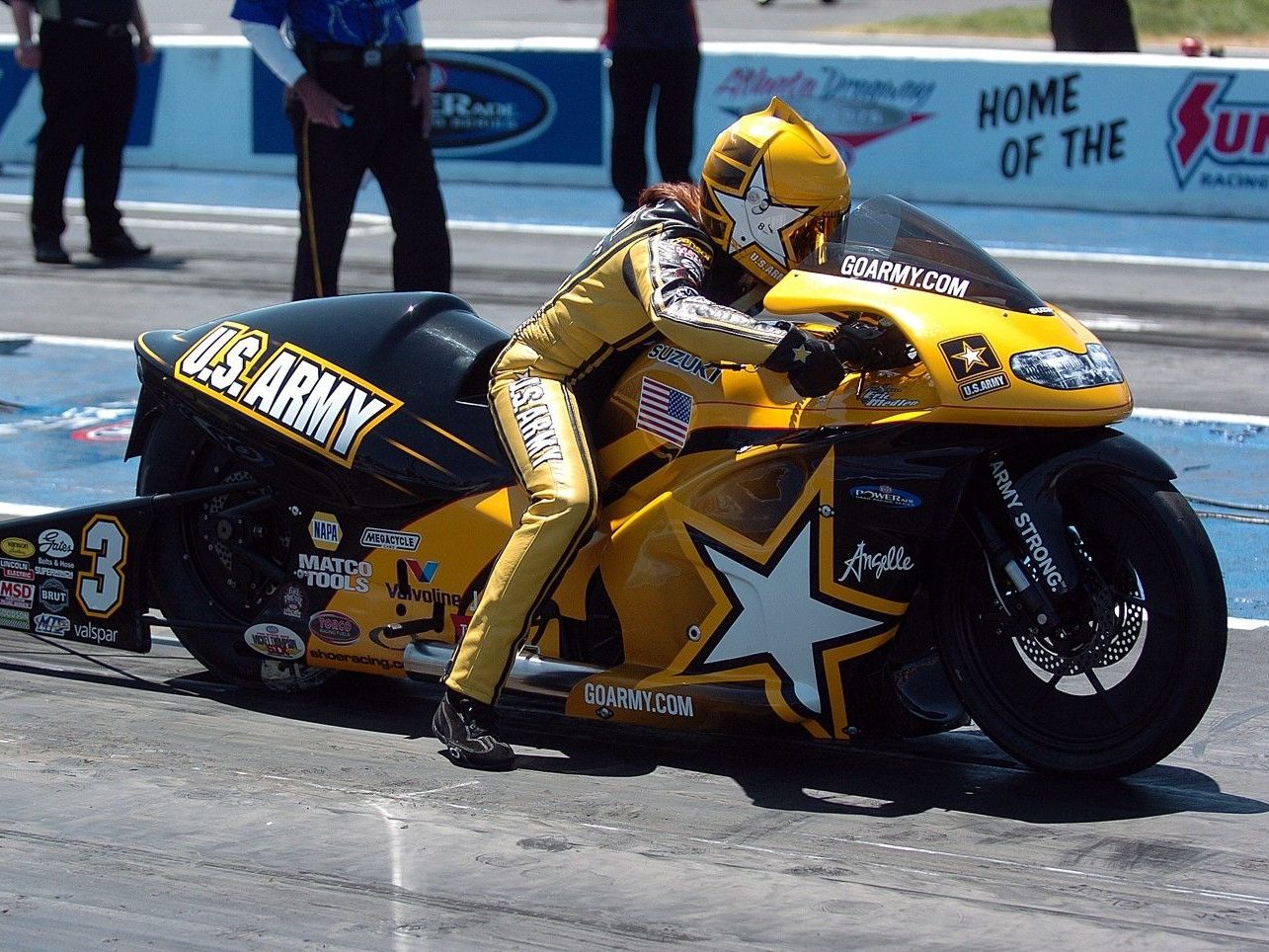 "We had a collapsed tire-wall that was pulling me to the right," Savoie said. "It was my fault for hitting the wall. I should have lifted but I kept fighting it, trying to get it back. It bruised my leg up pretty good."
Savoie was able to get into the program in the number-13 spot with a pass of 7.24 on Saturday.
The run of day-two occurred when Vance & Hines Screaming Eagle V-Rod jockey Andrew Hines brought the Gainesville crowd to its feet with a pole-seizing blast of 7.09.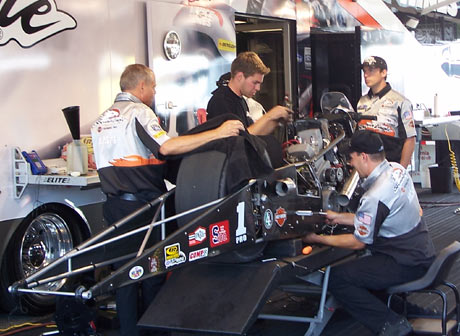 "We've worked very hard on these bikes during the off-season," Hines said. "It's really paying off."
In round-one of eliminations Hines matched the category's second quickest pass ever, defeating the Lake Mortgage Kawasaki of Josh Helvie with flat out jaw-dropping 7.051 – just missing Savoie's two-season old record of 7.49.
Hines' teammate G.T. Tonglet didn't fall far behind as he ran the quickest pass of his career at 7.09 to defeat the Suzuki Hayabusa of Team Can Can's Chris Bostick.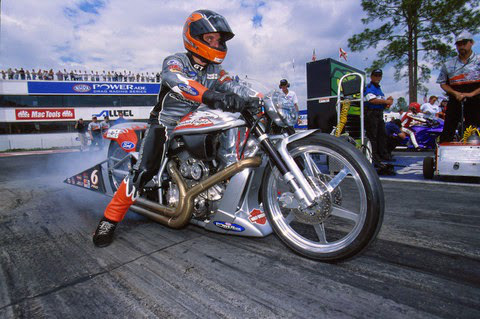 "It's great to be out here. We're looking for good things this year," 20-year-old Tonglet said.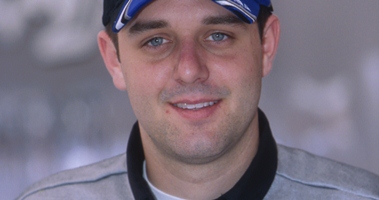 Veteran Joe Desantis scored a holeshot win in round-one after his .019 light and 7.27 was enough to get his revamped Mark Conner-tuned Suzuki GSXR around Star Racing-backed newcomer Angie McBride's (Smith) 7.21.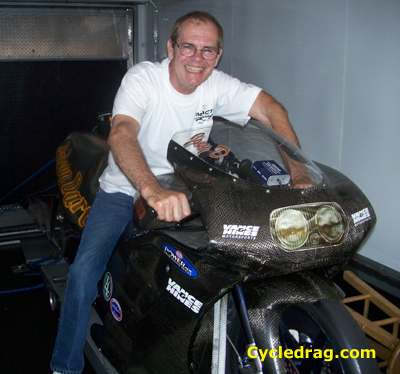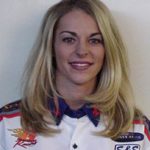 Geico-sponsored Karen Stoffer and K&N Filter's Steve Johnson also gained holeshot victories in round-one, when Stoffer's 0.34 bulb and a 7.17 bettered Savoie's 7.16, and Johnson's .029 light and 7.18 held off Shawn Gann's quickly-charging 7.17.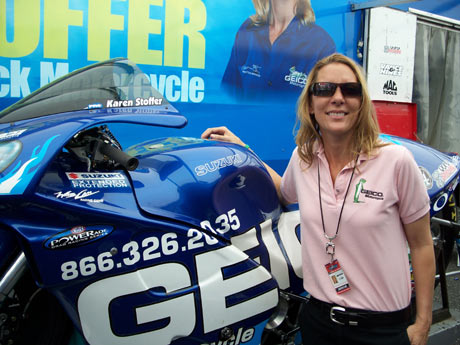 Scali overcame Mike Phillips' .016 reaction-time and 7.25 with his quickest pass of the weekend at 7.09.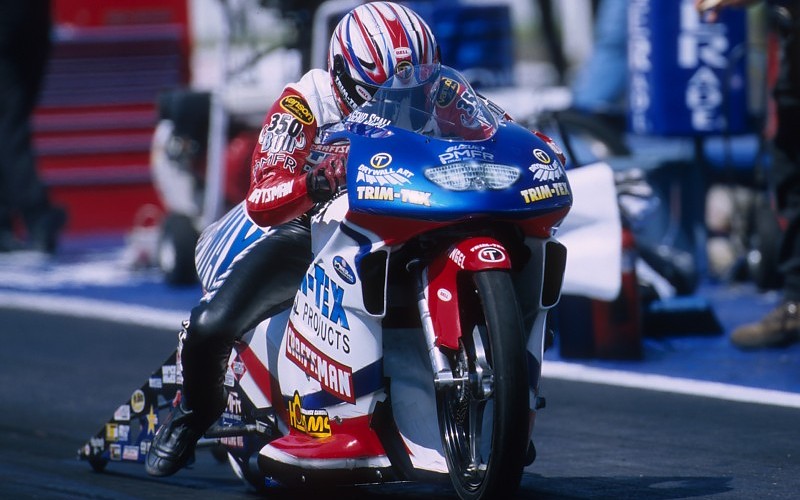 Mike Berry, aboard his brand-new self-built and tuned TL-1000, got by a baffled Craig Treble with a 7.23 to Treble's 7.24.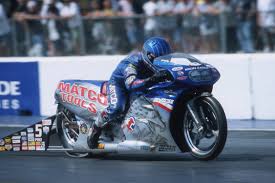 "We knew coming into this race that we had a problem with the bike," Treble said. "It's really frustrating because we've done just about everything and we still don't know what the gremlin is. I'm leaning towards the carburetors."
Sixth-qualifier Antron Brown advanced to round-two by propelling his U.S. Army GSXR by NHRA rookie and last year's AMA/Prostar 600 Super Sport champ Chip Hunter with a 7.25 to Hunter's 7.36.
In round-two it was Tonglet who posted low-elapsed-time of the round with a 7.08, eliminating a dissatisfied Brown.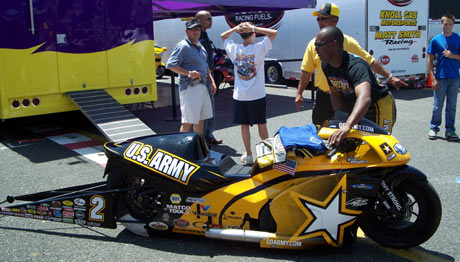 "All we did was blow the tire away all weekend," Brown said. "It was a disappointing weekend. My best 60-foot time was 1.13. The track really threw us some curve balls."
Hines slowed to a 7.15 but easily outran Desantis' wounded 7.31. Stoffer cut another impressive light in round-two, advancing to the semis with a stellar .008 reaction-time and a 7.20 to take out Johnson's respectable .018 and 7.24.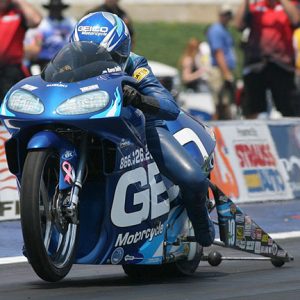 "I'm very impressed with our team's consistency," Stoffer said. "I think now that we have made a few changes to the bike my lights can get even more consistent."
Despite the defeat, Johnson, who won the Prostar race two weeks prior, was extremely pleased with the performance of his team.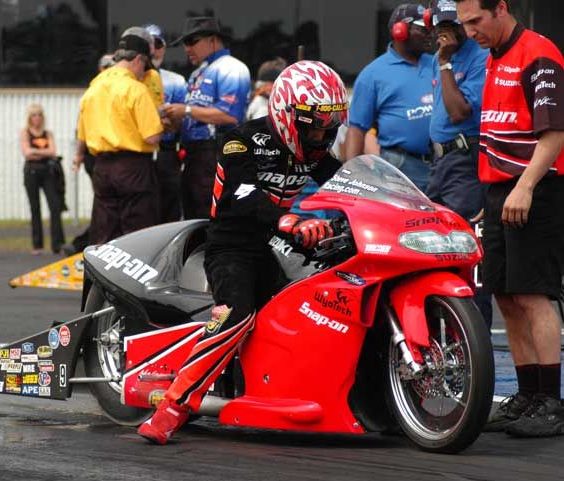 "To say we had a very good race is an understatement," Johnson said. "We basically have a whole new team that's doing fantastic. In 18-years of racing I've never been more focused or ready to spend money to win than I am now. With the Harley's running like this it will be a challenge, but we're up for it."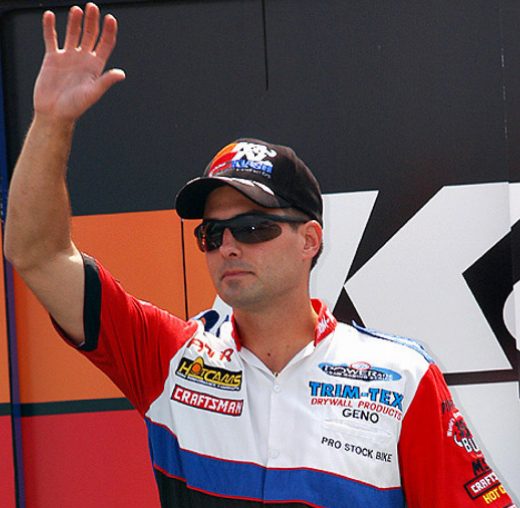 In round-two Scali fell off to a 7.17 but was still able to defeat Berry's 7.25. "The wind was giving us some problems today," Scali said. "We missed the tune-up just a bit."
Berry, who switched from a Hayabusa to the more-popular TL-1000, wasn't overly impressed with the new bodywork.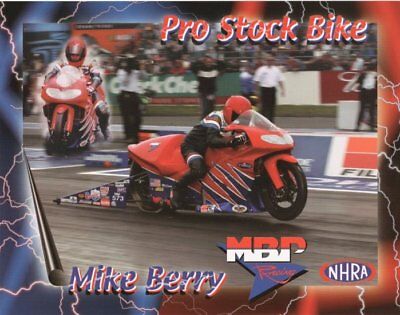 "I'm not sure the TL is a whole lot better. Aerodynamically they seem the same, maybe the TL puts a little more air in the airbox, but the main reason I went with it is just because it's less expensive," Berry said. "We're not too unhappy we just feel like we could have been faster."
The raceway erupted with cheers as the V-Rods swept through the semi-finals with Hines' 7.11 beating Stoffer's 7.31, and Tonglet's 7.11 defeating Scali's 7.14.
In the NHRA's first ever all-Harley Pro Stock Bike final, Andrew Hines gave the beloved v-twin manufacturer its first event win when he crossed the line in front of his teammate's 7.16 with a 7.07.
"It's an unbelievable feeling," Hines said after his first career win. "We won the first event for Harley, I ran my quickest pass, and was in the final with my best friend and teammate G.T. I think we have showed that we will be a serious contender for the championship."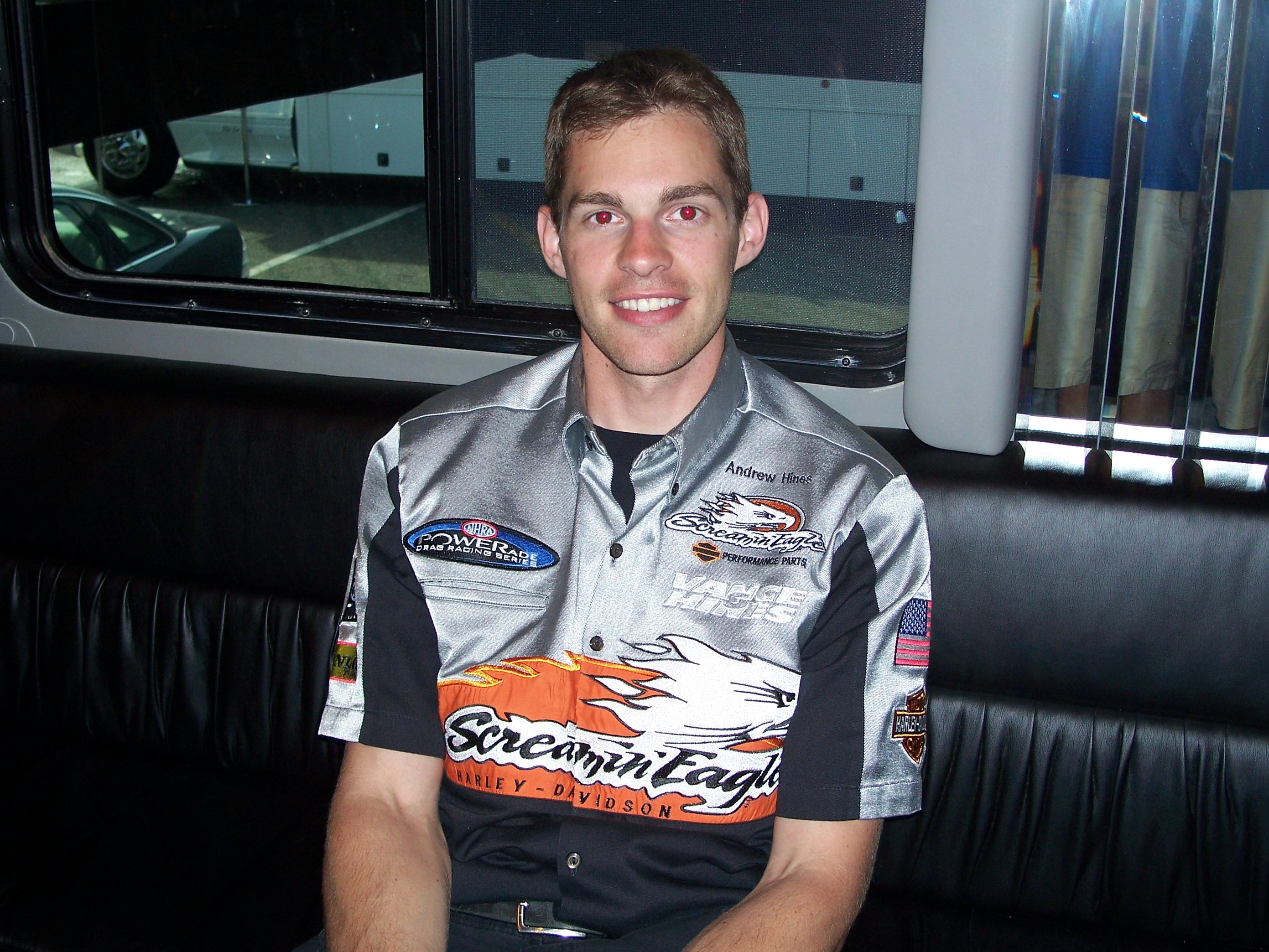 "We knew that we had the power to make this a good weekend if we could minimize breakage," motorcycle drag racing legend and father of Andrew, Byron Hines said. "When both Harleys made in into the final I just kind of went into an oddball zone. It was weird. Everything lined up just right and the guys rode very well. The team worked so hard, we never stopped working on these bikes all throughout the off-season."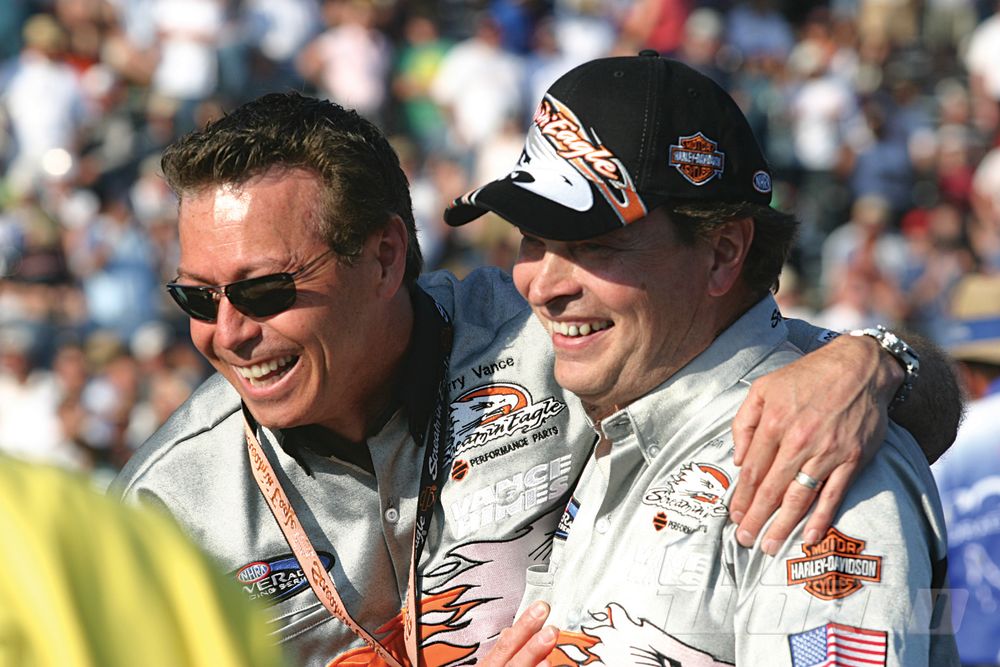 Four-time NHRA Pro Stock Bike Gatornationals champion Terry Vance of Vance and Hines was also overcome with pride.
"Byron and I have been racing for a long time, and we've won some special things," Vance said. "We've won championships and a couple of Daytona's, but I don't think anything is as significant as this. I think this will mean more for the sport than anything we've ever done. It makes me happy to see Byron's hard work pay off. We've been working on this program for three years. It was a dream day."
The outpouring of fan support for these V-twin machines is something that impressed everyone, especially the NHRA.
"The fact that a Harley Davidson won this weekend will remove any doubts from anybody who thinks motorcycles are going away from NHRA drag racing," Steve Johnson said, who represents the Pro Stock Bike class in a committee called PRO2. "This will absolutely solidify our place, not only in NHRA's pocket, but the overall pocket of drag racing. Motorcycles, specifically Pro Stock Bikes, are here to stay."
The Pro Stock Bike class is here to stay and so are the Vance & Hines Screaming Eagle V-Rods. Welcome to a new era.
Story from March 21, 2004
Following this remarkable turning point Hines would go on to win five championships and 48 more national events over the next 15 years.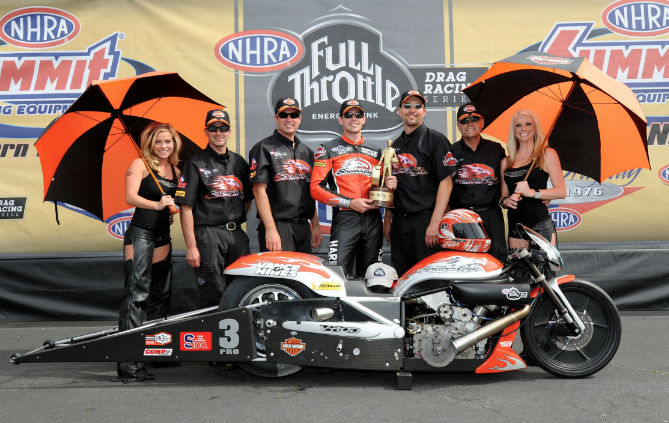 There are videos on the Cycledrag Youtube channel (please subscribe here) and the Cycledrag.com Facebook page (Please like here) and more will be coming soon. Check back daily.