Winston-Salem, North Carolina based DME Racing blistered through four straight Orient Express Pro Street wins in the mid-summer heat, starting with the WPGC Bike Fest at Maryland International Raceway in late July and continuing to the DME Summer Nationals Manufacturers Cup race in Valdosta in August. Champion Joey Gladstone won both of those races, followed by a win of the rain-delayed, Spring Bike Open at Rockingham by teammate Terence Angela. Gladstone capped the streak off with another win at the Summer Sizzler. Two of those races were all-DME finals, and the team has a great chance of continuing the streak when the MIROCK Superbike Series goes to Atco Raceway in September.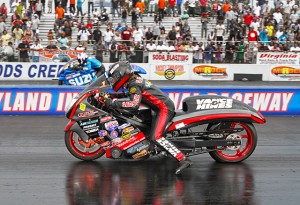 With all the excitement over Top Fuel's MIROCK debut at MIR in July, Pro Street had a chance to operate out of the high-pressure glare of the spotlight for a change. "It was nice," said Gladstone. His team's DME Racing turbocharged Suzuki Hayabusa has been at the forefront of the race for the sport's first 6.80 street tire pass, and for once they got to work in the shadows.
And there they thrived, qualifying number 1 with a 6.95 and eventually hitting a top speed of 220 mph. Gladstone worked his way to a final round pairing with June runner-up Doug Gall. Gladstone took the tree, the stripe, and stretched his lead in the points.
Team DME unloaded the next weekend in Valdosta and once again Gladstone took the win. Team boss Dimey Eddinger took the opportunity to ride Ehren Litten's DME bike at the event. "We've had some trouble with Ehren's bike, trying to keep the front end from wanting to wash out from underneath him on the big end," said Eddinger. "I wanted to ride Ehren's bike to get some bugs worked out and get the issue straight. I told Andy (DME tuner Andy Sawyer) 'I've been riding a long time and I know that I can make one go straight, and this one just doesn't want to go straight.'"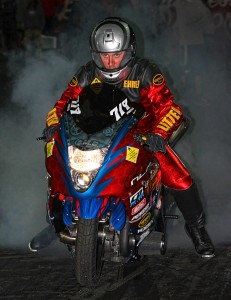 Athough Litten's bike was still a mystery, Gladstone rolled on through challenging conditions. "We got the win," continued Eddinger. "The weather was playing a lot of tricks on us and it was really hard to get a good tune-up. It was really humid and bad air, but Joey did real well."
Tuning to that win was good experience for when the team went to Rockingham Dragway two weeks later. The Summer Sizzler was a double event for pro classes, with the rained-out Spring Bike Open still in play.
But "play" could also describe what was still going on with Litten's front end. "We re-adjusted everything and came back out here in Rockingham on Friday and it did the same thing," said Eddinger. "We took it apart and re-measured everything one more time Friday night."
But that "one more time" didn't reveal a serious internal problem and Litten's right front fork snapped just before the finishline on his first qualifying pass Saturday. Litten tumbled and slid into Gall's lane to the right while his bike grinded along the clutch cover hard into the left-side wall. Both Litten and the bike went through the traps separately with a 7.49 at 154 mph—good enough for fifth in Q1!
"Ehren said whatever we did when we put it back together, it was going straight and then all of a sudden it just let go. So we found the problem, but it wasn't the way we wanted to find it. We had a fork that failed us, and it broke. Unfortunately, Ehren went down and the bike suffered a lot of injury, and he too—mostly just scrapes.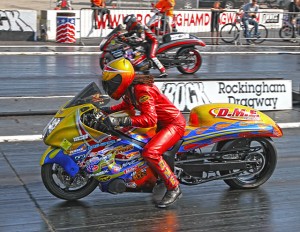 "It was breaking internally where you couldn't see it. It's a real hard piece to be able to check, the lower leg where it goes into the fork tube. It's real hard to inspect—almost impossible. They're riveted on a set screw, they're not made to be taken apart for maintenance.
"And you don't know when you buy these forks exactly where they came from unless you buy them brand new, and a lot of these things aren't purchased brand new." Litten's bike was covered in fork oil, requiring a thorough going over back at the DME shop in Winston-Salem.
The Spring Open wound down to Gladstone and DME teammate Angela. Aruban Angela had crucial lane choice and took the win when Gladstone spun off the starting lane.
The story was different for Gladstone when the Summer Sizzler eliminations ran on Sunday. Running consistent 7.0's, Gladstone suddenly blistered Rockingham's quarter mile with a track record 6.92 against Gall in the semis—the heat of the day.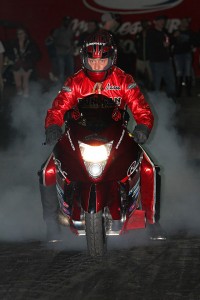 DME's Jason Dunigan beat Angela in the other semi to set up the final against Gladstone. This time Joey had the lane he wanted and Dunigan pushed the tree in an effort to gain an advantage. It was too much. Dunigan redlit and Gladstone took the win.
"I think us being in Valdosta and then coming to Rockingham put us ahead of the game," continued Eddinger. "A lot of the guys that were here hadn't just recently raced in the same conditions like we had. We were battling with the track there the same as we were here. So we were ahead of the game when we got here and Joey went an .03 off the trailer. Terence went a .16 and that's exactly what he ran in Valdosta. So we just went with that tune-up here and pretty much just stuck with it.
"I was glad to see Terence win this weekend. To have two wins in one race, you really can't beat that. It was an interesting weekend.
"I want to especially thank Dunigan Racing, DCE Electronics, and Catalyst Racing Composites. We're doing some things with Catalyst and they just always send us what we need—no questions asked. They're awesome people and have never, ever said 'No' when we wanted to try something new. They do a really good job.
"I have to thank Andy Sawyer for all the tuning up and working late, and Skip Gladstone. He and Andy work together side-by-side every evening and every day to get these bikes ready to race. And Terence—he works as hard here as any employee. I couldn't ask for a better member of the team. There's a lot of work that goes on just to be here today—a lot of late nights to keep these bikes maintained. And then also to get all of our customers' parts out—it's a real big feat, and I want to thank them for being able to get all these things done.
"We're excited to go to Atco next. I really like it there. We see a lot of people we haven't seen in a long time, a lot of the old AMA guys, and it's good to see them all back out. It was a really cool race last year and Jason Dunigan won that one, so we're hoping to get Jason another win this time around."
DME races along with the MIROCK Superbike Series to Atco Raceway for the 45th Annual Orient Express US Motorcycle Nationals on September 5-7 in Atco, New Jersey.
The DME team thanks DME Racing http://www.dmeracing.com/ , Penske Shocks http://www.penskeshocks.com/ , Catalyst Racing Composites http://www.catalystracingcomposites.com/ , NLR http://www.nlrsystems.com/ , Vanson Leathers http://www.vansonleathers.com/ , Lucas Oil http://www.lucasoil.com/ , CP/Carillo http://www.cp-carrillo.com/ , Web Cams http://www.webcamshafts.com/ , Worldwide Bearings http://www.worldwidebearings.com/ , Cometic Gaskets http://www.cometic.com/ , R&D Motorsports http://www.r-dmotorsports.com/ , VP Racing Fuel http://www.vpracingfuels.com/ , Dunigan Racing http://www.duniganracing.com/ , DCE http://www.wiringlooms.com/ , MTC http://www.mtceng.com/ , APE http://www.aperaceparts.com , Vance & Hines http://www.vanceandhines.com , Beringer Brakes http://www.beringer-brakes.com , and Blouch Performance Turbo http://www.bptstore.com
This report was prepared by Tim Hailey.
Enjoy everything there is to read, see and watch about motorcycle drag racing and more at http://www.eatmyink.com