The bold colors of the Nitro Fish Apparel brand will be on display frequently during this weekend's Chevrolet Performance NHRA U.S. Nationals. Team Nitro Fish will include two-time NHRA Funny Car champion Tony Pedregon, along with the Pro Stock Motorcycle entries of LE Tonglet, Matt Smith, and the newest member of the Nitro Fish team, defending U.S. Nationals winner John Hall.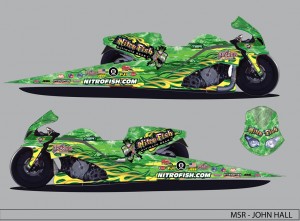 "Indy is NHRA's biggest and most important event and we wanted the Nitro Fish team to make a big splash," said Nitro Fish team owner Kenny Koretsky. "Every racer on our team has one thing in common; they've all enjoyed a lot of success in drag racing and they know how to win."
For Tonglet, a return to Indianapolis rekindles memories of the 2010 U.S. Nationals, when he first met Koretsky and became a part of the Nitro Fish team. That association helped fuel a late-season run to the NHRA Pro Stock Motorcycle championship and the Rookie of the Year honors.
"I have a lot of great memories from this track and hopefully we can make some more this weekend," said Tonglet. "I haven't raced much this year but I'm really looking forward to getting back out there. We tested recently just to knock the rust off of me and we learned a few things. I can't wait for the Nitro Fish Suzuki to put down some big numbers."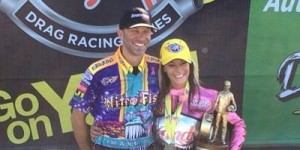 Teammates Smith and Hall have also etched their names into the list of Indy winners. Smith won the "Big Go" in 2006 and Hall won last year's race, beating Smith in the final round.
"Last year, John and I met in the final round at Indy and we'd both like to do that again this year," said Smith. "It would also be awesome to have two Nitro Fish bikes in the final round.
"This is an important race and not just became of all the history that goes with Indy," Smith said. "This is also the last race before the start of the Countdown [to the Championship] so we want to make sure that we're prepared for the last six races. Our team has four bikes in the Countdown [including wife, Angie and teammate Scotty Pollacheck] and I don't think that's ever been done before."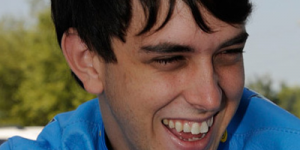 The Nitro Fish Pro Stock Motorcycles will be hard to miss at Indy. In addition to Tonglet's familiar blue colors and Smith's purple hue, Hall's bike will feature electric green color scheme with yellow flames.
"It's an honor to be the newest member of the Nitro Fish team," Hall said. "I'm grateful to Kenny Koretsky for making me a part of a winning organization. Last year, I won this race and it was the highlight of my career. I'd love to get back to the winner's circle and bring Kenny and the whole Nitro Fish team with me."
Funny Car racer Pedregon's impressive résumé includes a pair of world championships and 42 national event victories but the one thing it lacks is a victory at the U.S. Nationals.
The Chevrolet Performance U.S. Nationals will take place at Lucas Oil Raceway in Indianapolis, Aug. 27-Sept. 1. Pro qualifying will be held at 7 p.m. on Friday, 2:30 and 6 p.m. on Saturday and 11 a.m. and 2:30 p.m. on Sunday. Final eliminations will begin at 11 a.m. on Monday.
LE Tonglet on Twitter: @LETonglet
Matt Smith on Twitter: @MattSmithRacing
John Hall on Twitter: @johnhall1528
Tony Pedregon on Twitter: @TonyPedregon
About Nitro Fish Apparel
Nitro Fish Apparel is owned and operated by Kenny Koretsky, a Pennsylvania-based businessman and longtime NHRA drag racer. Koretsky has driven both Top Fuel Dragsters as well as Pro Stock in a career that dates back to 1976. He is the only driver to qualify both a Top Fuel Dragster and a Pro Stock Car in the same NHRA national event, a feat he accomplished in Phoenix in 1990. Koretsky, whose other business interests include trucking, land development, and a line of full-service car washes, purchased the Nitro Fish brand in 2004. He has since used the brand to help promote a number of racers including two-time NHRA Funny Car champion Tony Pedregon, two-time Pro Stock Motorcycle champion Matt Smith, and 2010 NHRA Pro Stock Motorcycle champion LE Tonglet among others. Featuring a wide selection of T-shirts, hats, decals, die cast replicas and other memorabilia, the Nitro Fish Apparel line is available at trackside locations during select NHRA Mello Yello Drag Racing Series events or online at www.nitrofish.com.